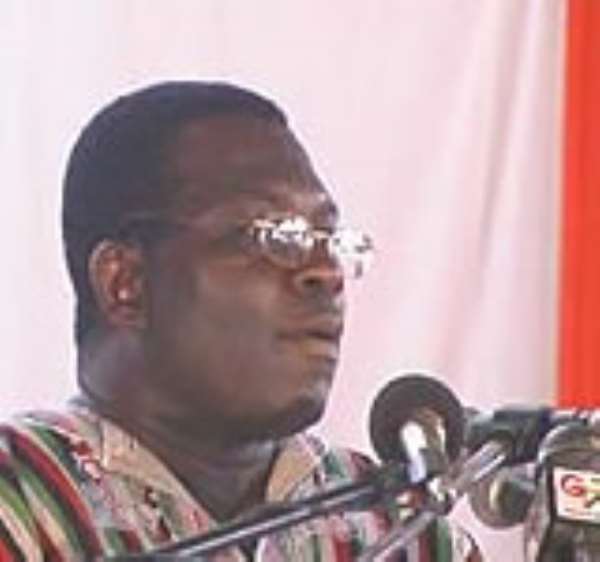 Former NDC Scribe Dr. Nii Josiah Aryeh, who has been speaking to the dailyEXPRESS on a wide range of issues including who should be leading the NDC to election 2008 and the culture of taping, says Obed Asamoah was never his boss.
He also expressed surprised that Francis Kwarteng Nii Owoo in whose house he was taped has chosen to remain quite in the midst of the entire hullabaloo.
"He is an elderly man, he is not even my peer and all these things happened and he decides to keep quiet. If somebody decides to be treacherous enough out of a normal human transaction to distort things and tape them to abuse friendship and do whatever, I think the rest of us humans observing these things should condemn it" he said.
Describing the man who can be said to have connived with others to frame him up, Dr. Aryeh said Kwarteng Nii Owoo is a member of the Ga-Dangbe Council of which K.B Asante is president.
According to him, their relationship has never been political, adding that he had never thought that the man had any political opinions. "In fact those who know him closely would tell you this man does not express any political opinion. He is an artist. Artists are not by nature people who engage in these things."
"There is nothing else beyond that. I simply went to visit a friend who was bereaved. The wife, a white woman had died and been cremated in Coventry. We then held a funeral service for her at Legon. I was driving home here. Kwarteng Nii Owoo is my neighbor. He is just by the traffic light here. So I just decided to stop over to have a word with him" he emphasized.
According to the law lecturer who was suspended from office 'at the instigation of' then party chairman Dr. Obed Asamoah, he gets the more surprised when he thinks about the circumstances under which the incident occurred and the fact those who did the recording chose to doctor its contents.
"Again, I am flabbergasted because all these things we are talking about stemmed from the visit to the house. It is like as you are talking to me and two other people come in here. Now you are my guest and you have no business telling me who else should be here and who shouldn't be here".
"I had never heard any of their names before. These are people I have never met; I have never done anything to them and I have never had anything to do to do with them. I was not a person under investigation".
"If I were under investigation, then you have a reason to say tape that person. But even if you taped me and you played that tape back faithfully, I have no problem with that. But when you take things out and add a voice over to destroy one man, when I haven't done anything to you, I feel sad."
Dr. Aryeh disclosed that he rejected the juicy offers of the NPP team led by Stephen Ntim, then a vice chairman of the NPP, that came to meet him there, including a hundred thousand dollars, fifty thousand pounds, a house, a land cruiser, etc.
The former scribe who says he has been spending time writing a number of books, the sixth being worked on currently, discounted any thoughts or conclusions that he was disloyal to the NDC because of that meeting.
In an apparent reference to his suspension and formation of a committee to investigate him, Dr. Aryeh said he values loyalty and cannot be accused.
"Loyalty is what I value. I worked for the NDC out and out. In the midst of all these, if I was disloyal I would have come out to condemn the NDC or I would have said things on behalf of the NPP, which I did not do."
Obviously unhappy about everything that has gone on; the law lecturer said "if those people decide to be treacherous, you expect a party you were working with to stand by you."
Asked a question in which Dr. Asamoah is referred to as his former boss, Dr. Aryeh stated his abhorrence to such a reference, because it is not the fact.
"I object to the use of the term "my former boss" because the man in practice in fact was not, never in any sense a boss to me. Never! All he did was to work against me."