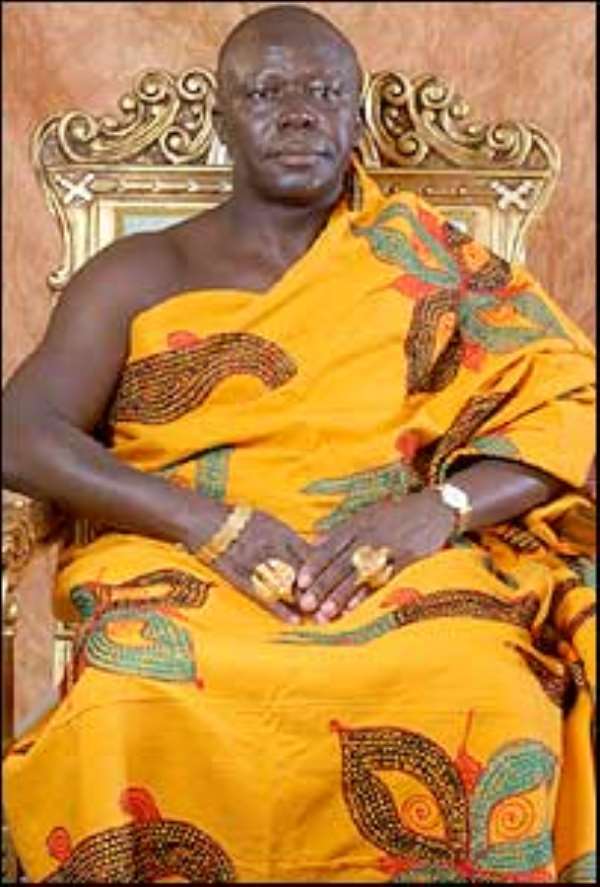 The Asantehene, Otumfuo Osei Tutu II, has said his interaction with the Libyan Leader, Colonel Muammar Gaddafi has revealed that he has confidence in Ghana, hence the strong ties between the two countries. This, he said, was due to Ghana's sustained political stability through good governance respect for human rights and the significant economic growth.
The Asantehene, who said this at meeting with over 200 Ghanaians living in Libya therefore, urged the participants to be law-abiding to enable them to benefit from the windfall of the relationship. Otumfuo urged those who had entered Libya illegally to either secure the appropriate documents to guarantee their stay in the country or return to Ghana
He cautioned them not to imbibe vices for a character in their effort to acquire wealth, noting that such an approach was at variance with God's way to physical prosperity. The Asantehene urged Ghanaians to co-exit in Libya as one people from one country with common destiny as against the alleged practice where some of them exposed their fellow Ghanaians to Police hostility. He told the meeting that the traditional rulers in Ashanti have resolved to release land to the youth to enable them to create wealth and reduce poverty, consistent with the objective of the Millennium Challenge Account (MCA) compact.
Otumfuo announced that traditional rulers will partner the government to facilitate the socio-economic development of Ghana and appealed to Ghanaians not to view them as politicians in the discharge of such roles. The Chairman of the Ghanaian Union, Mr. Clement Twumasi lauded the Asantehene for his development drive and his virtue of humility, which, he said, was a challenge to them. He praised Libyans for their hospitality towards Ghanaians living in the country, adding that some of the problems his colleagues were contending with were self-inflicted.
Ghana's Ambassador to Libya, Mr. Kodjo Asimeng Wadde also commended Otumfuo for his sensitivity towards the plight of Ghanaians living in foreign lands and his contribution towards the promotion of education in Ghana. He condemned the act of unskilled people travelling to Libya and other foreign countries in search for greener pastures, only to end up more frustrated than the situation in which they were, back in Ghana. Otumfuo is on a 10-day goodwill and culture visit to Libya at the invitation of the Libyan Leader.