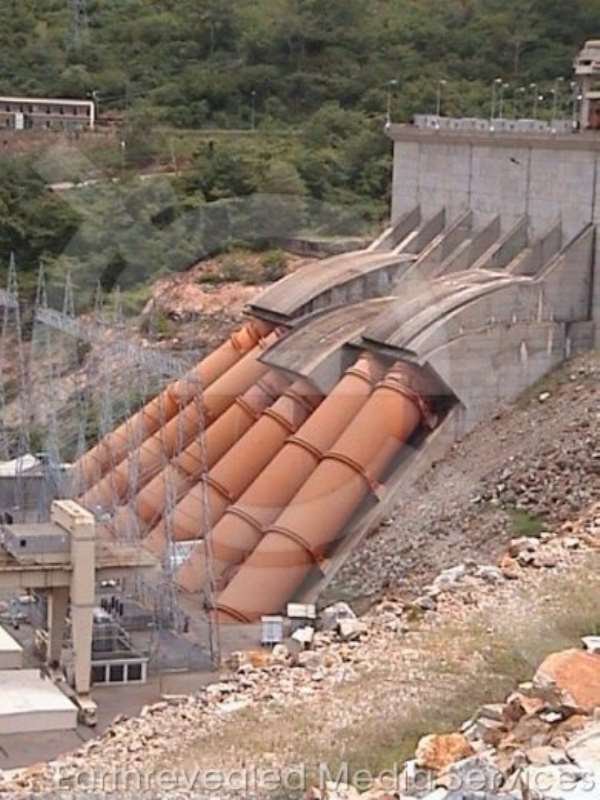 The low water level in the Volta Dam, source of some 60 per cent of Ghana's electricity production, has plunged the West African state into darkness.
The dam, built in 1965 on the Volta River, generates about 912 megawatts of power at Akosombo and about 160 megawatts at Kpong, a smaller dam built 25 kilometres downstream.
Authorities say that hydroelectric generation is threatened by low water following poor flow from the Volta River, whose three main tributaries - the White Volta, Black Volta and Red Volta - are in Burkina Faso, where the rains have not been good.
'The VRA relies on the Volta reservoir to produce over 60 per cent of its power from Akosombo and Kpong generating stations. But the inflows have been below average,' said Abla Fiadjoe, acting corporate affairs manager of the Volta River Authority (VRA), Ghana's state- owned power producer.
The result is that the water level has fallen far below the minimum 72 metres needed to generate electricity.
As an emergency measure, the Electricity Company of Ghana (ECG) is rationing power, with consumers losing 12 hours of supplies three days a week.
'The level of the water in the dam (as of Saturday) is 236.75 feet (about 71 metres), and this is very low,' said Kirk Koffi, head of hydrogeneration for VRA. 'August has ended, but the level has not started picking up.'
According to Fiadjoe, oil-fired power plants at Aboadze in the western region and imports from Cote d'Ivoire provide the rest of supplies.
'Currently, all available units at Aboadze Thermal Plant complex are running at full capacity, fired by light crude oil, the price of which is very high and continues to rise,' she said. 'The use of expensive crude has the potential of impacting on tariffs.'
Some 35 million dollars was spent last year on crude oil imports, and Ivory Coast, which has an interconnection with Ghana, is not keen on supplying to Ghana because of internal demands.
The opposition spokesman on energy, Dr Kwame Ampofo, is asking the Volta Aluminium Company (VALCO), which consumes huge power at its smelter plant at Tema, some 25 kilometres east of Accra, to shut down.
VALCO, he said, has been causing problems for VRA and the Ghanaian consumer, while it has not been paying good money for power it uses.
Energy Minister Kofi Adda countered that VALCO has been cooperating and has dropped 20 megawatts of power.
VRA has said it would secure a 120-megawatt emergency power plant at Tema as a backup for the supply of electricity by next year.
Koffi said that the emergency plant capacity together with the amount of energy to be stored as a result of the ongoing rationing of electricity is expected to be used to meet next year's demand for power.
As part of the long-term measure, a 300-megawatt plant estimated at a cost of 300 million dollars would be installed at Tema in the next two years, VRA said.
The West Africa Gas Pipeline project, under which natural gas from Nigeria would be imported to produce power in Benin, Togo and Ghana, is to take off in the next year, which could help solve the electric supply problem.
The cycle of energy shortages has been crippling Ghanaian industries.