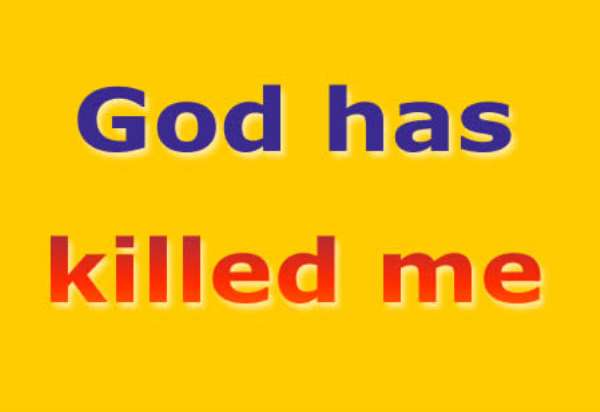 "I am a Mallam...and I do what a Mallam does!" answered Mallam Live in short words. "Live and evil...they are twins, they share the same mother and same father, are of one blood and entwined in one word. That makes me the living life of evil. And as life is not living with an `F` but a verb it simply means that evil is living and alive, so it is working...when you want it to work for you. Otherwise evil is just a word...but you can bring it to life so it can live!"
President Malcom Osei took a few minutes to think about the deeper meaning of what Mallam Live had taught him in simple few words he had never thought of before. He was convinced his followers had never thought of this revelation before. Then he started to say seeing in the eyes of Mallam Live to explain themselves to him of why they had come to pay him a visit: "Now, Mallam Live, here my friend and I have a big problem at hand. In our country is a White Man, people call him Mr Karl. He is running up and down the country to learn all about us. As a fast learner, he has in shortest of time seen all the important corners of our country and nation at large. He has met with many people from all walks of life, people from walks we even have ever known ourselves or simply have no interest to learn about their situation. But this German Mr Karl is open to any information that comes to him or he goes there and ants to learn and understand. In any case, the situation has become more complicated for us. People have come to like his style and he seems to be able to come up with a good and better solution to set our people free from misery and poverty. They are now taking to the streets to promote him and his ideas. Newspapers and TV shows are full of reports about him that reports about us are no longer on the agenda of our Media Houses. The pressure is on us now. They even make comparisons with football. You know in football we have no problems with black or white and religion if the team is willing the championship. So, they want him to prove himself and his ideas even he is not one of us, not a Ghanaian by blood and history. Some even say over him he is more a Ghanaian than many of us born in Ghana and are of black colour. All these noises around him, the media coverage here in Ghana and even outside, all the demonstration in his favour...that is putting us in great danger and is annoying us too much that we are sitting here before you."
"You want him to be no more, right?"
"Mallam Live...you can really read my mind!" was President Malcom Osei astonished more and more, even a bit scared not to think anything wrong which might make Mallam Live annoyed and angry.
"But you are not a wise President...only someone that is truly hungry for power...and that hunger makes you blind."
"Please...Mallam Live....wise not? Who?"
"The best way to get rid of such a problem and such a man is by letting him destroy himself!"
"That seems to be a great idea, Mallam Live," was President Malcom Osei puzzled and tried to think into the right direction unable to find the right answer.
"As you struggle to think well, let me give you the answer," got Mallam Live up and stood above his guests. He pronounced: "Give him the chance to manage a certain sector of your land, apart from Accra. Let him make the decisions you would not make. Give him a free hand for his free spirit. The people should see by his works and not by his hands what he is capable to do. I will make sure that his mind is confused, is corrupted like yours. I will kill his good spirit, his loving heart for humans, his ideas that can change the misery of your people and make them happy, even make them stay in your country for good and not migrate to greener pastures to survive and have something small to eat. I will kill that good heart of his and give him bad ideas, corrupt mind. He uses nice sweet words with his works...and I will make sure people will put shame on him and the white race. I will manipulate his ways, turn his works into failures and misery for the people that follow him today and that give him the mandate to manage their own affairs. I will rise above any good spirits that are in him and that protect his soul. I will destroy all of them. Give him the chance to rule and manage so that you will be able to put the white race to shame once and for all. The whole wide world should see that it is not the white man that can manage your affairs better than you....but that it is only you, the black leaders, that can manage your own affairs. I will put so much shame on Mr Karl that eventually his followers of today will by their own hands take his life. I am Mallam Live...and evil is my name...and evil is live and working. Do not worry at all, rest well at nights when you see me in your dreams. I am at work and I will surely will and raise you up overall ideas of any white man with a good and loving heart that is empowered by God with great visions. No, the evil is live, and the evil will be victorious. When you will see me from now going at nights in your dreams I will send you messages and you do as I want you to do...no questions asked, no doubts in your mind. When you follow the dreams I will send to you at nights...in the end, you will demonstrate your victory to the world and history at large...the victory of the back man over the white man and his corrupt mind of love, caring and vision."
"And when Mr Karl will have a strong Man of God by his side to...," tried President Malcom Osei to mention cautiously.
"There is no man of God that can use any spiritual ruler and erase my spirits. I am more powerful than any word spoken from any Man of God over him to protect and bless him. I am Mallam Live, and I rule the waves of evilness against any Man of God. Rest assured...rest your hearts and minds...nothing will ever come against my words of victory. The Gods of evil are by my side...as I am evil and a living evil."
"I hear you," said President Malcom Osei taking a deep breath and looked over to Nana Kwabena Adom. "We hear you and we trust you!"
Nana Kwabena Adom said in whispering tone: "We lay our future and fortune into your powerful and trusted hands, Mallam Live."