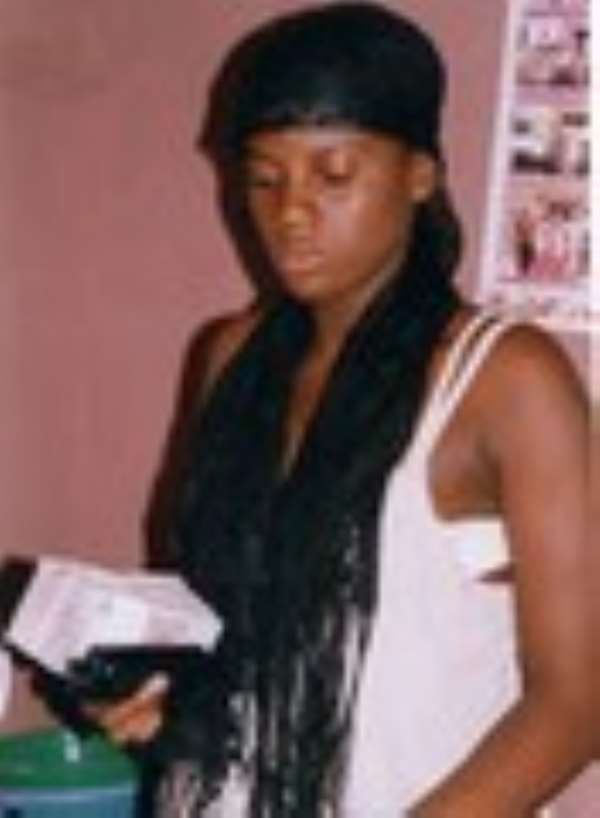 A 19- year-old girl has been arrested by the Odorkor police for posing as a journalist and attempting to defraud a Reverend Minister of 7.5 million cedis, on the pretext of "killing" a story about the pastor's alleged sexual affair with his maid servant.
Jocelyn Owusu, allegedly a former student of Pentecost Secondary School in Koforidua, who gave her name to the pastor as 'Yvette,' was arrested when she went to collect the money at an agreed spot at Anyaa in Accra.
DSP Anthony Shelley Darkey, Crime Officer of the Odorkor Police Station, said that on August 24, Rev. Daniel Sappor of the Source of Light Ministry at Mamprobi received a phone call from an unknown female who claimed to be a journalist.
The "journalist" who refused to disclose her place of work, told the Reverend Minister that she had received information about his alleged illicit affair with his maid servant and was ready to publish the story.
She then went on to say that because she knew and respected him, she wanted to help him by "killing" the story but would only do so if he would provide her with a brand new laptop computer. She allegedly said that with the brand new laptop, she would be able to destroy the computer on which she had the story saved at the office. Alternatively, she asked for 7.5 million cedis to buy the laptop herself.
DSP Darkey said Rev. Sappor upon consideration agreed to pay the money but bargained to have it reduced to 5 million cedis which she readily agreed to take. She then directed the Rev. Minister to meet her at a house at Anyaa where she would receive the money. She added that in case he the Rev. Minister got there and did not see anyone there, he should drop the money at a point for it to be collected later.
Rev. Sappor reported the matter to the Anyaa police who directed him to fix a date for the money to be taken to her. They both agreed on August 29 and at about 7 pm Rev Sappor in the company of some policemen took the money to the agreed destination as directed, dropped it there and left.
The policemen then took cover in a nearby bush and about 30 minutes later, Jocelyn came to pick up the 5 million cedis wrapped in a black polythene bag. Just as she was about to leave, the police closed in and arrested her.
Jocelyn was taken to the Anyaa police station and later transferred to the Odorkor police station where she is being held in custody.
Jocelyn said that she was tempted to do that because she needed the money to start a business. However, she said she was yet to think of what business to do.