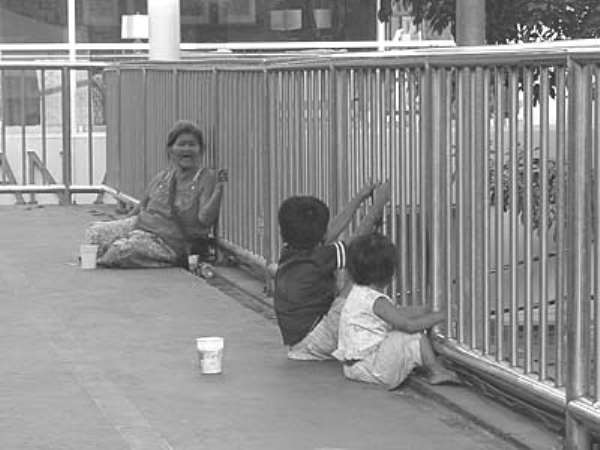 'Be Considerate Even If The Economy Is Harsh'
Beggars in the Central Business district of Adum in Kumasi are complaining of low income. They are not receiving much in terms of alms. Their fears have been confirmed in a survey conducted by the Oseikrom Observer in the metropolis.
Our investigations revealed that proceeds have declined drastically and continues to decline at a faster rate in the face of general economic hardships. In separate interviews with a section of the beggars who are dotted along the streets and spotted at almost every corner of the city, they complained that, of late, their 'clients' have suspended their generosity towards them. 'Generous people who usually 'dash' us money mostly in coins have for the past few months declined" they complained.
As a result of the economy which has trickled down to them, their income is now at a record low and pointed to the recent increases in the prices of fuel which has affected every activity as the cause. This they said have affected their very livelihood and appealed to the public to be considerate even if the economy was harsh.
A middle aged woman and quite popular among the lot who refused to mention her name said she could raise between ¢200,000 and ¢250,000 a day which enabled her to acquire a taxi cab. Unfortunately for her she makes between ¢30,000 and ¢50,000 and even less at times. Asked why she was still in begging after hitting the jackpot, the woman said it had become part and parcel of her, having developed all the skills and techniques required in the trade after being in it for 10years.
According to her she had introduced several people from her area (she would not mention the area either) into the trade and are also making it big. Sharing ideas and experiences as to why he had stopped giving to beggars, a 36-year-old businessman, Mr. Michael Antoh said there was a woman who used to beg for alms at the Railway Station in Kumasi. Antoh said he gave this woman money any time he passed but had to stop on realizing that she was a full time rice seller and did begging on part time to supplement her income.
Miss Rosemond Owusu, a third year student of the Kumasi Polytechnic also said she ceased giving money to beggars when she chanced upon a gentleman she used to support by way of alms at a popular restaurant one afternoon enjoying a sumptuous meal. Generally, members of the public feels that with the current state of economy, it was not prudent to share the little they have with beggars when life was hard.