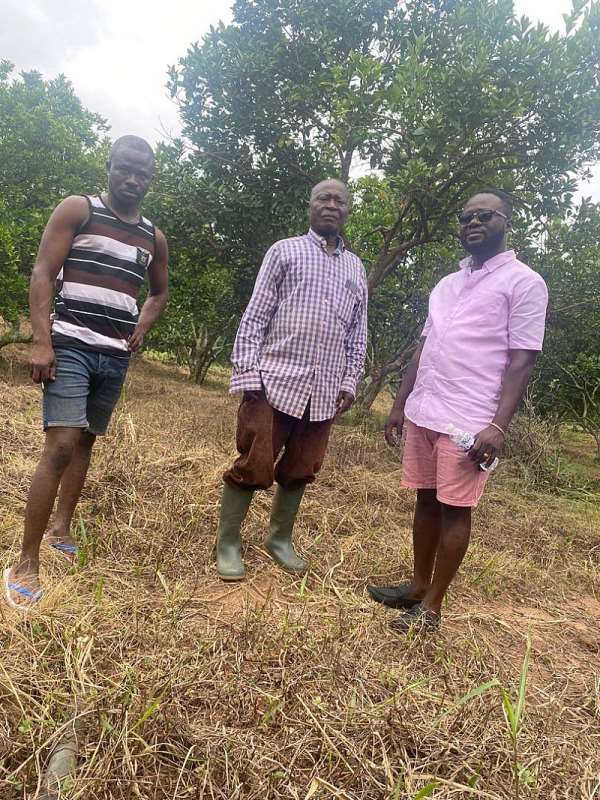 Good news to farmers particularly fruits and vegetable growers in Offinso North and beyond as an NDC parliamentary aspirant Nana Yaw Baffour Frimpong assures of roping in a big profitable trading package to boost confidence and motivation.
Nana Frimpong announced this on the Cruz Kokrokoo morning show annex with SK DE Broadcaster on Monday August 20, assuring orange farmers of total buy out of produce without measure and at a good price for more profit while promising tomato farmers of same assistance later upon finality of studies with partners abroad.
The businessman intends to prioritize the improvement of vegetable/fruits farming and business in the district with his foreign partners, Eastfield farms Ltd to do more buying.
"by God's grace this year, no orange would be left in the bush, we are buying every single orange so farmers should take note," he assured.
He also hinted of plans to get an extraction plant in this district quite soon in order to further increase production and buying capacity of the product. This would also lead to price increase and encourage more participation in farming among youth thereby improving economic condition in Offinso north.
Again the NDC activist disclosed customer packages for farmers to smoothen their bit of the business by helping them with pruning, products to boost yield, sacks for parking during harvest among others to motivate them.
Nana Baffour Frimpong, a native of Akumadan is a strong business minded young politician who contested for the Offinso North NDC Parliamentary candidate but lost to Hon. Ofosu Acheampong Caesar in the primaries.
However, the young politician remains committed to the welfare of Offinso North as he recently contributed quite immensely in the district with regards to the covid-19 fight with distribution of thousands of PPEs to health workers and other departments in the district.
This latest development to farmers comes in handy as constant complaints of lack of buyers of farm produce year in year out by orange and tomato farmers would be put to rest.