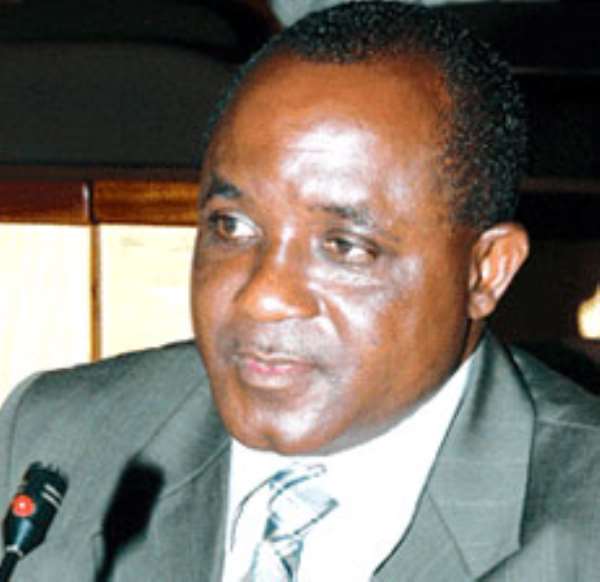 ...Gov't Covering Up, Says NDCImage
A three-member delegation of the Brong Ahafo National Democratic Congress (NDC) caucus in Parliament has toured the Nkoranza North Constituency to assess the situation there since their Member of Parliament was arrested in cocaine trafficking in the USA last November.
Speaking to The Chronicle after their visit, the leader of the delegation, Alhaji Collins Dauda, has described government's behaviour as an act of wickedness and a deliberate attempt to punish the people of the Nkoranza North. Alhaji Dauda, a Member of Parliament for Asutifi South, told The Chronicle in a telephone conversation that the NPP government was deliberately punishing the people of the Nkoranza North by depriving them a representative in Parliament.
Other members of the delegation were Mr. Alex Kyeremeh, MP for Techiman North, and Mr. Stephen Kunsu, MP for Kintampo North. The MP, also a ranking member on Lands and Forestry, deplored government's stand through the Speaker of Parliament not to declare the seat vacant.
Alhaji Dauda said, "I can't see why the seat is still on hold after; all Amoateng has tendered in his resignation letter". The MP revealed that the embattled MP for Nkoranza, Eric Amoateng, had written to the Speaker of Parliament declaring his resignation as an MP, but the protocol section of Parliament noted some technical errors in the letter.
According to Alhaji, the protocol section believed that the resignation letter should have been addressed to the Speaker of Parliament and not to the government; thus the need to for it to be corrected. "How long should it take to correct such technical mistakes; three months? I know his lawyers, who acted on his behalf to write the letter, knew what they were doing, hence these technical mistakes," he lamented. The MP noted that the NPP was aware they were going to lose the seat, and were therefore intentionally delaying to declare the seat vacant.
He disclosed that their tour to the constituency had revealed that the people of Nkoranza North were peeved for so many reasons, including the failure of Parliament to declare the seat vacant. Other reasons disclosed to The Chronicle that had angered the people in the constituency against the NPP government include price increases on farming inputs and subsequent declination of food prices in the area.
"A bag of maize in Nkoranza cost only ¢70,000 whiles a gallon of kerosene sells at ¢40,000," Alhaji Dauda said. "It means one can buy only one gallon of kerosene after selling a whole bag of maize." He wondered how the people could afford to feed themselves, much less pay for their children's school fees.
The Asutifi South MP told The Chronicle that the delegation had also learnt that the ruling NPP party, in all the towns and villages they toured, they had evidence that the NPP was sharing out monies to the people pretending that such monies were loans. Chronicle