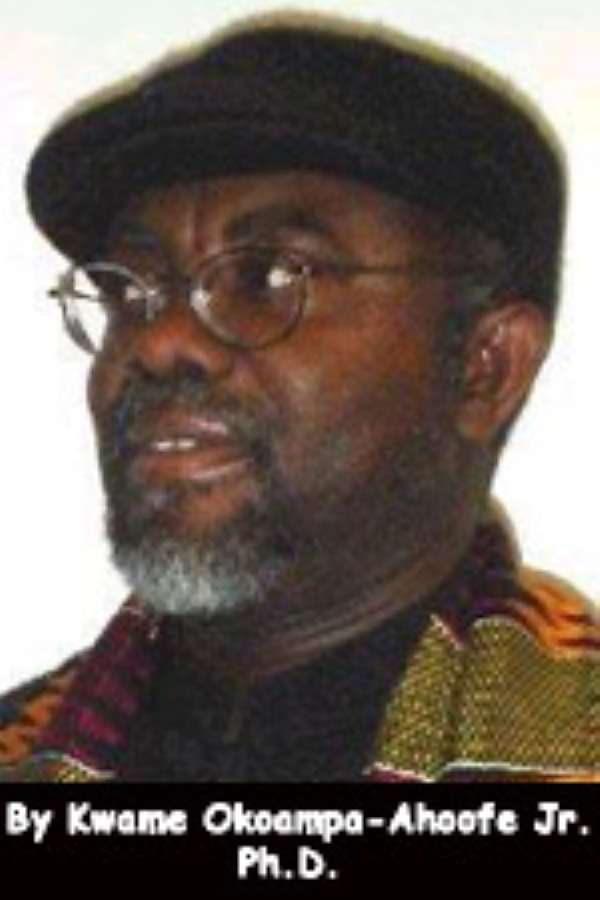 In The Okyenhene's rejoinder to the Omanhene of New Juaben's intellectually and morally demeaning assault, we learn to our utter shock and disgust that an erudite statistician like Daasebre Emmanuel Oti-Boateng has apparently either absolutely no knowledge of the relevant Chieftaincy Laws and Acts pertaining to his office and "profession" as a legitimately invested traditional ruler, or he is simply a willful scofflaw. For example, Nana Oti-Boateng shows himself to woefully lack adequate understanding of the fact that the critical decision to reconfigure or expand the membership of the Eastern Regional House of Chiefs (ERHC) has, in fact, been written into the Chieftaincy Laws of the country, having been duly debated and approved by both the full membership of the National House of Chiefs (NHC) and our National Assembly or Parliament. But one thing is certain, the New Juaben chieftain does not have any kinship love or respect for Osagyefo Amoatia Ofori-Panyin, II, whom the former appears to mistakenly regard as a "leopard" that is poised to voraciously grabbing at increased powers and influence that he does not deserve.
And it is perfectly his inalienable civil right to disdain the historically allodial landlord of the territory that now constitutes the boundaries of the New Juaben Traditional Area. The reality, however, is that it is the quondam defeated refugee warlord who has been cunningly scheming to grab for more power and influence that Nana Oti-Boateng clearly does not deserve. Which was why I could not help but literally fall off my chair, when I read the cynical remark of an apparent Oti-Boateng partisan in the comments column of one of my columns on this subject who claimed, rather comically, that The Okyenhene had punched well above his weight. Well, in the academic and professional discipline of Statistics, definitely, Prof. Emmanuel Oti-Boateng may be a giant, even a lion or a tiger; but, of course, when it comes to insurance policy salesmanship and other aspects of quality-of-life safeguarding, I would, personally, have loved to have witnessed Osagyefo Amoatia put his professional skills and acumen to more palpable use for the development of Okyeman. The selfsame music goes for all the other major chieftains in the country.
Fundamentally speaking, yours truly has absolutely no vested interest in the fortunes of either Akyem-Abuakwa or New Juaben, although emotional attachment, largely shaped by upbringing, has determined, somehow, that he would politically and culturally – actually temperamentally – gravitate towards the affairs of Okyeman. But, of course, having had his lineage as a claimant to the Akyem-Nkronso Royal Stool prenatally and roundly rejected, by reason of his Peki-Blengo agnatic-maternal royal descent's having been hermetically proscribed in perpetuity, this egregious act of moral depravity having long since been restored, by the way, still, of course, the irreparable emotional and psychological trauma that comes with such a barbaric act of political and cultural exclusivity, remains like a freshly cut wound, his Asante-Mampong nativity or Christocentric birth, somewhat balancing out this ancestral blight, he finds himself equally invested in the affairs and fortunes of these two most powerful Akan polities, states or kingdoms. It is a scar that yours truly will bear to the end of his life.
You see, you cannot also be of Akyem nativity and not feel an intimate kinship bond with Okuapeman, another geopolitical and cultural manifestation of the genius and greatness of the Akyem people. And then to learn to my pleasant joy and delight that on my father's mother's side of the family, we were first of Adanse-Fomena descent, and then of Old Juaben moorings and Okwawuman provenance, from Amuana Praso, before we arrived at our final Akyem-Abuakwa destination and cultural identity. In sum, I am incurably of Akan descent, as artificially constructed as such existential identity may be. In sum, I am incurably of Akan descent. Which also means that I am culturally, psychologically and psychically or spiritually implicated in all good and great things Akan. Then, of course, I am also inextricably implicated in the genius and greatness of the Kreppi people of Peki – Peki-Blengo, to be precise.
Ultimately, I am inextricably implicated in whatever constitutes the organic linguistic and cultural unity of Ghana. But I am also emotionally and culturally, and even spiritually, averse to the very self-immolating idea of Akyem-Abuakwa's being allotted a mere 8 divisional chiefly slots in a newly constituted Eastern Regional House of Chiefs, while New Juaben, a significantly smaller geographical territory, is also awarded 6 divisional chiefly slots. This simply defies common sense and justice. I mean, it is patently unjustifiable by any measure for a Traditional Council or Area that constitutes a humongous 62.5-percent-plus of the total landmass of the Eastern Region. And The Okyenhene and the Akyem-Abuakwa Traditional Council had better, at the very least, bargain for the awarding of 12 divisional chiefly slots in the Eastern Regional House of Chiefs, whether Daasebre Oti-Boateng assents to the latter figure or not. I personally like and respect this erudite Ghanaian scholar and relative of mine, but I simply cannot abide the very notion of Prof. Emmanuel Oti-Boateng's using his professional stature and remarkable intellect to bully the rest of the constituent membership of the Eastern Regional House of Chiefs.
The right thing must be done or the entire establishment of the Osagyefo Nana Sir Ofori-Atta, I, spearheaded and cofounded National House of Chiefs may have to be altogether scrapped. You see, this nonsense about The Okyenhene and Akyem-Abuakwa presuming to "unduly dominate" the institutional establishment of the Eastern Regional House of Chiefs is an "Old-Juaben Pathology" unwisely carried over into Okyeman or Akyem-Abuakwa territory, and equally unwisely tolerated by their Akyem-Abuakwa hosts, that needs to be promptly cauterized. You see, we presently live in an irreversibly civilized and increasingly democratic postcolonial world now. We live in an era, for just one striking example, when a former Maxim Ruler or Absolute Monarch like The Asantehene only exhibits his political manhood or prowess after a downpour has literally ripped apart our lives.
As I painfully noted in a previous column, we all witnessed the Rawlings-Tsikata Trokosi Nationalist Butchers summarily execute some of Ghana's finest and most progressive military rulers, while our globally renowned and great Asante "Atumfuos" docked under their gold-gilt beds like eunuchs. Now, let's get real; we really don't sincerely need these golf-club swinging narcissistic septuagenarian and octogenarian chiefs for much else that is significant to our existence and livelihood. Back then, we also witnessed Gens. Afrifa, Akuffo, Acheampong and Yaw Boakye literally slaughtered like Christmas sheep and goats without a single finger raised among our Atumfuo and Asagyefo. We literally stood alone, naked and defenseless all by ourselves. Time to shape up or ship out! Simple as that.
*Visit my blog at: KwameOkoampaAhoofeJr
By Kwame Okoampa-Ahoofe, Jr., PhD
English Department, SUNY-Nassau
Garden City, New York
August 17, 2020
E-mail: [email protected]