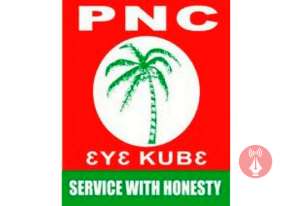 The People's National Convention (PNC) party has announced it will be holding its Congress on September 19, 2020.
Ahead of the 2020 General Elections, the minority party is making arrangements to elect a Presidential Candidate and National Executives of the Party to run affairs.
After several consultations, the PNC at a meeting on Tuesday, August 18, 2020, finally scheduled its Congress for the middle of next month.
"The National Executive Committee of the PNC at its meeting today Tuesday 18th August, 2020 held at the UDS Guest House in Accra has slated the National Congress of the Party to elect a Presidential Candidate and National Executive Officers of the Party for the 19th of September, 2020", a press statement from the Minority Party signed by its National Chairman, Bernard Mornah has said.
With the latest development, the Party has officially opened nominations for interested and qualified members commencing 19th August 2020 to 25th August 2020 when nominations would be closed.
In adherence to Covid-19 safety protocols, the PNC says Congress would be decentralized to have voting done from the various regions, a departure from the old format of congregating at a central location to hold the National Congress.
Find below the full statement: