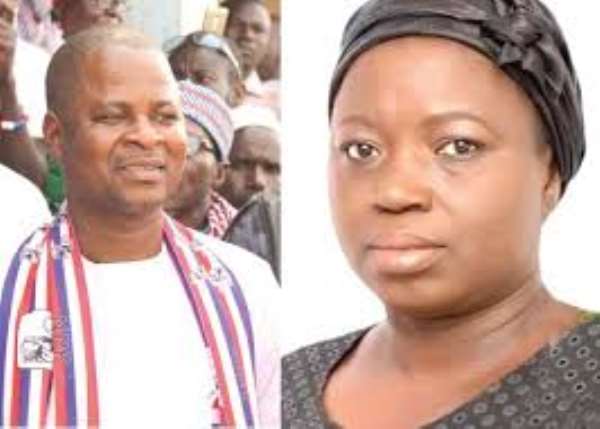 The opposition National Democratic Congress (NDC) parliamentary candidate for Tempane in the Upper East Region is assuring her constituents of development when given the nod.
Madam Lydia Adakuduga stated that her passion to champion development for the betterment of the good people of Tempane remains indelible in her heart.
In a telephone interview, Madam Lydia disclosed that development will be the only legacy she will wholeheartedly embark upon "development in every aspect and all parts of the constituency. Roads, electricity, health facilities as well as the provision of water. What is dearer to my heart is the completion of abandon projects, the putting up and resourcing Community Health Based Compounds [CHPS]. Most of the CHPS Compounds are without electricity and so that is a major concern."
The first female parliamentary contender of the constituency noted amidst joy that when elected to parliament, she will join hands with her colleague women to speak for her constituents in parliament especially children and women who constitute the vulnerable ratio in societies. "I will end the era of lies in politics." in what appears like a mockery, Madam Lydia added that "I won't be a 'king promise' but a 'king reality".
Prior to her elections as a parliamentary candidate of her party, Madam Lydia's campaign message was watered with hopes of development.
Madam Lydia called on Ghanaians to vote out deceitful Nana Addo-led New Patriotic Party's government and bring back former President John Dramani Mahama to continue with his good works to deliver Ghanaians from poverty, joblessness and intimidation.
She noted that the NPP lured voters with lies and that the time has come for Ghanaians to vote them out.
'POWERFUL' NDC PC WHIPS DEP AG, STOPS BIRTHDAY CELEB
The 'powerful' National Democratic Congress (NDC), parliamentary candidate for Tempane would have been 'arrested' and charged with 'political domestic assault' for brilliantly and dazzlingly whipping the incumbent New Patriotic Party's Member of Parliament for Tempane so much so hard that the latter couldn't celebrate his birthday.
A 47th annual celebrations of Mr Joseph Kpemka's life rather turned into a feeling of sorrow and grieving event as the Deputy Attorney General went sweating and panting albeit breathlessly trying to counter his political opponent's brilliant display of political fist as far as the reality of political development of Tempane is concerned.
On Wednesday, 13th August 2020, party supporters and well-wishers of Mr Kpemka had the saddest day when a scheduled joyful event [birth day] of a "senior government member" was swapped with political grief, lamentation and defeated encounter.
Mr. Kpemka who has earned the nickname 'senior government official' having boasted before some party supporters early this year that, he is one of the few ministers of northern extraction in the current government, went panting before television cameras in responding to his political opponent's brilliant delivery over how the latter has over disappointedly done very little as an MP as far as development is concern.
The first time Member of Parliament was quoted to have said in his birthday party turned sorrow press conference at the Parliament House that "The claims are unfortunate and untrue; you may crosscheck the facts on the grounds in Tempane for yourselves. When I got elected into office, I was fortunate and privileged to be appointed to the position of Deputy Attorney General. Three years and even months down the line, I think I have done my fair share of development in the area," Mr Kpemka said.
Constituents roast Kpemka over roads.
Furious constituents, mostly farmers are venting their anger over the deplorable nature of the major roads within the constituency. They have thus accused the lawmaker of doing nothing and has only come to make their roads more inaccessible as vehicles are frequently stacked due to a slow pace and ineffective construction works on some roads.
"At the time he knows that elections are just at the corner, he has come to deceive us. Look, vehicles get stacks now and then commuters are suffering. Foodstuffs get bad due to the poor nature of our roads" a farmer fumed.