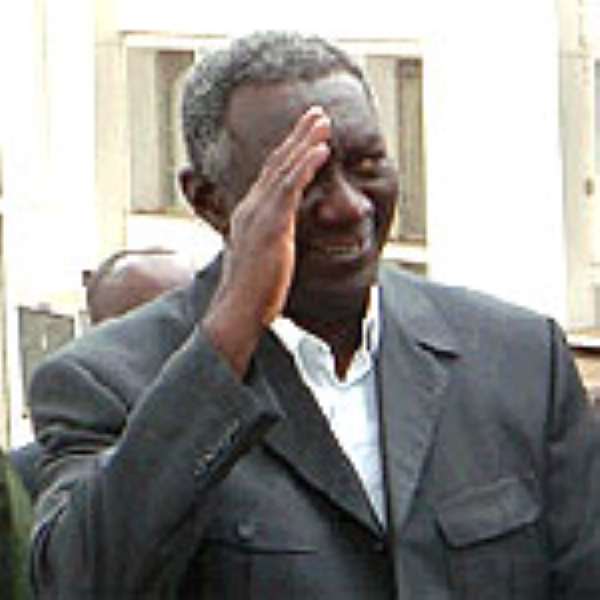 President John Agyekum Kufuor
President John Agyekum Kufuor yesterday tasked the Prisons Service Council to help to transform the physical conditions in the prisons to give them a human face.
He said while serving the important purpose of exacting legal punishment on offenders of the law, it was important that conditions were created to help prison inmates to have the chance to rethink their lives and reform to play meaningful roles in society.
President Kufuor was speaking after swearing in the Members of Prison Council at the Castle, Osu in Accra. They had earlier taken the Oath of Office and the Oath of Secrecy.
President Kufuor decried the present situation in the prisons, saying they were not only outdated but looked like medieval institutions, which did not make any distinction between the different categories of prisoners including first time offenders, juveniles and hardened criminals.
The result was that first time offenders, supposed to be reformed, often came out more hardened. He, therefore, challenged the Council to advise the Interior Minister on how to make things better, promising that the Government would act promptly on any in-depth report submitted to it on the modernisation of the prisons.
President Kufuor cautioned Prison Officers against any treatment that would take away from prisoners their human dignity, saying that they should not display tendencies that would give them out as being there just to punish the inmates.
He told them not to forget that prisoners were human beings and that any high-handedness beyond the bounds of humanity would make the officers just like the inmates and should also be kept away from society.
Mr Adjei said they were grateful to President Kufuor for the opportunity to serve on the Council. He pledged that they would work together with commitment to transform the Service to make the prisons more secured and reformative.
Mr Samuel Ashitey Adjei, Managing Director of ECOBANK, chairs the Council, whose other members include Mr Albert Kan-Dapaah, Interior Minister; Mr Frank Ocran, Chief Executive Officer of the State Enterprises Commission; Mr John Klinogo, former Managing Partner, Pricewaterhousecoopers, Ghana; Mr William Asiedu, Director-General of Prisons and Mr Osei Prempeh, Deputy Attorney-General.
The rest are Mr Benson E.K. Nutuskpui, a lawyer; Madam Mary Amadu of the Ministry of Manpower, Youth and Employment; Chief Superintendent (Mrs) Josephine Fredua-Agyemang, representing senior officers, Ghana Prisons Service; Mr Emmanual L. Lamptey, representing junior officers of the Service; Dr Jacob Plange-Rhule, Ghana Medical Association and Sir Samuel Kofi Asubonteng, representative of Religious Bodies.