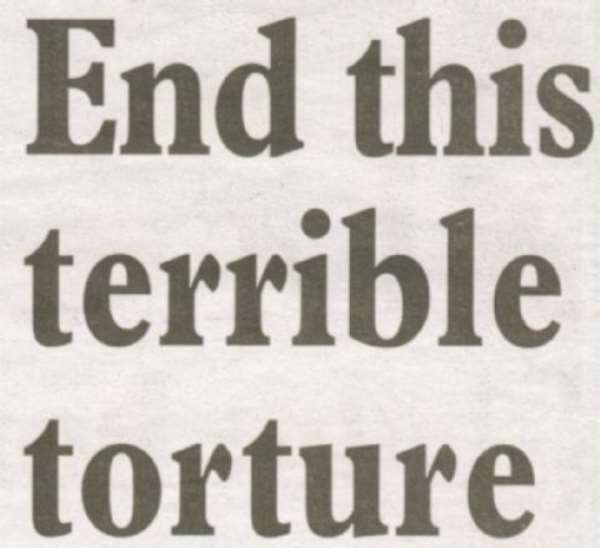 AS GHANA assumes a new position on the United Nation (UN) Human Rights Council, it is yet to ratify and make operational, the second optional protocol to the Convention against Torture.
It is in this respect that Amnesty International, Ghana, a Human Rights Non-Governmental Organisation (NGO) has urged the media to add its voice to the call for Government to take serious steps to endorse the protocol in order to pave way for the total eradication of all forms of torture in the country.
The Director of Amnesty International-Ghana, Mr. Prize F.Y. McApreko expressed this view at the opening ceremony of a-two-day workshop organized for Media practitioners in Accra on the theme: "Preventing the Practice of Torture".
"Let the media add its voice to the call by human right NGOs like Amnesty International to encourage the government to ratify and put in full operation, the Second Optional Protocol to the Convention against Torture, so that the shadows of torture would give way to the bright and promising rays of a country without torture", the Director emphasized.
Mr. Mc-Apreko was of the view that Ghana's nomination to the UN Human Rights Council must be justified through the denunciation of torture, stressing that structures that support acts of torture must be completely removed.
The programme, which commenced yesterday, August 22, 2006 was organized by Amnesty International-Ghana under the Africa Human Rights Education Project and expected to give journalists greater insights into the composition and acts of the canker and possible ways and means to avert its occurrence within the Ghanaian society.
More than thirty journalists from various media houses, both state-owned and private are participating in the workshop, which is interactive in nature.
The Director therefore expressed his disgust over the continuous existence of torture in the country looking at the level of Human rights record that the country has been accorded by the international community.

According to him, not only would acts of torture be seen by the use of offensive weapons to inflict severe pain on the individual but that the use of traditional and cultural practices have also been an associative factor.
Mr. Mc-Apreko noted that his outfit considers rape against women by people in authority or trust as torture considering the severe social consequences that it posses, questioning where Ghana's Domestic Violence Bill was.
The Director further paid glowing tribute to the Ghanaian media for bringing issues that bother on human rights to the public domain for possible redress.