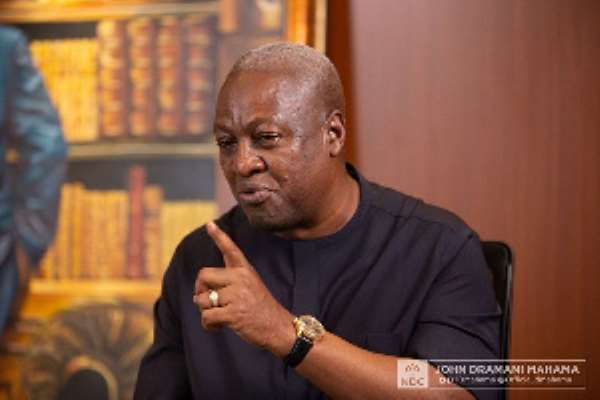 "A gorrila is still a gorilla. We don't have short memories" these are the words of President of Educate Africa Institute, Boadi William.
He said, Mr. John Dramani Mahama, the former President and the flag bearer of the opposition NDC party is viciously trying his luck with so many promises and this in all fairness amounts to playing with our minds.
"We give credit to the former President for his efforts in putting up new hospitals and renovating old ones, CHIPS compound, community day school and others. Notwithstanding, he did poorly by renaming all the polytechnics into full-fledged universities without properly resourcing them."
The financial mess up of God is Love and DKM happened during his tenure. Besides, many corrupt activities and practices occurred under his watch and did not create any job for the youth due to the then IMF agreement with the government of Ghana.
Recently, Mr. Mahama had been in the news pouring out new promises prior to the 2020 elections and had been heard saying he is going to pay off the DKM debt and others. He has also been heard saying he is going to restore the teacher training allowance and create more jobs with a seed money of $10 million.
We want to remind the former gentleman of the land that his administration memory is still fresh on our minds.
It is very unfortunate that the substitute could not change the game. We do not want him to trigger the displeasure of Ghanaians with empty sheet of promises. Better still, he can beg us to try him instead.
We hope his desire to ascend the high office of the land will not be characterized by the dead goat syndrome which became infamous during his days as President. It will be a class disaster if he still hind on to that posture for the second time.
We believe now he has taking a cue from his defeat in 2016 and will take advice beyond his cabals and better still stop depending or placing his hopes or fortunes on the party's Green Book.
The Ghanaian Youth are homeless at home, hopeless, jobless, and lack the needed support to fit well into society. Since our education system continues to fail us, there is a need for the youth to be supported with capital to start a business or operationalize their skills and visions.
We advise all politicians to desist from the use of the youth for their own parochial interest and dumping them subsequently. We wish the former President well in all his endeavors.