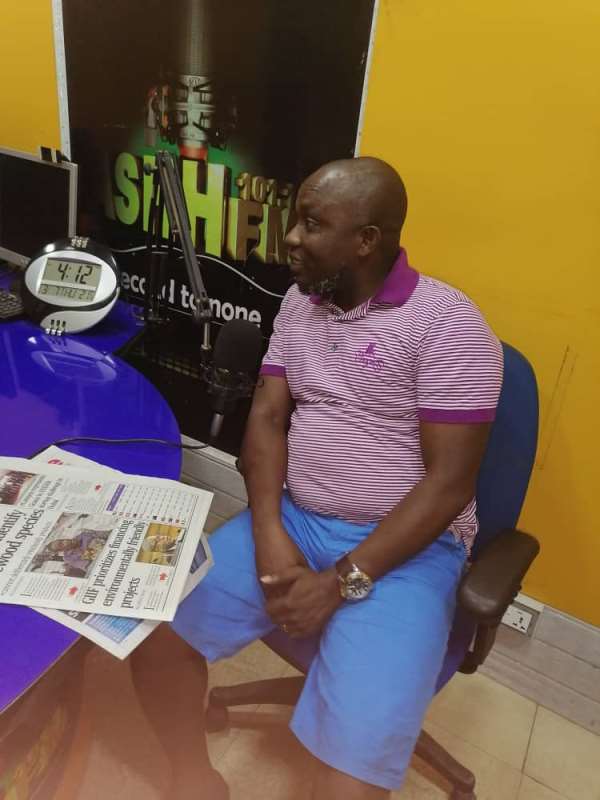 Mr. Joseph Aidoo, the defeated NPP Parliamentary Candidate hopeful for the 2020 elections has appealed to the Central Regional Executive Committee of the New Patriotic Party (NPP) to reinstate the suspended NPP Awutu Senya West Constituency Chairman, Mr. Charles Amoansah.
Mr. Joseph Aidoo is of the view that the suspension of Mr. Charles Amoansah at this crucial time of the election season will disrupt the unity of the party the suspended chairman is working hard to build. He made this observation when he granted an interview to Citi Fm journalist, Mr. Calvis Tetteh.
According to the banker and lecturer, Mr. Charles Amoansah has been very instrumental in his (Joseph Aidoo's) resolution to support Hon. Nenyi George Andah in this year's campaign. It is therefore ironic for this same person to be accused of causing disunity and factionalism among the constituency executives.
The suspension of the chairman was reported by myafricanewstoday.net on 13th August 2020. It was reported that the Chairman of the Council of Elders of the NPP for Awutu Senya West, Baffuor Odiatuo Ofori said they petitioned the Central Regional Executive Committee of the party to suspend Mr. Charles Amoansah after their fruitless attempts to get him to answer allegations leveled against him.
However. Baffuor Odiatuo Ofori was not clear on who leveled those allegations against the suspended chairman. Nevertheless, it is known that before the NPP Parliamentary Primaries, Hon. Nenyi George Andah presented a petition to the NPP Central Regional Disciplinary Committee against Mr. Charles Amoansah but the polling station chairmen of the party in the constituency contested it and that coerced Hon. Nenyi George Andah to withdraw that petition.
Mr. Joseph Aidoo, therefore, holds the view that with this bitter experience, if care is not taken, a section of the party members in the constituency may read their own meanings into the issue and that may work against their commitment towards Hon. Nenyi George Andah's parliamentary bid. Here is the case Mr. Charles Amoansah was also massively voted for. Out of the 600 votes, he gunned over 400 votes to be elected as the chairman.