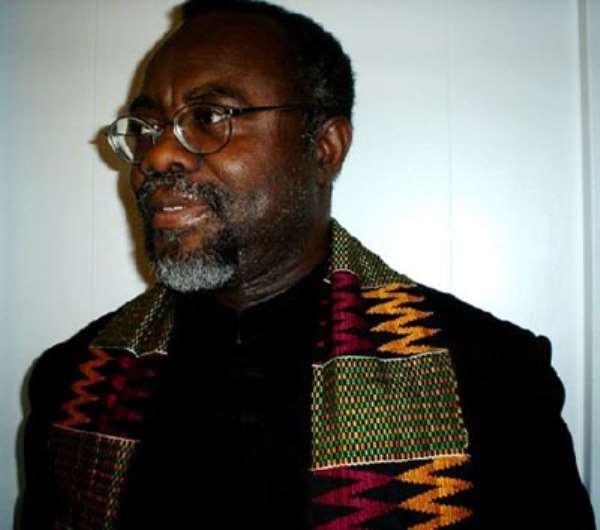 The recent chasing of former Ghanaian strongman Flt.-Lt. Jerry John Rawlings out of a Chicago, Illinois, church ought to serve as a good lesson for all unconstitutional African leaders with tainted and bloody political records who may presume to lecture the rest of us on exactly the kinds of discursive subjects on which they have absolutely no moral authority, and of which they would do themselves much, much better never to discursively attempt – or touch – with even a 100-foot pole, as it were.
Indeed, it appears that a morally impenitent and cynical branch of the so-called National Democratic Congress – or is it "National Demo-druggists Congress" – had invited the infamous Ghanaian butcher to participate in an annual ritual called Ghanafest, a celebration of our beloved country's arts and culture in the Windy City, as Chicago is popularly called.
Symbolically speaking, the geographical location was quite well within the context and character of the founding father of Ghana's Butchers' Congress, another name by which the National Demo-druggists Congress is also known among a majority of the Ghanaian electorate. And here, also, it may be quite in order to point out the fact that Chicago is also the city in which the controversial African-American leader Louis Farrakhan makes his home as head of The Nation of Islam (NOI). Interestingly, the Ghanaian Daily Guide reporter who, apparently, covered the event appears to have grievously confused The Nation of Islam, which organization Mr. Farrakhan leads, with orthodox Islam, and thus his characterization of the Massachusetts-born former cabaret singer and calypso composer as the "controversial leader of Islam" (Modernghana.com 8/3/06).
Needless to say, there is absolutely nothing about Islam that makes it any more "controversial" than Christianity, for example, or any of the world's major religious institutions, for that matter. Nonetheless, it is incontrovertibly true that Mr. Farrakhan is, indeed, a controversial figure. And like Ghana's Mr. Rawlings, Mr. Farrakhan, who is of mixed ancestry, appears to suffer from a crisis of identity. And this may partially explain why the two leaders may be aptly described as mirror-images of one another.
Years ago, for instance, Mr. Farrakhan – his followers prefer to call him by the more solemn and at once religious and political title of "Minister" – had the temerity to label Judaism as a "gutter-religion." And, needless to say, the American Jewish Community (AJC) did not take kindly to such disdainful characterization of its religion, culture and identity. And neither did the mainstream Christian community commend Mr. Farrakhan for attempting to summarily write the cultural fountain (or font) of their religion out of history and out of our collective human memory. Paradoxically, the fact that Islam also originates, ideologically, out of Judaism did not appear to matter to this first-generation American of Caribbean ancestry – from Barbados, to be precise. And interestingly also, several years later, the NOI capo would be interviewed by Harvard University professor Henry Louis Gates, Jr., during which interview Mr. Farrakhan would allude to his having discovered a Jewish grandfather or great-grandfather who owned a large plantation full of enslaved Africans on the Island of Barbados. But as to exactly what interpretation or spin "Uncle" Louis expected the readers of his interview, which was widely publicized, to put on his evidently "chance discovery" of "some Jewish Blood coursing through his yellow veins" was not clarified.
But that the preceding attempt to impudently affiliate himself with the American Jewish Community is strikingly akin to Mr. Rawlings' trekking of the Scottish Highlands in a desperate search of his absentee father's affection and approval may not be purely coincidental.
Then also when one spotlights Mr. Rawlings' sanguinary political past, echoes of Mr. Farrakhan's own equally unflattering past is heard not very far off. The main difference here inheres in the fact that any criminally culpable evidence that may be linked to the NOI leader is purely circumstantial, and it solely and largely has to do with the brutal assassination of celebrated and immortalized Black Muslim leader Malcolm X. The Akan have a saying that the person most to be feared is one's closest associate or friend. In sum, having inducted Mr. Louis Farrakhan into the inner-circle and confidence of the NOI, in the wake of Malcolm X's falling out with Nation of Islam founding father and prophet Elijah Muhammad, Minister Louis Farrakhan would add his inflammatory voice to the chorus of others who servilely and fanatically supported Mr. Muhammad, who had been brought up, internally or informally, on charges of indiscriminate defloration of vulnerable female disciples, by writing an article in the organization's newspaper calling for the blood of the "traitor" and inveterate "enemy" of the foremost prophet of the NOI. To this day, Minister Farrakhan vehemently denies having been either complicit or abetted the assassination of Malcolm X, whose death, it is significant to recall, was also blamed on the U.S. Federal Bureau of Investigations (FBI), the functional equivalent of Ghana's Bureau of National Investigation (BNI).
Of course, unlike the far less geopolitically endowed Minister Farrakhan, Mr. Rawlings, like President Nkrumah before him, had the coercive apparatus of the Ghanaian State at his beck to facilitate the summary execution of his perceived enemies, both military and civilian, including Supreme Court judges. And so on a multiplicity of levels, it is only too seasonable for birds of identical plumage to flock together, as it were.
What was patently distasteful, to speak much less about outright disgust, vis-à-vis the presence of Mr. Rawlings regards the register or context in which the leader of the National Decapitators' Congress (NDC) made himself available in Chicago and then, of all places, a Christian church. A pseudo-Marxist and a ranting "Khaddafyist" (as in Muamar el-Gadafy), Mr. Rawlings has not been well-known to set store on Christianity, both as a cultural praxis and a philosophical ideology. Indeed, like Karl Marx, of whose philosophical discourse it is highly unlikely Mr. Rawlings ever cultivated an appreciable understanding or knowledge, the "Sogakope revolutionary" negotiated most of the 1980s decrying Christianity as an opium for the "struggling masses."
Interestingly, on the day that Mr. Rawlings found himself inside Chicago's Christ-For-One-Church (7/31/06), the Ghanaian residents of the Windy City had congregated in solemn celebration of their country's "arts and cultures." In a palpable sense, therefore, the former Ghanaian strongman's presence was an anti-climax, for Mr. Rawlings did more than any misfit Ghanaian leader, in recent memory, to reduce his country's culture and civilization to their lowest possible levels. And by the time that he left office, having ferociously held onto the scruff of his countrymen and women for some twenty protracted years, the country's flagship academy, the University of Ghana, once touted as the Harvard of Black Africa, assuming there were any such thing as White Africa, ranked a piddling 5,000th-plus globally. On the continent itself, Legon, as the University of Ghana is popularly known, ranked 46th, behind such hitherto "no-name" universities as Lusaka, Zambia and Dar-es-Salaam, Tanzania.
The sacrilege, however, lay in the very brazen attempt of the man who either directly or obliquely supervised the butchery of more Ghanaians than the combined casualty numbers in the 99 recorded battles between Okyeman and Asanteman over the historic course of some two centuries, to attempt to hold forth in an ordained cleric's pulpit about, of all subjects, "Family Values." And so it came as hardly any surprise when Ms. Victoria Acheampong, a daughter of the slain Gen. I. K. Acheampong, righteously lit into the certified Sogakope Butcher by reminding Mr. Rawlings, and his teeming lackeys, of that indelible and poignant Christian Commandment which exhorts: "Thou Shall Not Kill." In essence, Ms. Acheampong, like many of the rest of us, appeared to be deeply troubled by the flat refusal of a killer Mr. Rawlings to cringe or even feel remorseful before a Christian congregation of whom the leader of the so-called Armed Forces Revolutionary Council (AFRC) presumed to pontifically lecture on "Family Values." In sum, Mr. Rawlings made the politically fatal mistake of arrogantly alluding to the fact that he and Nana Konadu Agyeman had been married for some three decades, most of which time Mr. Jato-Jay-Boy spent summarily executing the husbands of other women like Nana Konadu Agyeman-Rawlings.
And so it was only too logical for Ms. Victoria Acheampong to screamingly riposte: "What about us? You killed my father!" She also reportedly charged at Mr. Rawlings while at the same time dangling a large portrait of her murdered father at Mr. Jato Sogakope. The Farrakhan attack-dogs – you may call them "bodyguards" – are reported to have moved in an attempt to restrain Ms. Acheampong who, reportedly, smashed Mr. Rawlings' glasses to smithereens, or, perhaps, the eye-glasses of one of those cynical NDC vermin that invited Jato-June-Fourth to the wrong gathering and assembly.
Unfortunately but characteristically, the Sogakope Revolutionary had made the patently unwise error in judgment of vitriolically assailing President Bush, his gracious host. This ensured that present members of the U.S. Secret Service, detailed to protect the former Ghanaian strongman, would, instead, protect Ms. Victoria Acheampong, their true ally.
"Hey Jato-Boy, this is not Koforidua's Hotel EREDEC. Next time check yourself before coming here to diss us," a white-American man was heard to say.
*Kwame Okoampa-Ahoofe, Jr., Ph.D., teaches English and Journalism at Nassau Community College of the State University of New York, Garden City. He is the author of twelve books, including "Sounds of Sirens: Essays in African Politics And Culture" (iUniverse.com 2004). E-mail: [email protected]