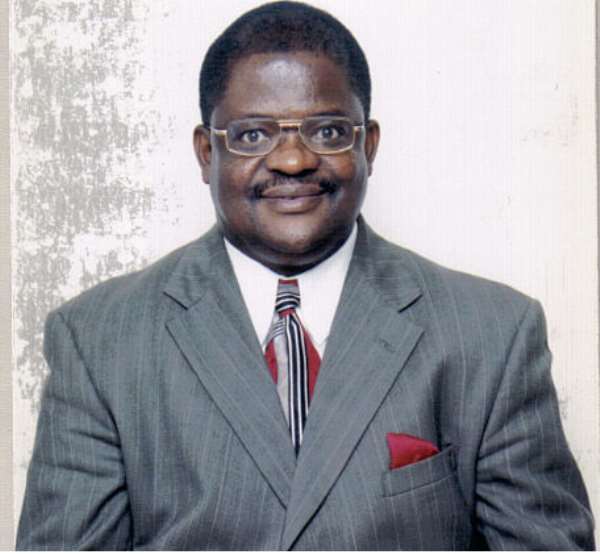 (1 JOHN 3:16-24)
I.THE SUPREME DEMONSTRATION OF LOVE VV. 16-18
We know love by this, that he laid down His life for us, and that we ought to lay down our lives for the brethren. But whoever has the world's goods and sees his brother in need and closes his heart against him, how does the love of God abide in him? Little children, let us not love with word or with tongue, but in deed and truth (NASB).
In Ghana, we the Akans have a saying that goes like this: "Obi nkyere abofra Nyame," meaning, "nobody teaches a child to know God." There is a certain knowledge or concept of God that is universally inherent in humans. For example, when you look at the universe or nature, you cannot help but to admit that there is a Creator who put everything together. Heaven and earth and the things in them are not happen stance. They do not exist by chance. Humans did not just evolve; the Creator God created us. We are fearfully and wonderfully made by God.
Pondering over this, reveals to us that there is a Creator God who loves us.
How then do you answer a person who says, "if God loved me why do I feel this way? If God loves me why don't I see it." If God loves me why am I suffering? These are legitimate concerns
The answer: the inadequacy of nature to demonstrate or reveal the love of God for us. God therefore sent His Son Jesus Christ who came down and laid down His life for us on the cross. This is the supreme revelation of the love of God for you and me.
Love is an action word. Real love is an action, not a feeling.
Love produces selfless, sacrificial giving. Christ's death was a voluntary self-sacrifice on behalf of sinners. How can you lay down your life for others? Sometimes it is easier to say I will die for you than to truly live for others, which involves putting others desires first. Jesus taught this same principle of love in John 15:13. The love of God, which Jesus has supremely demonstrated, should characterize those of us who are Christians.
Contrasting hate and love:
Hate is negative.
It seeks another person's harm and leads to activity against him/her even to the point of murder (Cain out of hate killed his brother Abel) Genesis 4:8.
Love is positive.
It seeks the other person's good and helps him/her even to the point of self-sacrifice. As Cain has been given as a supreme example of hate, Christ is presented as the supreme example of love. When Jesus died on the cross, He did not die for His sins. He had none. On the contrary He died for our sins.
A person's life is his/her most precious possession. That is why on the horizontal plane or human level, the first commandment is the prohibition of murder. "Thou shall not murder" (Exodus 20:13). For the same reason, to give your own life on behalf of another is the greatest expression of love. The great contrast then is this: Cain's hatred resulted in murder; Christ love resulted in self-sacrifice. Indeed, true love (agape) is self-sacrifice.
Two persons who demonstrated this kind of love in the OT are Jonathan and David. Love is putting others interest before yours.
The story of the two friends who vowed to die for each other.
Most of us may not be called to lay down our lives for others, but self-
giving love is a principle to which all of us must be dedicated.
Verses 17 & 18. That is where the rubber meets the road. John now illustrates for us how we can demonstrate our love to others.
How love on the vertical plane (Divine love) should motivate us to demonstrate love on the horizontal plane (human love).
The problem of insensitivity to the needs of others: a personal example, my well-to-do friend who was insensitive to the needs of others. I was also insensitive to others. I learned my lesson to be sensitive to the needs of others.
What John is teaching us as Christians is to be sensitive to the needs of others.
To be sensitive to the needs of others, you must have discernment. There are times when the needs of others are obvious to you. For instance, you have a friend who has a few clothes or dresses, but the Lord has blessed you with abundance of clothes/dresses. An angel of God should not come from heaven to tell you to give some of your clothes/dresses to that needy friend. The need is obvious, but you have closed your heart against your friend.
Illustration of my mother's hospitality.
The phrase, "closes his heart" is a word picture. Has someone slammed a door at your face before? Mr. Charles Perkins and I. Some people do the same thing to door to door salesmen.
John is saying to you and me that if we have the opportunity and resources to meet another person's need, but we refuse it is like slamming a door at that person's face.
He is saying that if we do that, then where is the love of God in our hearts?
True love is revealed not only in supreme sacrifice; it is expressed in all lesser giving as well. You and I must demonstrate our love, and one way to do that is to provide money to help meet others' needs (James 2:14-17). How clearly do your actions say you love others?
I like what C. H. Dodd wrote years ago: "Love is the willingness to surrender that which has value for our own life, to enrich the life of another."
In verse 18, John is saying that genuine love is more than words of mouth. Talk is cheap, but actions speak louder than words. Are you a generous person? Are you as generous as you should be with your money, possessions, and time?
II. THE SUSTAINED DECLARATION OF LOVE
BEFORE GOD VV. 19-24
We will know by this that we are of the truth, and will assure our heart before Him in whatever our heart condemns; for God is greater than our heart and knows all things. Brethren, if our heart does not condemn us, we have confidence before God and whatever we ask, we receive from Him, because we keep His commandments and do the things that are pleasing in His sight. This is the commandments that we believe in the name of His Son Jesus Christ, and love one another just as He commanded us. The one who keeps His commandments abides in Him, and He in him. We know by this that He abides in us, by the Spirit whom He has given us.
Love brings assurance of your standing before God. How do you feel inside when you go out of your way to help somebody? It can be the giving of a helping hand, money, clothes, shoes, or any practical help such as a phone call when someone is sick. A simple meal together with lots of laughter. A simple note for a discouraged companion. A prayer intention. A warm hug for an older member of the community. A small cash gift when a friend is out of job. An offer to baby-sit for a tired mother. These are little things that make you a saint. When you demonstrate love to a person in need one way or the other, your heart assures you that you have done what is right. That is, you have loved in truth. The fruit of love is confidence. When you practice genuine love, not only will you come to know that you are of the truth; in addition, you shall assure your heart before God. But when you refuse to show love to another person, the Holy Spirit convicts you. You begin to feel bad; your conscience begins to bother you.
Someone has said that the way you can know that you are walking in the Spirit is that you become sensitive to sin and righteousness. Has your conscience bothered you lately?
Many Christians feel guilty because they think they are not ready to love.
Or they are unable to demonstrate proper love. Their conscience bothers them. John has such Christians in mind when he wrote this letter. How do you escape the gnawing accusation of your conscience? It is not by ignoring them or rationalizing your behavior, but by right actions, says John.
The caution is that there is a sense when you can be entertaining false guilt. False guilt is one of the ways Satan attacks Christians. John is not talking about false guilt. He is dealing with real guilt when you and I refuse to show practical love. John is saying that if our conscience, which is fallible condemns, the verdict of an Omniscient God will be even more severe. But if your heart doe does not condemn you, you have confidence before God. The Bible urges us to rebuke a sinning Christian in love and patience (2 Tim. 4:2). However, you are not to play the Holy Spirit.
The silence of the Bible on Lottery, Casino, and others.
If the Holy Spirit convicts you as a believer, it is up to you either to give up the sin in your life or to hang on to it. It is your business, not mine. However, the good news is that if your heart does not condemn you, you have confidence before God. Do you know why some Christians do not pray consistently? If your conscience is clear, you can come to God without fear, confident that your request will be heard and granted. Now get this:
"Obedience is the indispensable condition of answered prayer (v. 22). An obedient life is an expression of harmony with God.
"Children who come so confidently to their heavenly Father cannot ask anything that he will refuse."
Notice that the assurance of answered prayer is stated in the most unqualified manner: "whatsoever we ask." The last half of verse 22 tells us how this can be. Let us say it together. It is "because we keep His commandments and do the things that are pleasing in His sight."
"Our prayers are answered because our wills are at one with the will of God."
Verse 23 gives us the definition of God's commandments
First, we are to believe the name of His Son Jesus Christ. In the Bible a person's name stands for His character. It represents who he really is. We are to believe not only in the words of Jesus but also His very person as the Son of God. To believe in His name is to live for Him. It is to pattern your life after Christ's. It is to become more like Him.
Second, we should love one another as he commanded us. Here John tells us the s total of love. Loving Jesus Christ and loving your neighbor as yourself. John links love with belief in Christ, and obedience to His commandments as the evidence of the Holy Spirit's presence in your life. If the Holy Spirit abides in you, He does not jerk you around or throw you down to let you know He is in you. You do not have to speak in tongues every day to know that the Holy Spirit abides in you. Some do, that is okay. However, if you are a true Christian, there is something deep inside you that assures you that you are a child of God and that the Holy Spirit abides in you.