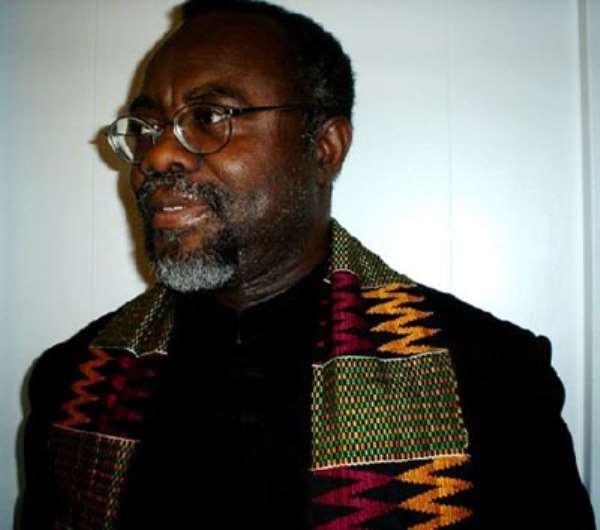 In this segment of our discourse on the Danquah-Nkrumah debate, which has been continuously running at least since Dr. Danquah's summary imprisonment and brutal assassination in 1965 by President Nkrumah's Convention People's Party (CPP) regime, it has become necessary to engage in what might be disciplinarily termed as the sociology, or historical context, or determinants, of our present debate.

Interestingly, it may be tantamount to a euphemistic understatement to describe our present discourse as "a debate," for it is more of an assault, of ambuscading proportions, than a polite, dispassionate and logical dialogue in the Ghanaian public academy. And, it goes without saying that "a public academy" implies the critical and meaningful engagement of fairly well-cultivated minds on any issue of significance to our collective, national destiny as a people.

In a real sense, this debate began sometime in March 2004 when I started publishing a series of articles titled "The Enduring Legacy of Dr. J. B. Danquah," a twenty-part series, which was later collected into a book titled "Dr. J. B. Danquah: Architect of Modern Ghana." During the preceding period, Neo-Pharaoh Abu Jihad – not his real name – my graduate school teacher and longtime avuncular friend, and a brazenly and overtly fanatical Nkrumacrat, called me by phone to complain that in highlighting the phenomenal achievements of Dr. J. B. Danquah who, incidentally, also happened to have been my great-granduncle, I had, perforce, deprecated the purportedly nonesuch stature of former President Kwame Nkrumah, the proverbial African Show Boy. I promptly responded that in the general scheme of Ghanaian, and African, historiography, at least as I perceived it then, and even more staunchly do now, it vividly appeared to me that Dr. Danquah had virtually been written out of our collective memory, almost as if the Doyen of Gold Coast and Ghanaian politics never existed.

Neo-Pharaoh Abu Jihad appeared to promptly agree with me, except that he considered the rhetorical tone of my articles vis-à-vis the depiction of his "untouchable" idol, President Nkrumah, to have been rather caustic, to speak much less of the outright mordant. I assured him that I had painstakingly factored in such critical questions as balance and objectivity in undertaking my project, and also that any appearance of dour rhetorical disfavor against his hero was purely incidental, or perhaps simply ideological rather than personal, being that I had meticulously examined a number of the important documents pertaining to the Danquah-Nkrumah era and unreservedly preferred to let the facts speak for themselves.

Neo-Pharaoh Abu Jihad sounded unusually plaintive and even wistful and observed anxiously that quite a number of his colleagues and friends, including Arch-Pharaoh Mollify-Your-Catering-Centers (not his real name, of course), had called, with even the Arch-Pharaoh bitterly complaining that being that I was good friends with Neo-Pharaoh Abu Jihad, the sacred decorum of such friendship peremptorily dictated that either I summarily abandoned my project, recanted and apologized or risk grievously breaching our hitherto cordial relationship. I promptly demurred and added, matter-of-factly, that under no circumstances, not even a direct discontinuance edict from the proverbial Supreme Being, short of instant precipitation of capital punishment, would deter me from my project, partially for which I had been generously granted a Sabbatical Leave from Nassau Community College of the State University of New York, Garden City, where I taught English and Journalism.

But, perhaps, it is also quite significant to observe herein the fact that I had intimated to Neo-Pharaoh Abu Jihad that the third article in my earlier series on Dr. Danquah had actually highlighted the complementary – or co-equal – significance of both Dr. Danquah and President Nkrumah in the coveted pantheon of modern Ghanaian politics. I further noted to Neo-Pharaoh Abu Jihad the fact that I had been inundated with Electronic Mail (E-mail), largely from diehard Nkrumacrats mordantly assailing me for rather "irreligiously" presuming to place Dr. Danquah on the same seminal political pedestal as the proverbial African Show Boy, an intemperate criticism which I considered to verge on outright blasphemy, being that it was, indeed, the propitious advent of Dr. Danquah on the Ghanaian political landscape that made the appearance, rise and meteoric dominance of President Nkrumah on the postcolonial Ghanaian political landscape possible.

While in principle, at least that was how he gave me to believe, Neo-Pharaoh Abu Jihad claimed to perfectly concur with me – for I had also apprised him of the stark fact of having dedicated my maiden collection of essays, titled "Sounds of Sirens: Essays in African Politics and Culture" (iUniverse.com, 2004), to the revered memory of President Nkrumah, among other illustrious Pan-Africanist spearheads – nonetheless, the nephew of the notorious national coordinator (or director, I forget which) of President Nkrumah's Young Pioneers' Movement (YPM) insisted, implicitly, that Dr. Danquah was largely to blame for his own summary incarceration under the odious Preventive Detention Act (PDA), because the name of the Doyen of Gold Coast and Ghanaian politics had been found among a list of some purported co-conspirators against the Convention People's Party (CPP) who had been promptly arrested somewhere in the Achimota Forest.

I asked Neo-Pharaoh Abu Jihad whether, indeed, Dr. Danquah had been found, physically, among the purported anti-CPP co-conspirators and been promptly arrested together with the other group members. My old friend and former teacher hesitantly responded in the negative but kept, rather adamantly, insisting that President Nkrumah had done absolutely no wrong in ordering the detention of Dr. Danquah at the Nsawam State Medium Security Prison without trial, and callously keeping the aging patriotic Ghanaian statesman and scholar under lock and key, and then under an appalling dietary regime(n) until the first modern Ghanaian to officially demand our collective sovereignty from British colonialism rapidly wasted away.

I calmly informed a deeply agitated Neo-Pharaoh Abu Jihad that I had, indeed, discovered and critically examined at least one of the White Papers published by the CPP government, seeking to vacuously explain off the summary detention of Dr. Danquah in 1961, and that it took a gaping credulity of fatuous proportions for any reasonably well-educated person, Ghanaian or non-Ghanaian, to side with the CPP. I, nonetheless, promised Neo-Pharaoh Abu Jihad utmost balance and objectivity in my, admittedly, quite daunting task of infusing a historiographical balance into the contemporary Ghanaian curricular status-quo.

We shall, in due course, take up this narrative regarding my fifteen-and-half-year academic and personal relationship with Neo-Pharaoh Abu Jihad, since this aspect of my life is of central and critical relevance to our ongoing Danquah-Nkrumah discourse.

In his response to the first installment of this series – which was largely in riposte to his earlier article titled "The Fallacies of J. B. Danquah's Heroic Legacy" – Mr. Kwame Botwe-Asamoah angrily and plaintively demands: "What have my ethnicity, age and educational background to do with the content of my introductory article on the 'Fallacies of J. B. Danquah's Heroic Legacy?' [sic]. It takes a naïve, ignorant and insecure person to make uncouth remarks about one's [someone else's?] academic laurels in dance, music and drama from a reputable university like Legon. You should know better. There is no such thing as [a] Ph.D. degree in Nkrumahism in any university in the world" (see SIL-Chat-room, Ghanaweb.com, under "When Dancers Play Historians and Thinkers – Part 1").

To Mr. Botwe-Asamoah, my riposte is: That is precisely my point. Those who "awarded" you your doctorate in Nkrumaism, after making you dance your aging and wizened heels around the hallways of Gladfelter Hall, at Temple University, did you no good, in reality. In fact, they have unnecessarily saddled you with a burden whose leaden intellectual carriage-pad you woefully lack, thus your desultory and scatterbrained ranting about the incontestable and politically and culturally unbested achievements of Dr. J. B. Danquah.

But that I made a glaring mention of Mr. Botwe-Asamoah's ethnicity and age, largely stems from his devious, "Nkrumacratical" attempt at using his Akan-sounding name to mislead his readers into misperceiving this debate to be primarily one between two bona fide Akan ideological camps when, in actuality, it is merely an individual, anti-Akan Ewe nationalist's vitriol, borne purely out of raw envy, jealousy and blistering identity crisis, and one that needed to be promptly exposed.

We shall also, in due course, clinically establish the glaring fact that Mr. Kwame Botwe-Asamoah was singularly instigated in his foolhardy and patently nihilistic misadventure by Neo-Pharaoh Abu Jihad.

Now, on the question of my allusion to Mr. Botwe-Asamoah's age, the sole intent was to amply highlight the fact that no cultured and well-educated resident or citizen of Okyeman would cavalierly presume to either publicly or privately impugn the integrity of the Okyenhene, his own geopolitical host. You see, at 60, one is supposed to be a "Nana," a grandfather and a respectable repository of wisdom. Alas, in the case of Mr. Botwe-Asamoah what do we get? Plain stupidity, as when the certified "Otitinto" (aging knucklehead) fatuously declares: "The call by the Okye[n]hene to rename the premier university of Ghana after Dr. J. B. Danquah is the most absurd of the public statements. In 1951, it was Danquah who vehemently and steadfastly opposed the 1951[sic] Local Council Ordinance Bill and the establishment of [the] Cocoa Marketing Board introduced by Nkrumah's internal-self[sic] government. Thus, if Danquah had won the debate, the Kwame Nkrumah government would not have generated the requisite revenue for the first five-year development plan, containing the construction of the Volta River Project, Tema Harbor and City, Adomi Bridge, Okomfo Anokye Hospital, democratization of education, and Medical School and the planning and construction of the University of Ghana" (see "The Fallacies of J. B. Danquah's Heroic Legacy," Ghanaweb.com 6/4/06).

A congenital liar is one that is clinically incurable – for when did Nkrumah "plan" and "construct" the University of Ghana which, by the singular instrumentality of Dr. Danquah, was already in full service and operation by 1951, when Prime Minister Nkrumah was named Leader of Government Business in the Legislative Assembly? And regarding the establishment of the erstwhile Gold Coast Cocoa Marketing Board, perhaps Mr. Botwe-Asamoah would do his amnesiac memory some dosage of good by locating the 1998 newspaper report of Mr. Kwesi Armah's address to the graduating class of the Ghana National College, Cape Coast, which was also published by Ghanaweb.com.

Thus, when I highlight the fact that Mr. Botwe-Asamoah was born some sixty, whopping, years ago, it becomes quite understandable that the aging, impenitent Nkrumacrat would chafe at the bridle, as it were.

*Kwame Okoampa-Ahoofe, Jr., Ph.D., teaches English and Journalism at Nassau Community College of the State University of New York, Garden City. He is the author of "Dr. J. B. Danquah: Architect of Modern Ghana" (iUniverse.com, 2005).