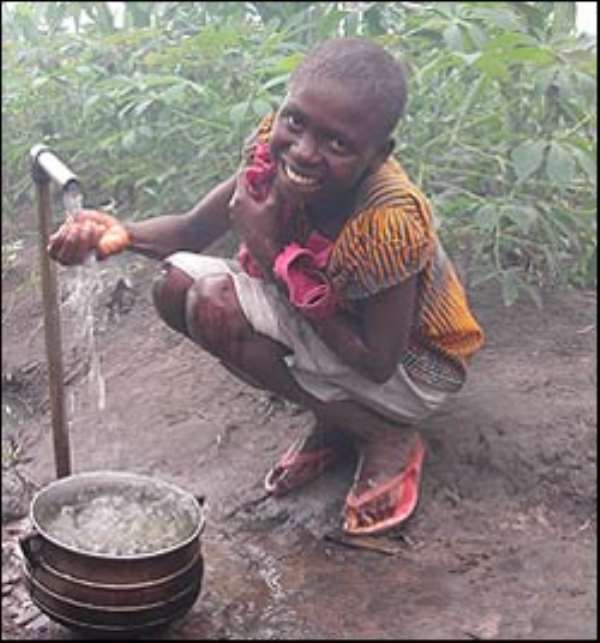 The government is working ahead of schedule for the attainment of the Millennium Development Goals (MDGs) to make the country's water problem a thing of past.
Minister Water Resources, Works and Housing, Hackman Owusu-Agyemang, speaking in Tamale, expressed the hope that 85 per cent more than the MDGs target of 75 per cent would be achieved within the time frame.
"With the Tamale water project now about to take off, we are left with Techiman, Sunyani; Wa and perhaps Upper East - and we will have solved more than 90 percent of the water demand in the country.
"When we tackle these areas, which are major water supply systems, then we will have broken through the water problem in the country," the Minister stated.
Mr Owusu-Agyemang was speaking after cutting the sod for the Tamale Water Project estimated at about 45 million euros.
Half the cost is a grant from the Netherlands while the remainder is a Ghana government concessionary loan.
The project when completed would cover towns and villages along the water transmission pipeline from Dalun to Tamale and communities as far as Pong Tamale, Yoggu, Datolili and Wamali serving over 500,000 people.
Mr Owusu-Agyemang said as part of the government's effort to realise the target, a draft policy had been placed before Cabinet for approval.
He said the policy, which was a coordinated effort to explore all water resources would serve as a blueprint for its management and supply nationwide.
The Minister noted that over 250 million dollars had been sunk into the sector over the past two years for the benefit of Ghanaians.