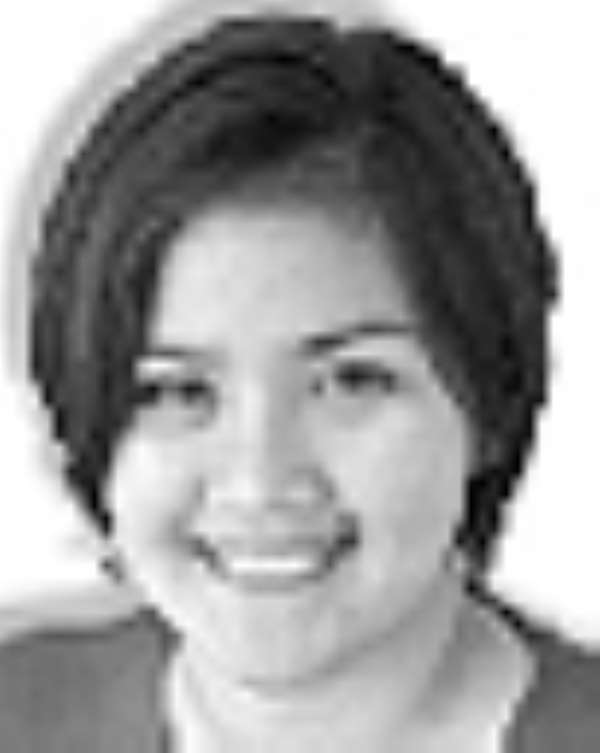 I'm one of those travelers who automatically convert the prices of everything to Philippine currency. In Britain I bled whenever I had to shell out three pounds for an insipid prawn sandwich, and in Denmark I scan the mirror in anxiety, fretting over the day when I will have to visit the immigrant barber on Vester­brogade, whose prices are cheap enough—but who would pay P2,500 for a service available in a Manila mall for a tenth the price?
So I leaped at the chance to travel to Ghana on a Star Alliance award ticket. My friend looked in astonishment at the checklist I was drawing up. Shampoo, toothpaste, haircut, cotton T-shirts. Don't you get those things at the local Netto? he asked. Yeah, I snapped. But Ghana is a Third-World country with a huge population. I bet I can get them cheaper than anywhere in Manila.
A reality check soon took place at the pharmacy. My one-week supply of Malarone pills, a precaution against malaria, cost more than 300 crowns. I was heading for a Third-World country, sure, but there were sure to be tradeoffs.
It costs roughly 50 percent more to travel from Copenhagen to Ghana, than to Manila, on Lufthansa. Maybe because the market isn't there. Well, I was using an award ticket, anyway. The aircraft from Frankfurt to Accra, via Lagos, Nigeria, was an Airbus, a little one. The Scandinavian Airlines flight from Copenhagen to Frankfurt gave us individual screens with the usual information about ground speed and altitudes, plus the view from cameras in the plane's belly and—as we lined up with the airport—nose. Hooray! The view from the Airbus to Accra consisted of one long fragile aircraft wing and, beneath it, the Mediterranean, unrelieved but for Malta and Sardinia, and, later, a blinding stretch of yellow that went on for hours and hours—the Sahara.
When the plane lurched through the cloud cover over Lagos, the mostly black passengers gave a collective squeal of terror. As we touched down, at the airports in Lagos and, an hour later, Accra, they burst into a collective round of applause that had me and my seatmate exchanging glances. Aren't West Africans, in general, religious? he said. Yes, I said with some certainty, having spotted a good number of churches and even a cathedral as the plane, fighting gravity, progressed over Lagos and Ghana less than a thousand feet over the ground. Well, don't they have enough faith that God will bring them down? my Scandinavian seatmate continued. I digested this in silence. That's stuff for a column, I thought. Meanwhile, we were taxiing over asphalt, past a landscape amazingly Philippine in its lushness, foliage waving gently beneath the roiling cover of purple cloud. We passed aircraft that said Ethiopian Air, DHL, "Orbis—Bringing the gift of sight to the world." The superficial cheapskate in my breast rejoiced. Millennial religious movements and foreign aid. No 500-peso hamburgers where we were headed, that's for sure.
There were no hamburgers, period. There is no McDonald's here, Gulli told me. It's not part of the culture. She is a Danish AID worker who spent many years in the Philippines, and was quick to point out the way our culture at once derives and departs from America—from the fast food to the mania for entertainment and trendy dressing and novel things. At a canteen in the University of Ghana-Legon, I stared in fascination at the dishes traveling past, chunks of meat swimming in rich, oily sauces. I already knew, from a scan of the Internet, that I was ogling fufu, red red beans, snail soup, goat, plantains, but which was which? In Manila I scarf down Styrofoam bowls of Wendy's Chili Rice instead of a balanced meal (Ms. Cheapskate, indeed), so I opted for the red red beans. They came in hot tomato sauce, with some rather ripe fried plantains on the side. They were delicious.
How much do they cost? I wanted to know.
Eighteen thousand cedis, I was told.
I choked.
It took me a while to truly comprehend that there are about 10,000 cedis to the US dollar.
A plateful of hot red beans and a Coke cost 18,000 cedis at the state university in Accra, Ghana. Inflation began in this country in the early eighties, following several rapid turnovers in the leadership of the country, Kwesi, director of the university's center for adult education, told me. But the money devalued spectacularly several years ago: in this country, he joked, one might be a millionaire in the morning and a beggar by afternoon. 18,000 cedis, is after all, a little under two US dollars.
The following day, I set off confidently in search of a hair salon. Nowadays, the directives regarding my hair are simple: cut it short, layer the edges and keep it cheap. It is easy to screw up a layered cut, so I have no expectations. In my hand was a menu flyer from the guesthouse with detailed instructions on how to get to a hairdresser the receptionist could recommend.
Of course, I got lost, seduced by the sight of women in long batik dresses balancing baskets of fruit and street food on their heads as they sashayed down the sidewalk. Young and old, male and female, all of Ghana seemed to be carrying their burdens on their heads. I was transfixed, remembering the vendors of my childhood and how the practice had seemingly died out overnight.
But there was no shortage of hairdressers to replace the one I couldn't find. On every street bisecting the main thoroughfare out of the Ringway Estates there seemed at least three, veritable holes in the wall, and each resplendent with, well, folk art. Modern signs, in neon, plastic or oilcloth, are unknown among Ghana's small businesses; instead, the shops were all painted with extremely literal images of what went on within. Wooden boards decorated with house paints bore images of sultry-looking men and women sporting impressive eighties quiffs, a la El deBarge. The names, too, were impressive: Lovely Curl. Powerful Blood Barbershop.
Every culture will have its beauty obsessions, its embarrassments, its sensitive spots. In America, it is weight. In the Philippines, it is skin, brown skin. Billboards scream impossible promises of a "rosy, white" complexion, achieved in the ads through the use of Eurasian models blasted with studio lighting. And in Ghana, it is hair, black African hair with its dry curls and tough texture, styled a thousand different ways, under wigs, with hair extensions, in dread locks, peroxided a rusty red. Hence, the proliferation of hair stylists, most working at starvation wages; proportionally more salons than, say, drug stores or shops selling Western-style apparel.
I zeroed in on an air-conditioned bungalow with Wella/L'Oreal maidens plastered to the picture windows. The young woman blow-drying a customer's coif gave my hair a blasé look and told me she would do the job for 150,000. Maybe there was a special price for foreigners. I turned right around and headed for a wooden hut perched above a sidewalk ditch, where the nice lady on the small veranda offered a cut, shampoo and hot-oil for a third that amount. The cut was professional; the shampoo (with gobs of conditioner) was pleasant. Only thing was . . . the hot oil came at the very end, burned into my hair with a dryer on flame-thrower setting. I staggered back to the guesthouse reeking of pat­chouli. Achieving a sleek, straight-haired look among Ghanaian women has its complications, apparently—first the hair must be "relaxed," the curl taken out with chemicals and heat. Then it must be chopped short, and finally styled, using a huge volume of oil to restore moisture and weight it down flat against the skull. The nice hairdresser was simply observing the standard procedure. Four shampoos and my head still reeked.
I felt pretty, nonetheless.