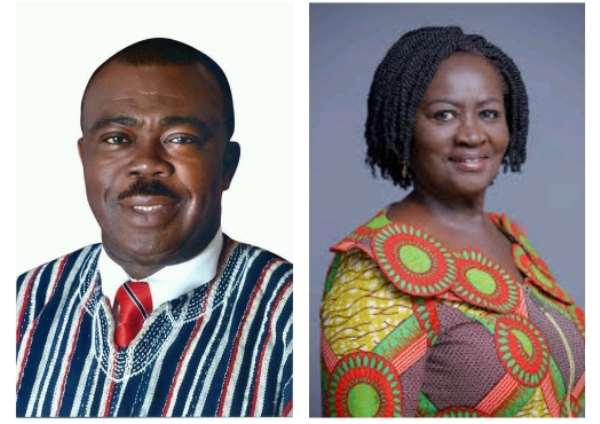 A former Minister of Information under the Kufuor Administration, Mr. Stephen Asamoah-Boateng and currently the Director General of the State Interests and Governance Authority (SIGA) has described the appointment of Prof Jane Naana Opoku-Agyeman as running mate of ex-President John Mahama as an own goal by the NDC flagbearer.
According to him, Prof. Naana Opoku-Agyeman's appointment does not cause panic in the camp of the New Patriotic Party (NPP) because everyone saw how she performed woefully as Minister of Education.
In exclusive interview with electionandbeyond.com, Mr. Stephen Asamoah Boateng explained that Prof. Opoku-Agyeman, as Vice Chancellor of the University of Cape Coast may have done well but that is not what she will be measured with in the political world.
According to Mr. Asamoah Boateng, in her time as Minister of State, Prof. Naana Opoku Agyeman failed to deliver.
"So what is she coming to add? Together with ex-President John Mahama, she vehemently opposed Free SHS education. Will she not support it or cancel it? Shes also known to have cut teacher trainee allowance and couldn't complete their much-touted Secondary School buildings.
"The key thing is her performance. For me, it is a welcoming news that they have finally gotten a running mate but it doesn't change anything about the candidature of the ex-President John Mahama that we know" he said.
Reiterating the words of Vice President, Dr. Bawumia, Mr Asamoah-Boateng said it did not matter who the NDC chose as a running mate because it would not change the incompetence of their flagbearer.
"Indeed, the choice of his running mate goes to confirm this tag of incompetence. This is because a key battleground in this year's elections would be fought on education where President Akufo-Addo's flagship programme of Free SHS and restoration of teachers allowance have been implemented in the face of their opposition. So what is she going to say that is not being done by the NPP government", Mr. Asamoah Boateng quizzed.
He said he could not phantom why former President Mahama decided to run again after spending several years in politics and rising through the ranks.
"I am surprised my good friend John Mahama wants to come back and have a second bite. What is it that he could not do in eight years? It's a sign of failure and regret and he's in his usual mindset that Ghanaians forget quickly. Well, tell him that we have not forgotten so soon of his economic mess, dumsor, corruption, etc. He told us he was the luckiest Vice President because Professor Mills allowed him to run the country. So he had the chance plus, he had been a minister and an MP. So what is it that he is going to do that he couldn't do in his time at helm and centre of government?" he wondered.
According to Mr Asamoah-Boateng, the final decision rests in the hands of Ghanaians who will compare the works of former President Mahama and President Akufo-Addo when they go to the polls in December.
"Ghanaians will decide on the level of performance of Mahama and President Akufo-Addo. For me, it's a very unique opportunity that we can call him to his own record, not another President's record. The decision at the elections is whether we return to ex-President Mahama's incompetence or look forward with confidence and real hope of the best delivery of economic management by President Akufo-Addo. So Jane Naana doesn't add anything because it is ex-President John Mahama's picture and scary memory that will be on the ballot paper; so he cannot hide and say I have a vice so the vice should come ahead as he's trying to do now" he said.
----Electionandbeyond.com