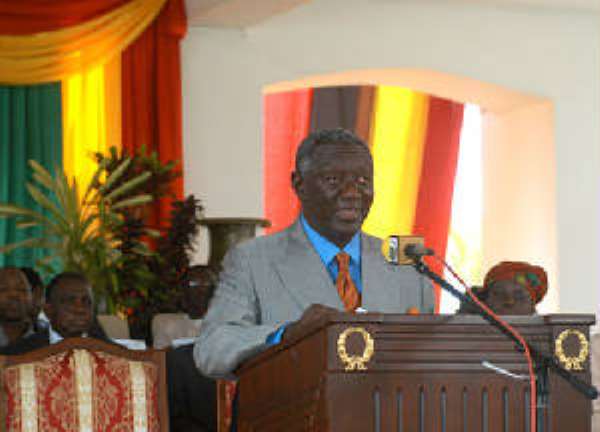 President J.A. Kufuor has stressed that efforts at increasing earnings from forest and wildlife resources should not be at the expense of the country's forests.
He said there should be balance and equity so that "as we generate revenue we sustain life and our forests".
Speaking at the inauguration of the governing council of the Forestry Commission on Wednesday, President Kufuor regretted that the country's forest resources had been depleted, resulting in adverse climate change.
The new nine-member board of the commission is chaired by Mr Edward Osei Nsenkyire, the 2005 National Chief Farmer, a former Chief Director of the Ministry of Environment and Science and the Chief Forest Conservator.
President Kufuor said forestry and lands remained basic resources of the community and the people looked at them as heritage.
He called for a multi-stakeholder approach to protect forests and related resources.
President Kufuor noted that interest in the government's afforestation programmes and projects initiated since 2001 was waning in spite of the attached incentives.
He stressed that the interest of stakeholders should be rekindled to save the forests.
President Kufuor urged the new board to provide the necessary leadership that would bring about the balance needed for sustainable development.
Mr Nsenkyire, for his part, said the commission was plagued with a number of problems and institutional constraints including dwindling forest and wildlife resources, pressure on forest and wildlife resources, inadequate support from the judiciary and other law enforcement agencies, inadequate financial resources and stakeholder agitation from chiefs/landowners and civil society organisations.
He said the commission would ensure the management of the nation's forest resources for the sustainable yields of timber, water, forage and wildlife.