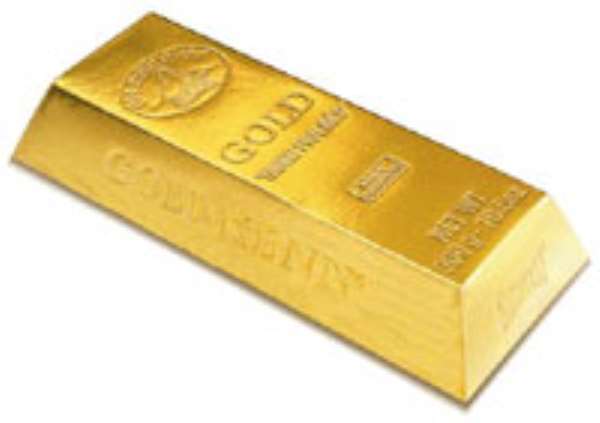 Golden Star Resources Ltd. (AMEX: GSS)(TSX: GSC) has announced recent exploration results and a resource increase for the West Reef deposit at the Prestea Underground gold project in Ghana. Historically, the Prestea Underground mine is Ghana's second most productive gold mine, behind Ashanti, with approximately nine million ounces of gold produced during the last 130 years.
During an 80-year period from 1912 to 1991, production totalled an estimated 19.6 million tonnes at an average metallurgically recovered grade of 11.2 grams per tonne gold, yielding seven million ounces of gold.
Previous underground operations ceased in early 2002 following an extended period of low gold prices. In March 2002, Golden Star entered into a joint-venture agreement with the former owner (South Africa's JCI) to explore and evaluate the remaining potential of the underground operations. The company's 90% owned subsidiary has a 90% interest in the Prestea Underground, giving Golden Star an 81% beneficial interest.
The latest drilling results from the site indicate good gold mineralisation at depth – with a number of intersections at more than an ounce per ton. Drilling has focused on exploring the down plunge extension of the West Reef between the 24 and 30 Levels. This work confirms that the target shoot continues down plunge for 800 metres with a true thickness ranging between 0.7 and 4.5 metres. It is possible that further drilling may reveal stronger reef development at depth.
Resource estimation by top engineering company SRK Consulting has resulted in an increase in inferred mineral resource for the West Reef to a total of 1.25 million tonnes at an average grade of 11.9 grams of gold per tonne versus the previously published inferred mineral resource of 0.90 million tonnes at an average grade of 12.6 grams of gold per tonne. Further in-fill drilling will be undertaken in the second half of 2006 in an attempt to convert the current inferred mineral resource to the measured and indicated mineral resource categories. Golden Star also expects to complete an initial feasibility study for the mining of this deposit near year-end.
Approximately $3 million has been budgeted for exploration of the Prestea Underground in 2006. This programme is expected to include approximately 40,000 metres of underground diamond drilling and 7,000 metres of surface reverse circulation drilling.
Golden Star already has substantial mining operations in the Bogosu-Prestea area, and would be able to transport mined ore to an existing processing plant should mining be restarted on this section. The West Reef reserves are at deep levels which means costs of extraction can be quite high, but if a sufficient ore tonnage can be proven, and if the good grades shown by the latest drilling results are reasonably consistent and show prospect of extension, then there is a good chance of Golden Star adding production from this mineralised area into its Ghanaian operations.