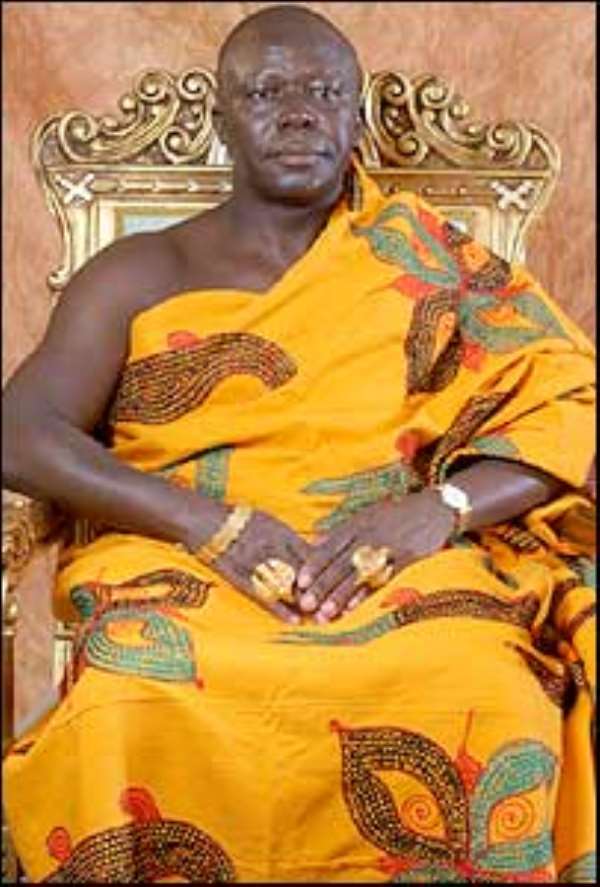 The Asantehene Otumfuo Osei Tutu II has assured Ashantis that he would not do anything to undermine the honour, integrity and dignity of the Ashanti Kingdom.
Briefing the Asanteman Council on his return from a visit to Morocco, the Otumfuo said he was conscious of the toil and sacrifice that has gone into the building of the Ashanti Kingdom over the centuries and that he has no intention of letting down Ashantis.
The Asantehene's comments according to a report by the Daily Graphic, was in apparent reference to testimonies given at the Justice Georgina Wood Committee investigating the cocaine scandal and the alleged involvement of Manhyia.
The Manhyia Palace has been mentioned severally in the cocaine scandal and links have been drawn by some politicians and members of the public to Manhyia complacency in the entire scandal.
The Otumfuo's secretary is mentioned in the meeting held at ACP Kofi Boakye's residence as escorting a suspected drug dealer to the Police Chief's office for a meeting.
Some people have even concluded that Alhaji Moro, one of the drug suspects was granted Police enquiry bail because of his high links with Manhyia and the Otumfuo.
But Manhyia has been quiet on the issue all this while until now.
Addressing the Chiefs at the Council meeting, Otumfuo told the council he does appreciate the anguish and pain of the Ashanti chiefs and what the allegations might be doing to the morale and spirit of loyal Ashantis, but reassured them that he remains fully aware of the oath he has sworn to the golden stool and would remain committed to the cause.
More soon.