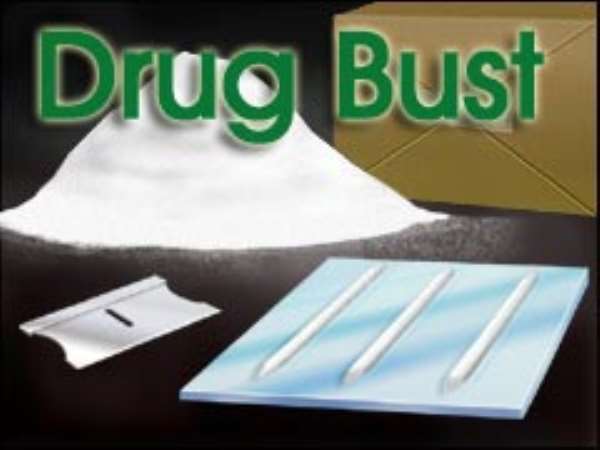 The main opposition National Democratic Congress (NDC) has said the ruling New Patriotic Party (NPP) should be held responsible for the hauling of cocaine into the country.
The Party also says if the President deems the NDC and its Rojo Mettle Nunoo as guilty of drug hauling just by association, then he, President Kufuor himself is also guilty of same.
The Party told Journalists at a Press Conference that President Kufuor's comments over the weekend accusing the NDC and Rojo Mettle Nunoo of bringing cocaine barons into the country was illogical, especially since the President himself has associations with alleged drug barons such Nkoranza North MP Eric Amoateng.
According to General Secretary, Johnson Asiedu Nketia, who described the President's comments as irresponsible, President Kufuor's own standard of judgment of the NDC indicts he himself of the same crime.
The President over the weekend made scathing attacks on Rojo Mettle Nunoo, who testified before the Woode Committee investigating the issue.
The President said the issue was a party issue, accusing Rojo and the NDC of having brought drug barons into the country.
But the NDC at its Press Conference on Thursday raised questions which alluded that the President, by association with Nkoranza North MP, who is currently standing trial in the US for allegedly attempting to haul some 6 million worth of heroin there, could also be said to be guilty of drugs peddling by association.
The NDC also raised concerns about the current status of the case in which three known NPP women were arrested in Dzorwulu for dealing in narcotics some years ago.
The party also noted at the Press Conference that it will not be intimidated in any way in its quest to hold the ruling NPP responsible for cases such as drug hauling into the country.
According to the NDC, President Kufuor's remarks were meant to divert attention from the real issues about the cocaine matter, since scathing revelations were about being made to implicate some high profile individuals of the executive in the cocaine matter.
The NDC says it would hold the ruling NPP and the Government responsible for the cocaine issue, since the constitution empowers him and his Government, as well as the Security apparatus to deal with issues as such.
Mr Johnson Asiedu Nketia said the issue is not only an NPP party matter, but also an NPP Government matter and so must bear ultimate responsibility for the problem.
The NDC also expressed concern about the global notoriety the country is gaining as a hotspot for drugs peddling, which is exposing Ghanaians to unnecessary harassment by way of stringent searches on their person at international airports.
The Party cited an instance where a Member of Parliament was virtually stripped naked at an airport, under suspicion he might be carrying drugs on him.
Audio File Available