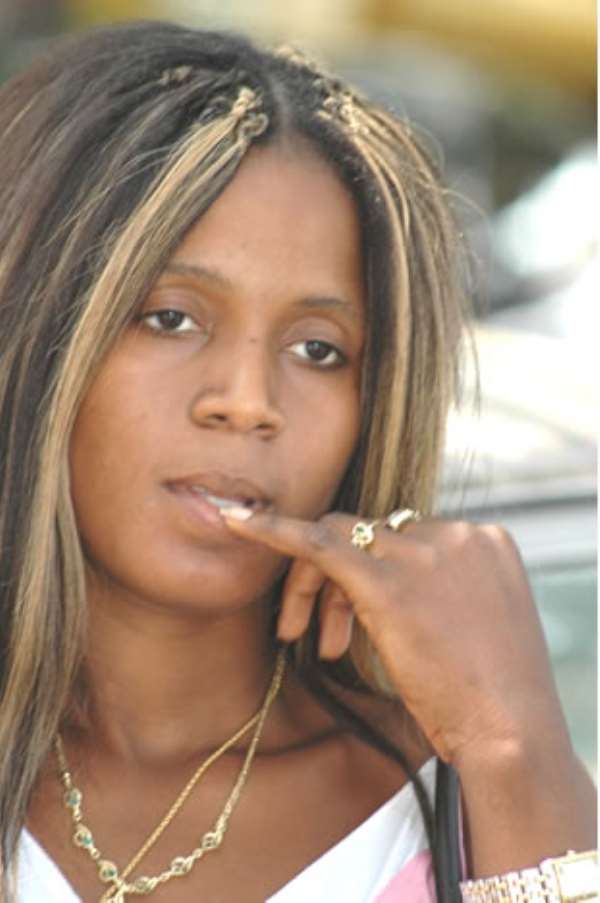 Grace Asibi a star witness at Justice Georgina Woode Committee investigating the alleged cocaine case.pics by courtesy of mjol
Followers/sympathisers of the suspected drug baron Prince Tibu-Darko, 49 years of age, who accompanied the suspect Darko to court today severely tortured a camera man (photojournalist) Mr. Ebow Hanson of the Daily Graphic after the victim took them and the suspect a shot after court proceedings around 1:45pm today.
The men who slapped the Graphic man several times after pouncing on him tortured him and also seized his camera and removed the memory card from it and returned the camera to the victim virtually empty. This means the victim will not be able to use the picture in their story. After the barbaric act the men jumped into their porsh cars with registration numbers GT 8347s – golf, BMW ER1040 and Acura Car MDX with registration number GT7437V. The action of the perpetrators annoyed all the court news reporters at Cocoa Affairs Circuit court where the suspected drug baron was sent and expressed shock and the dangers that they are exposed to.
The prosecutor of the case, ASP George Abavelin told the court earlier that Tibu-Darko, owner of Koreana Hotel and a Shipping Company etc. was arrested by the Police recently after they had information that he was allegedly involved in the sale and distribution of cocaine. He said surveillance was mounted on him and he was arrested and put before the honourable court.
The suspect has been remanded in custody to reappear in court on 23rd of August 2006. Meanwhile Graphic man Ebow Hanson has since reported the case to the Ministry Police