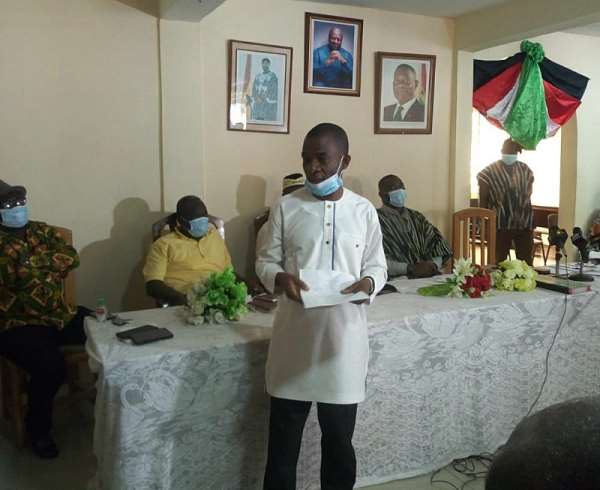 As mandated by the National Leadership, the Central Regional branch of the NDC inaugurated its 2020 Regional Campaign Team made up of people drawn from various professional backgrounds that will work closely with our Constituency Stakeholders to deliver the popular votes from CR for JM.
The campaign team also has the task of winning votes for all NDC PCs to save Central Region and Ghana from the dictator in chief, the modern-day Iddi Amin, the despot, the oppressive, the corrupt, the divisive, the nepotistic, the wicked and the vindictive Akufo Addo and his non-performing NPP Gov't.
Below are members of the campaign team:
1. Hon Lawyer E.K.T. Addo- Campaign Team Chairman
2. Hon Kojo Quansah- Regional Secretary
3. Chief Mike Dery- Regional Organizer
4. Hon Kwesi Dawood- Regional Communication Officer
5. Cde Eric Dadson- Regional Youth Organizer
6. Madam Faustina F.N. Lamptey- Regional Women Organizer
7. Chief Eric Essuah- Regional Treasurer
8. Alhaji Rashid Abubakar- Regional Zongo Caucus Coordinator
9. Hon Theophilus Aidoo Mensah- Regional Vice Chairman
10. Hon Stephen Edward Moore- Regional Vice Chairman
11. Mrs Gloria Baiden Koomson- Regional Director of Elections
12. Cde Daniel Austin Ankumah- Regional Director of IT
13. Prof Stephen Kendie - Chairman of the Regional Research Committee
14. Hon Cassiel Ato Forson- Dean of CR NDC MPs
15. Hon Priscilla Arhin- Women Rep from CR Caucus
16. Dr Mrs Gladys Mansa Feddy-Akyea -Women Rep from Academia
17. Hon Dr Ato Sarpong- Rep of Fmr Appointees from CR
18. Hon George Kuntu Blankson- Rep of Fmr MPs from CR
19. Hon Lawyer Samuel Adu Yeboah- Rep of Fmr Regional Executives
20. Mr Kwami Alorvi- Rep of Educational Workers in CR
21. Hon Nenyi Francis Tagoe- Rep of Cadres
22. Hon Samuel Oppong- Dean of Fmr MMDCEs
23. Prof G. K. T. Oduro- Rep of Professionals Forum
24. Mr Thomas Hughes Amissah- Special Duties
25. Prof Lawrence Atepor- Special Duties
26. Prof S.B. Owusu Mintah- Special Duties
27. Cde Francis Asmah- Regional Rep on the Disability Desk
The Regional Campaign Team will also operate with 4 main sub-committees that will utilize the various skills and abilities of other Officers of the party and Comrades within or without to support the work of the Team. In his acceptance speech, *Hon Lawyer EKT Addo*, the Chairman of the Regional Campaign Team for 2020 indicated that immediate action will be put in place to inaugurate all Constituency Campaign Teams and further instruct the Constituencies to embark on same with the Branch Campaign Task Forces within the next two weeks.
He also assured members of the National Executive Committee and the National Campaign Team present that the Regional Campaign Team shall remain alive to the realities imposed by the COVID-19 Pandemic and underscored the need to plan campaign activities in response to the public health needs of the good people of Central Region who are ready for a positive change come 7th Dec 2020.
At a brief ceremony at the Regional Party Secretariat in Cape Coast today, the following National Officers supervised the Regional Campaign Team Inauguration: *Hon Dr Samuel Sarpong*- Member of the National Campaign Team, *Chief Hamilton Biney Nixon*- Deputy National Organizer, *Hon Kwaku Boahen*- Deputy National Communications Officer and *Dr. Karl Arhin*- Deputy National Director of International Relations.
In attendance were Parliamentary Candidates, Constituency Chairmen and Executives from Cape Coast North & South Constituencies, and some members of the Regional Communications Bureau. Immediately after the inauguration, members of the team and other Regional Executives moved into the Constituencies to monitor the ongoing voter's registration mop-up exercise at the various EC Offices in our Region.
Together we shall succeed. All hands on deck. Central Region is poised for positive change to come 7th Dec. Brighten the corner where you are and make your branches a force to reckon with for Victory for JM and our PCs.
Signed
Hon Kojo Quansah
Regional Secretary
Hon Kwesi Dawood
Regional Comms Officer