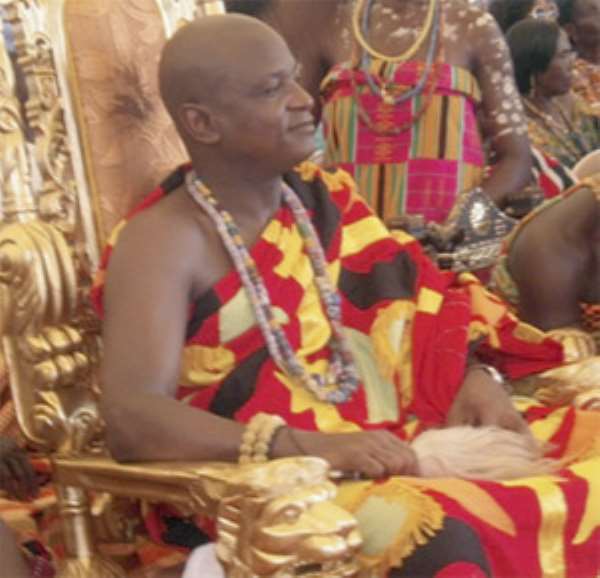 Within the spate of one week, two stories, in which some mischievous characters tried to exploit the name of Togbe Afede XIV, President of Asogli State Council, have gone viral. We wish to inform the general public that these publications are fake.
In the first publication, titled, "Volta Chiefs Blast Opposition NDC", with Togbe's picture at the top, the "chiefs and people of the Volta Region" were reported to have, among other things, "accused or blamed the opposition National Democratic Congress (NDC) for the poor or low level of development in the region over the years".
It further reported, and we quote, "We the Chiefs and the people of the region are saying that we are tired of voting for NDC. The propaganda in the NDC is too much. We shall change our way of voting come December 7th, 2020".
In the second publication, titled, "Announcement to all Voltarians from the Asogli State, his Royal highness Togbe Afede XIV", and purported to have been issued and signed by Togbe, it was reported, among others things, that, "We have, since 1992, supported the NDC because its (sic) was founded by one of our own, his excellency Flt Lt J J Rawlings because he is our blood, our brother, father and a renowned personality from our land".
It further stated that "Because of him, we have supported the NDC from 1992 through thick and thin and still continue to support them even though, this loyalty (sic) has not been replicated in terms of infrastructural projects, jobs, and investments to our region".
But for the anxiety they have created among a few people, we would have treated these worthless and poorly written publications with contempt. So, for the avoidance of doubt, we wish to emphasize that Togbe has nothing to do with the two publications, which are obviously the work of shameless, mischievous, and evil-minded people.
Asogli State Council
Stephen Tetteh,
Secretary
TO ALL PRESS HOUSES, AUGUST 8, 2020:
RE: ELECTORAL COMMISSION MOP-UP REGISTRATION
It is one week since I embarked on a tour of some border towns and villages of the Volta Region with some colleague members of the Volta Region House of Chiefs and Asogli State Council. I am still haunted by the plight of those citizens of Leklebi-Kame, who are trapped on the about 300-metre stretch of land between the Ghana Immigration Service barrier and the actual Ghana-Togo border.
Not only have these people not been able to register to vote, but their kids have not been able to cross the barrier to attend school; mothers have not been able to cross to grind their maize; and farmers could not access their farms, etc. Even though we highlighted their situation in interviews that were widely reported by the media, nothing has been done so far to solve their problem, to the best of my knowledge.
Thankfully, the Electoral Commission (EC) has announced its decision to begin a mop-up mass registration of eligible voters starting today, Saturday, August 8, 2020, and ending tomorrow, Sunday, August 9, 2020.
I wish to ask for justice for those unfortunate compatriots of Leklebi-Kame, who were not allowed to cross over to register before the regular registration exercise ended last Thursday. Other citizens who may be in similar situations in other parts of the country also deserve justice.
I am appealing to the EC to ensure that these fellow citizens of Ghana are allowed to cross the respective Immigration barriers and go to the district offices of the EC to register. Their eligibility to register and vote in the forthcoming elections is not in doubt, so they must not be disenfranchised.
I further urge all eligible Ghanaians who have not registered to take advantage of EC's mop-up registration and register, so that they can exercise their franchise, come December 7, 2020.
Finally, I would like to ask the Ghana Immigration Service to move these barriers close to the actual borders in order not to deny some citizens access to their own country in the future. Until they do so, I wish to urge the authorities not to forget these people during future border closures.
Togbe Afede XIV, President