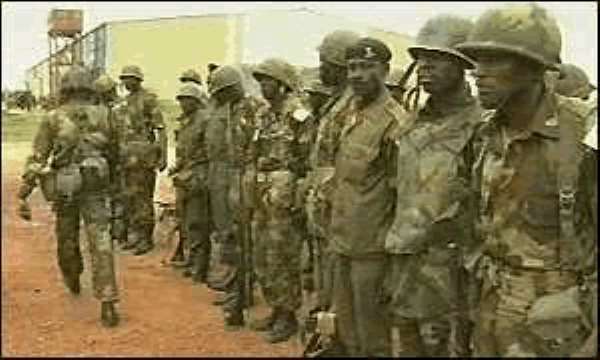 New recruits of the Armed Forces of Liberia, (AFL) currently being trained at the VOA military base outside Monrovia, are expected to get further training in the Republic of Ghana upon graduation next year.
Making the disclosure on Friday at the Defense Ministry in Monrovia during a courtesy visit, Ghanaian Ambassador accredited to Liberia, Maj. Gen. Adu Amafo said Liberia and Ghana have been friends over the years and it was time help the country to get better trained and professional army that would be prepared at all times to defend its citizens to the fullest.
Amb. Amafo said the Ghanaian Government will send some retired soldiers to Liberia to contribute to the current training exercise in the country. However, he did not state the precise date they would arrive here but assured that the operation will soon get underway.
According to him, it is incumbent upon all peace-loving nations to come to the aid of a country that has suffered 15 years of brutal civil conflict to enable Liberians to get back on their feet.
He said the training exercises are intended to create an army that will remain loyal to the country and its citizens, saying a trained security sector will make the country stable and secured.
The Ghanaian diplomat said for too long, the people have misused arms and now was the time to impact into those entrusted with national security how to use arms, when to use them, what they should be used for, and whom to give arms to.
He then praised the Unity Party- led government for the level of initial developments provided the people of Liberia emphasizing that it should continue on the good path.
For his part, the Defense Minister, Brownie Samukai, said the opportunity from the Ghanaian government was timely and added that the Liberian Government is very grateful to its Ghanaian counterpart for the level of support being provided.
Minister Samukai noted that since the Liberian conflict started in 1989, the people of Ghana and their government have been very instrumental in restoring peace to the country saying that the Ghanaian Government is currently hosting thousands of Liberian refugees.
He said the latest offers by Ghana were not strange to the people Liberia because they know who their Ghanaian counterparts are.
Meanwhile, Ghana is the second country in Africa to pledge support to the restructuring of the AFL; the first was the Government of Senegal.