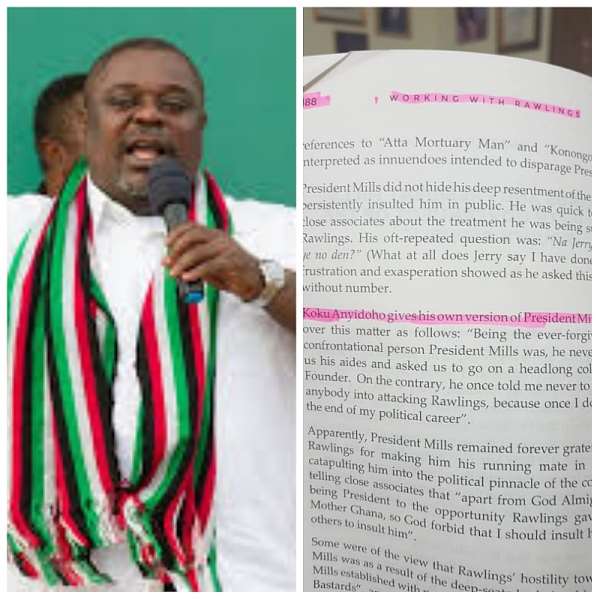 For the past years, some sections within the largest opposition party in Ghana, National Democratic Congress, (NDC) have been tagging and attacking their former outspoken Deputy General Secretary for reasons that, he is against the flag bearer, Mr. John Dramani Mahama.
The "party first" crusader who was silenced from the front view of the largest opposition party has at long last been vindicated by Kwamena Awhoi's book.
This confirms what Koku has on several occasions continuously insisted. That, he has not exchanged words with the leader and the flagbearer of the NDC, yet some fraction of the party continues to attack him in the media for reasons best known to them.
Meanwhile, the trending Kwamena Awhoi's Controversial Book seems to Vindicate Koku Anyidoho, The former Deputy General Secretary of the NDC.
READ EXCERPTS BELOW.
There is a saying that: "God knows how to take care of animals without tails".
For more than 8 years, there have been all kinds of wicked and malicious attempts to destroy Koku Anyidoho by a certain group within the NDC.
Even though it has always been obvious that some "big men" are the ones sponsoring the corrosive "Babies With Sharp Teeth", to be insulting Koku Anyidoho and planting fake stories about him in the media, the truth is finally out.
Thanks to the book written by Kwamena Awhoi, it is now as clear as daylight that Kwamena Awhoi and his cohorts are the coaches who have been coaching the likes of, Samuel Okudjeto Ablakwa, Edward Omane-Boamah, Felix Ofosu-Kwakye, to be insulting people.
Of course, having been taught how to insult, Okujeto, Omane-Boama, and co have also recruited some other babies with sharper teeth (Edudzi Tamakloe & co), and injected the insults into their DNA.
Specifically on page 211 of the book "Working With Rawlings", Kwamena Awhoi makes it explicitly clear that he and his men are the coaches behind all the verbal attacks on Chairman Rawlings by the "Babies With Sharp Teeth'.
On page 188 of the same book, Koku Anyidoho is vindicated.
To quote from the book "..Koku Anyidoho gives his own version as follows; Being the ever-forgiving and non-confrontational person President Atta-Mills was, he never called any of his aides and asked us to go on a headlong collision with the Founder.
On the contrary, he once told me never to be deceived by anybody into attacking Rawlings, because once I do that it will be the end of my political career".
So it means that, while President Atta-Mills was busy giving Koku proper advice and sound training, Kwamena Awhoi and his usual Boys were busy teaching the babies with sharp teeth how to insult.
So, if President Atta-Mills will not allow Koku Anyidoho to insult Rawlings, then there is no way he would have allowed Koku Anyidoho to disrespect Vice President John Dramani Mahama.
That is to say, all the talk that Koku Anyidoho used to be rude to John Mahama, is a pack of lies orchestrated by Kwamena Awhoi and his corrosive 'Babies With Sharp Teeth".
God is indeed a faithful and just God; and He knows how to vindicate his people.
Today, by the kind Grace of God Almighty, Koku Anyidoho is vindicated while the Babies With Sharp Teeth are running all over the place issuing meaningless disclaimers. "Enimguase Akwaaaba oooooh!!!".