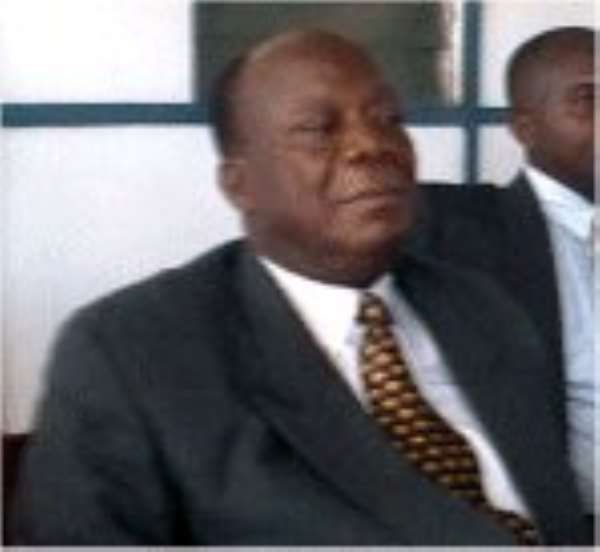 Mr Haruna Esseku
The former National Chairman of the ruling New Patriotic Party (NPP), Mr Harrona Esseku, has finally broken his eight-month silence in the media and is calling on all the presidential aspirants of the NPP to "stay away from direct competition with the president."
Speaking exclusively with the ADM direct from his Kanda Estates residence, Mr Esseku said: "My fear is that they (aspirants) are picking too early to the time though the constitution of the party does not stop them from such act."
He cautioned the aspirants some of whom are still serving in the government of President J.A. Kufuor not to be "ambitious and refrain from meeting party supporters some of whom are not delegates."
Mr Esseku advised the aspirants to tread with caution so that they would not let personal ambitions override the interest of the party, which has a good political track record now.
"Please do not do it at the expense of the party. No matter what you do make sure that the NPP as a party remains intact, united and supreme. The record of President Kufuor is good and no one should be allowed to disturb what we have now."
He said the aspirants who are still in cabinet position would find it difficult defending the president on issues if they conflict with their bid for the presidency. He said: "In a way, it is good for the aspirants but bad for the president."
Mr Esseku said it would be inappropriate if the NPP elects a presidential candidate now because "it is two years ahead of the election and if we have a sitting president and a presidential candidate, there will be a tendency for the candidate to distance himself from any error on the part of the president."
Mr Esseku said: "this is the reason why when I was the chairman of the party I pushed for the amendment of the clause in the constitution that gave room for the election of presidential candidates two years ahead of the general elections."
Asked whether he is still an NPP member, Mr Esseku told the ADM: "How can I quit. I am still a full member and a founder of the party. I have decided to break my silence speaking specifically with the ADM since I left office in December because of my preference for your paper."
He said as an ex-chairman of the party he qualifies as a member of the National Executive Committee (NEC), National Council of the NPP and has "the full right to attend the annual delegates' conference and congress.
He said: "I have not committed an offence. I have not thought of quitting the NPP and it has never, never, never occurred to me to quit the party I joined since 1969."
He said he would bounce back into the political limelight in September, 2006.