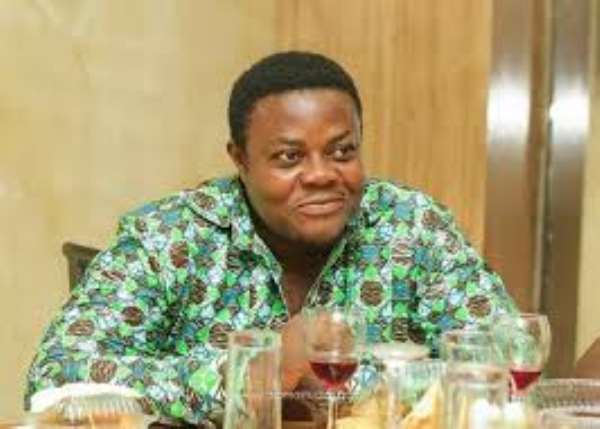 By the way, Mr. Gunn, no excavators were ever "ceased" by the Akufo-Addo-led government of the New Patriotic Party (NPP). But, of course, I am pretty much aware of the anti-Galamsey campaign "seizure" of some illegally operated Chinese-made Changfang Excavators. By now, it ought to be clear to you that you need to be taking advantage of the Akufo-Addo-implemented fee-free Senior High School System. On the question of how "the 54 million" was spent on food items during the lockdown, it is quite clear, Mr. Gunn, that you do not use the gray matter inside your cranium to think very much. It seems more as if your thinking cap, that is, if you have any at all, is located somehow below your stomach and underneath your butts. Your question is full of flatulence and could better have been posed to your own Parliamentary Representative, whoever that poor soul may be. What do you mean by "54 million"?
You pretty much remind me of this Appiah Danquah Kufuor SOB who cavalierly presumes to be my peer or classmate, for whatever reasons that may best be known to himself. You see, I don't like slow-thinking savages who fatuously attempt to familiarize themselves with your truly on any level whatsoever. Has this barbarian ever heard of Prof. Kwamena Ahwoi and the latter longtime Rawlings' associate's epic fracas with the Trokosi Nationalists?
Fifty-four million what? Go sit down and reread and edit your guff and then come back with something much more sensible and intelligible. For your moral edification, there was absolutely no "Hawa Koomson's shooting spree at Kasoa." What the nation-wrecking likes of you, Mr. Gunn, heard at Kasoa the other day were just warning shots meant to make you fully cognizant of the fact that the days when the criminal operatives of the National Democratic Congress literally wielded life-and-death authority over the rest of us "Wretched of the Earth," that is, the overwhelming majority of bona fide Ghanaian citizenry, are long gone. You may have been much too young to have heard the Founding-Father of your own political party, the National Democratic Congress, declare the imperative need to "Democratize the Guns."
That was the language that you heard at Kasoa. Our "Ayawaso Position" is also pretty obvious. If you, Mr. Gunn, did not harbor a vacuous sense of civic superiority, the proper question you would be asking would be the following: Why did JM and Jane, who, by the way, was a senior cabinet operative in the previous Mahama regime, not ask about the findings of the various commissions of enquiry that Little Dramani caused to be established in the wake of the Wassa-Amenfi, Talensi, Akwatia and Kwabeng or Atiwa hostilities? You see, it is rather stupid to be expecting to reap where you never sowed. You see, the problem with you NDC apparatchiks is that you think Ghana is your private and personal property; that you are way over and above the laws of the land; that it is, in your lunatic imagination, only second-class citizens like President Akufo-Addo and the operatives of the ruling New Patriotic Party who are bound by the edicts of Ghana's 1992 Republican Constitution.
You may not be totally wrong to harbor such grandiose sense of civic self-importance. After all, why were the Indemnity Clauses inserted into our Fourth-Republican Constitution, but to enable you and your "revolutionary" paymasters ride roughshod over the laws of our land? I also don't know that even in the pre-COVID era, there weren't any final-year students in any Senior High Schools in Ghana who had not been able to sit for their exit exams because of one compelling reason or another. So, what is this nonsensical special pleading that you are making here, Mr. Gunn, almost as if we lived in the best or the most perfect of worlds? I also don't suppose that any expatriate or sojourning Ghanaian citizens arriving in the country in this deadly COVID-19 season are being forced to check into specially selected hotels owned by members of the ruling New Patriotic Party for quarantine.
Now, tell me, Mr. Gunn, when your JM and Jane were in power, were they in the routine habit of using non-NDC-owned hotels and other private properties to accommodate events necessitated by unforeseen or unpredictable seismic circumstances like the present COVID-19 Pandemic? My younger brother – God forbid! – why are you behaving as if the rest of us bona fide Ghanaian citizens have absolutely no record of your wanton corruption and other forms of corruption? After all, hasn't the Founding-Father of your own political party, the National Democratic Congress, Chairman Jeremiah John Rawlings, told Ghanaians and the rest of the global community that JM was the most thoroughgoing corrupt Ghanaian citizen to have acceded to the Presidency? So, what in hell could have provoked you into fathoming the inauspicious return of JM and Jane to Jubilee House?
Mr. Would-Be-Rapist, do you suppose that Ghanaians are as incurably stupid as you and your Chief Justice Wood-leering and ogling gang of Montie Trio terror-mongering thugs and Mahama-sponsored agitprop shills? As for the so-called "Assase Royalties noise" that you raised in your anti-Akufo-Addo tirade, I am leaving it to you and your Abongo Boys and Girls to deal with the same, because you only raised it as mere rumor. On my side of the political and ideological aisle, we deal with real issues, not imaginary issues or rumor mongering. At any rate, most of the questions that you raise in your open letter to the President could be much better and more professionally be answered or dealt with by the National Assembly Representatives of your own party. You see, I don't blame you the least bit for your uppity arrogance; you are the vintage product of JM and Jane, the Teacher-Trainee Allowance-snatching scam-artist.
*Visit my blog at: KwameOkoampaAhoofeJr
By Kwame Okoampa-Ahoofe, Jr., PhD
English Department, SUNY-Nassau
Garden City, New York
August 4, 2020
E-mail: [email protected]