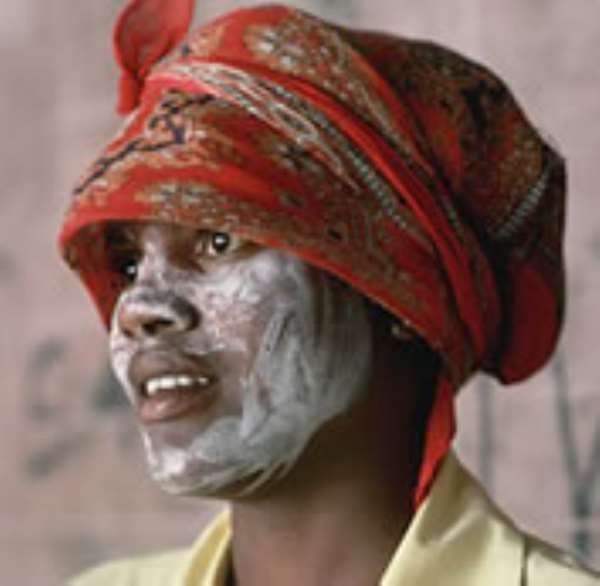 Males have been urged to discourage their female counterparts from bleaching under the guise of making them look beautiful since the practice was very detrimental to their skin. Mrs. Agnes Konadu Oduro, a Beauty Therapist of the Royals Beauty Clinic at Odorkor in Accra, pointed out that bleaching peeled the layers of the skin cover and exposed its protective texture to the vagaries of the weather among other elements.
She asked men to advice their wives, girlfriends, sisters and daughters against bleaching their skin, which Mrs Oduro said others describe as "toning", saying, "they all amount to peeling of the layers of the skin to look lighter".
"It is still a reflection of colonialism and white domination trying to imitate the White man. We must project African personality and pride", she said, adding that, "our skin provides us with a natural protection from the sun in the tropics and we must not disturb it".
Mrs Oduro called for a legislation to ban the importation of soaps, creams and other chemicals for bleaching to protect the health of the people since the practice could lead to skin cancer and other medical problems.
She was speaking at a seminar in Accra on "Beauty Therapy Bleaching and its Effects", organised by the United Christian Charity Club (UNICCART Club), a Non-governmental Organisation (NGO) aimed at helping the poor and the under-privileged.
The Beauty Therapist stressed the need for hairdressers to improve themselves instead of just being content with practical skills to enable them to advise those who patronise their saloons on the use of various hair products and chemicals.
She noted that they would be able to distinguish between various kinds of hair and the type of hair product to be used only with self-improvement and called the hairdressers and beautician associations to organise in-service training and courses to improve the knowledge and skills of their members and to set and ensure standards.
Mr Ken Boadu, an Executive Member of UNICCART, stated that one of the objectives of the Club was to help in the efforts to rid the society of street children and to give them trades and skills and said Mrs Oduro was training five girls at her saloon free of charge.
He said that the Club would organise short training for some under-privileged people to acquire income generating skills and provided seed money, material and inputs to start their own ventures, which would be monitored to ensure growth to create employment for others. Mr Philip Aryee, Founder and Leader of the Club, said UNICCART was founded in 2002 by about 17 Christians from different denominations to offer charitable services to the vulnerable and made donations to orphanages and participated in programmes to provide meals for the vulnerable.
It had also been involved in various social and community services including clearing pipe-borne water hydrants filled with debris that could lead to pollution and acquired tracts of land in various places for the establishment of training centres for the less privileged.