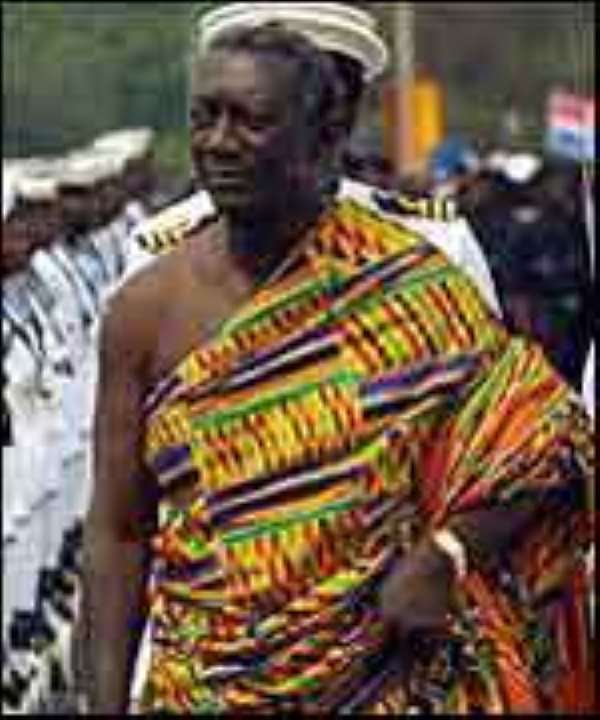 President Kufour has accused the National Democratic Congress of bringing drug barons into the country.
In an apparent response to suggestions that leading members of the ruling party might have been involved in the cocaine scandal that has hit the country, the President told a group of party supporters in Accra that evidence of an NDC complicity is emerging.
He said the NDC cannot exonerate itself from the scandal as one of its leading members admitted to the Justice Georgina Wood committee investigating cases of missing narcotics that he had a business relationship with the fugitive Venezuelan drug suspects.
A leading member of the NDC, Rojo Mettle-Nunoo told the Georgina Wood committee that he worked as a consultant to the Venezuelan drug suspects, but denied any knowledge of their alleged drug deals.
But speaking at the inauguration of a new office complex for the Greater Accra Regional Secretariat of the NPP, President Kufuor said Rojo's admission of some business relations with the suspected drug barons clearly suggests that an NDC complicity in the cocaine scandal.
"Now we know the people who have brought cocaine into the country and it is not NPP. This man (Rojo) can be said to be part of our leadership class of Ghana. He is a man who was trying to get somebody elected president of Ghana. Suppose this man had succeeded and with partners like we are seeing, where would Ghana's economy be, where would the honour of Ghana be and this was the same man who once said he smells elephant about something".
"Now his propagandists are saying this is not party matter. It is party matter and the people of Ghana should hold this man to explain to the bottom. How come he brings into this country partners and acquires land for them to build a factory, factory to manufacture what? (crowd respond cocaine) and to distribute what? (crowd again respond cocaine)".
"When pressed, he was boasting he came from a respectable family, his partnership was only to sell ladies bra. Bra? So this is what it is" he said.
The president urged sympathiersers of the NPP to rally behind the party as it is so far the best Ghana has ever had.
The chairman of the Greater Accra Regional Secretariat of NPP, Sammy Crabbe said the greatest threat the party faces is that some party faithfuls believe the party has not meet their basic needs. Crabbe therefore urged the party to develop strategies and objectives to eliminate it.