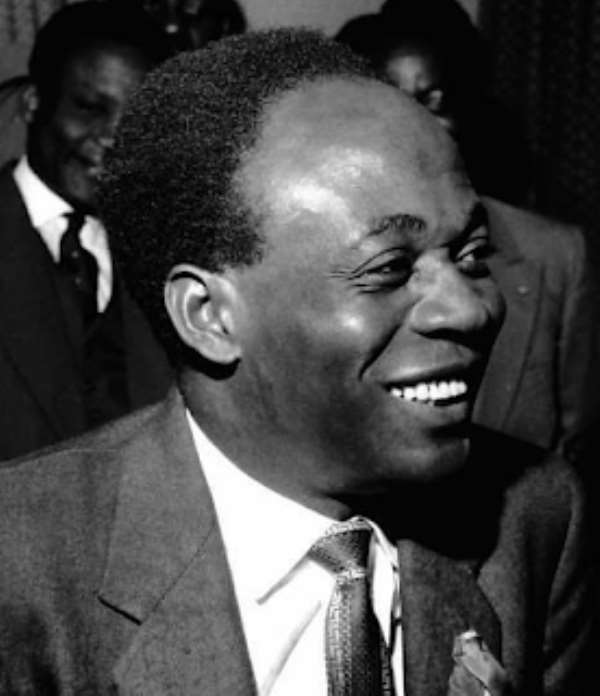 Whether we like the man or not, and I would be the first critic to own up to the fact that Mr. Kwame Nkrumah was not without his fair share of foibles or moral and political weaknesses. Still, as a very patriotic pioneer and the foremost pan-Africanist proponent of his generation, Ghana's first postcolonial prime minister and later president stands in a class all by himself. His time was obviously very different from our time, with its own peculiarities. It is unquestionably true that as a Ghanaian leader, the dictatorial tendencies of the man put him at great odds with the Ghanaian people and our invested traditional rulers. But, of course, in retrospect, Nkrumah was light years ahead of the overwhelming majority of our leaders, just as President Addo Dankwa Akufo-Addo has also demonstrated himself to be far more progressive and visionary than most of our present-day legitimately invested traditional rulers.
The late Kenyan scholar, novelist, poet, thinker, documentary filmmaker and political scientist, Prof. Ali A. Mazrui, once described Mr. Nkrumah as "a great African but a very bad Ghanaian." What Prof. Mazrui, whom I personally knew and was reasonably well acquainted with, meant was that as President of Ghana, Kwame Nkrumah and his political associates of the Convention People's Party (CPP) could have forged a more conciliatory, progressive and mutually tolerant relationship with the leaders of the opposition, such as Dr. JB Danquah, Messrs. William "Paa Willie" Ofori-Atta, Emmanuel Obetsebi-Lamptey, Edward Akufo-Addo and Ebenezer Ako-Adjei. On the Continental African Front, Nkrumah's impact was more progressive and, perhaps, very productive as well, since he pushed through his pan-Africanist agenda and proposals more by way of the sheer force of his charisma and personal influence, rather than the direct mandate of the people, as was practically the case in Ghana, where Nkrumah soon jettisoned the Westminster System of governance, which he had inherited from the British colonialists, and proceeded to extortionately rule by decree or fiat. That was what Nkrumah's declaration of Ghana as a "Republic" was unmistakably about.
Indeed, while he definitely could have done more than was feasible and possible, if he had focused his attention more studiously on the development of the country that had offered him his democratic mandate, in order to make Nkrumah a relevant and a major player on the Continental African scene and, by extension, the global leadership community, Nkrumah, much too early in his leadership career, decided to focus his attention religiously on Continental African Unity to the detriment of the socioeconomic, cultural and industrial development of Ghana. Even so, Nkrumah adequately facilitated the seminal blueprint for the industrial and sociocultural development of Ghana, which culminated in a remarkable level of educational infrastructure development. With a population of approximately 5 million, Ghana easily became the leader in education on the African Continent, at least leader of the so-called Black Africa. Under President Akufo-Addo, Ghana's population, at 30 million, is roughly six times the magnitude of what President Nkrumah had to deal with. Nkrumah's wholesale nationalization of parochial or church and missionary-run schools, and the radical reconfiguration of the same into Government-subsidized or Government-Assisted Schools (See "Ghana: End of an Illusion," by Bob Fitch and Mary Oppenheimer), healthily and progressively integrated Ghanaians of diverse ethnicities and religious persuasions.
President Akufo-Addo is equally faced with similar challenges as President Nkrumah, in the form of relatively low level of infrastructural development, except that in the case of Nana Akufo-Addo, the abject leadership neglect is not external or British colonial oriented or originated. Rather, it was generated by nearly 30 years of the Slavo-Colonial Revolution of the Jerry John Rawlings-led extortionate junta of the Provisional National Defense Council (PNDC) and, subsequently, the Rawlings-fangled faux-socialist democratic political juggernaut of the so-called National Democratic Congress (NDC). It is within the preceding context that the question of whether or not President Akufo-Addo has achieved more than President Nkrumah in the field of education ought to be envisaged.
It is no secret that President Akufo-Addo inherited a national system of public education that had been classified by the United Nations-sponsored and Paris-based Organization of Economic Cooperation and Development (OECD), as the worst of its kind among some 145 countries in the world. Nana Akufo-Addo's bold and unprecedent decision to implement a fee-free Senior High School System of education, and to fully staff and equip the same, has unquestionably put Ghana back at the level left by Nkrumah on the eve of the latter's opportune and auspicious overthrow. In sum, both Messrs. Matthew Opoku-Prempeh and Sekou Nkrumah make valid arguments, though one wishes that the Akufo-Addo-appointed Education Minister had not unnecessarily ventured that far. After all, the New Patriotic Party is not contesting the rump-Convention People's Party (r-CPP) in the 2020 general election. Rather, the NPP is contesting the National Democratic Congress to determine who gets to govern Ghana for the next four years (See "Sekou Replies Education Minister; Defends His Father's Legacy in Education" Modernghana.com 8/2//20).
*Visit my blog at: KwameOkoampaAhoofeJr
By Kwame Okoampa-Ahoofe, Jr., PhD
English Department, SUNY-Nassau
Garden City, New York
August 2, 2020
E-mail: [email protected]