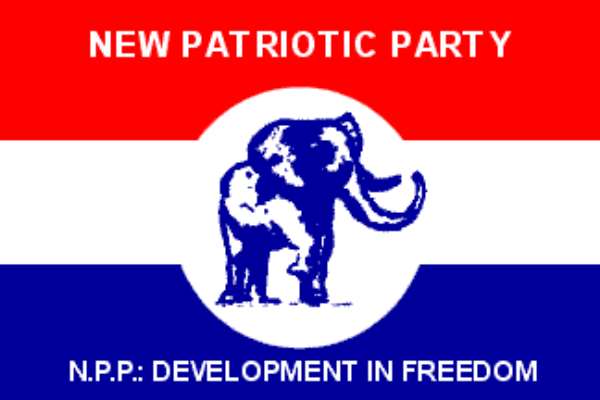 When in opposition, the NPP boasted that they had the men and that given the opportunity, they would turn the fortunes of the country around within one year. Six years on, and the NPP-in-Government are a sorry lot.
The Party's name has now become synonymous with Cocaine, corruption and concubinage and the country's image has sunk to its lowest level ever. Not only that, the NPP has taken the country through the ABC of negative governance, and all that the men they say they have, have been able to do, is to symbolise the A-Z of the NPP's failure as a Government.
In the words of the evergreen Asante Twi song, "Moaye Afere", (you have finally shamed yourselves)! Where are the men and women you claimed you have? More importantly, what is it that the NPP-in-Government has done? The following are what you have done as a Government.
"A" is for "Arrogance", as in NPP Ministers claiming that they have the most qualified (degree-wise) persons in Ghana in their Government. "A" is also for "Adultery", as in President Kufuor committing adultery with Giselle Yazji while still married under Roman Catholic law to Mrs. Theresa Kufuor.
"B" is for "Bribery", as in NPP National Chairman Haruna Esseku caught on tape admitting that President Kufuor collects bribes in the Castle from contractors and distributes them in a non-transparent manner.
"C" is for "Corruption", as in Road Transport Minister Dr. Richard Anane transferring US$100,000 to his American concubine and alleging that the monies were paid by friends without his knowledge.
"C" is also for "Cocaine-dealing," as in £38 million worth of cocaine being smuggled through Ghana getting "lost" under the "watchful" eyes of the NPP Government.
"C" is also for "Concubinage", as in President Kufuor, Dr. Richard Anane, Thomas Broni and many other NPP high political office holders taking concubines on assuming political office, treating their wives like dirt.
"D" is for "Dishonesty", as in President Kufuor buying "Hotel Kufuor" situated next to his private house and dishonestly asserting that it belongs to his eldest son.
"E" is for "Extravagance", as in President Kufuor building an extravagant Presidential Palace at Flagstaff House with an Indian loan of US$30 million and Ghana's cash of US$6 million.
"F" is for "Fraud", as in the NPP Government attempting to contract fraudulent loans of US$1 billion and US$300 million from the non-existent "IFC" and "CNTCI" companies respectively.
"F" is also for "Forgery", as in former NPP Deputy Minister for Presidential Affairs Moctar Musa Bamba abetting the forgery of letters of fake Government Guarantees for loans for foreign private investors
"G" is for "Greed", as in the NPP Government greedily selling Accra lands and the assets and properties of the erstwhile GNTC to themselves and their cronies.
"H" is for "Heroin-trafficking", as in the NPP MP for Nkoranza North Eric Amoateng busted for heroin-trafficking in the USA and languishing in jail awaiting trial.
"H" is also for "Hardships", as in the hardships caused by prices having increased over 1000% in some cases since the NPP came to power.
"I" is for "Incompetence", as in the then Finance Minister Yaw Osafo-Maafo admitting on air that he incompetently signed a German debt relief agreement written in German without reading it and without understanding its contents.
"J" is for "Junketing", as in President Kufuor junketing around the globe travelling abroad 127 times in 6 years as if he has nothing to do back in Ghana.
"K" is for "Kickbacks" as in the Kickback scandal exposed by NPP National Chairman Haruna Esseku that President Kufuor has turned Ghana's seat of government into a den of thieves by collecting kickbacks from contractors such as Sonitra on the work it did on the Tetteh Quarshie Interchange.
"L" is for "Liars", as in the NPP Government's penchant for lying to the people of Ghana all the time, such as that President Kufuor was the one who negotiated for a loan from the French Government for the Ashiaman Flyover, when the Parliamentary Hansard shows that this was an NDC loan approved in December 1999.
"M" is for "Murder", as in the murder of the Ya Na and 40 of his followers in broad daylight in the full glare of military and police officers specifically deployed to ensure that no harm came to him.
"M" is also for "Money-laundering", as in Giselle Yazji's allegation that the opening of a Kuwaiti offshore Bank with Ghanaian interest is to enable President Kufuor and his family launder the monies that they have collected as bribes and from the offshore companies they have established.
"N" is for "Nepotism", as in President Kufuor nepotically appointing his brother as Minister of Defence, his brother-in-law as Senior Minister, his nephew-in-law as Secretary to the President, another nephew-in-law as Deputy Minister of Finance and Economic Planning, his brother as Ambassador and his niece also as Ambassador.
"O" is for "Ostentation", as in President Kufuor ostentatiously driving in a 41-vehicle convey during his trips around the country.
"P" is for "Petroleum price increases", as where a President who in opposition led a street demonstration because petroleum prices had been increased from ¢4,800 to ¢6,400, now as President increases petrol price from ¢6,400 to ¢42, 000.
"Q" is for "Quandary", as in a President who is in a quandary when it comes to taking decisions and is therefore unable to decide whether or not he should dismiss his white lady-bonking Minister for Road Transport.
"R" is for "Rapacious", as in a rapacious NPP Government that is greedily grabbing as much money as it can lay hands on and stealing as much money from the national kitty as it can through schemes such as spending ¢182 billion on the celebration of the country's 50th Independence Anniversary.
"S" is for "Selective justice", as in the NPP Government deciding to selectively prosecute NDC officials of yester year whilst ignoring more serious offences committed by NPP officials today.
"T" is for "Timorous", as in a timorous President Kufuor who is so scared and frightened of former President Rawlings that his entire national security and intelligence policy is directed at making life as uncomfortable as possible for the former President, to the extent of withdrawing from him his constitutionally guaranteed privileges.
"U" is for "Unemployment", as in the dramatic increase in unemployment under the NPP Government and adding salt to injury by getting one million unemployed persons to queue in the scorching sun for days to register for jobs which have not materialised 4 years after the registration.
"V" is for "Violence", as in a violent NPP party at whose Akropong constituency meeting a member was murdered and whose MP for Tema East has alleged that he has been threatened with death by his own Party executives.
"V" is also for "Visa racketeering", as in the visa-racketeering scandal at the Presidency involving the former Deputy Minister for Presidential Affairs Moctar Musa Bamba, the Austrian visa scandal at the Abidjan office of the Austrian Embassy involving an NPP MP, the Mariama Tula/Sulemana Jeremiah visa scandal involving National Security Minister Francis Poku, and the Australian visa scandal involving President Kufuor and Yaw Nkansah.
"W" is for "Wife-snatching", as in the case of the NPP Deputy Minister for Interior Thomas Broni who snatched the wife of an NPP financier Martha Nkrumah, with whom he now has a child and with whom he is now living.
"W" is also for "Wealth amassing", as in NPP Ministers, members, supporters and hangers-on amassing so much wealth so that even the NPP Brong Ahafo Regional Minister Ernest Debrah was forced to complain that his party members were amassing wealth as if the Party was about to lose power.
"X" is for "Xenophobia", as in a xenophobic President Kufuor who is so afraid of people from other ethnic groups that he sees Ashantis as the only trustworthy persons he can appoint to the most important and lucrative positions of trust and confidence in Government, with the result that his Minister for Presidential Affairs, Kwadwo Mpiani, is an Ashanti, his Minister for National Security, Francis Poku, is an Ashanti, his Minister of Defence, Dr. Kwame Addo-Kufuor, his brother, is an Ashanti, his Minister of Interior, Albert Kan-Dapaah, is an Ashanti, his Minister of Finance and Economic Planning, Kwadwo Baah-Wiredu, is an Ashanti, his Minister of Road Transport, Dr. Richard Anane, is an Ashanti, and his Minister of Trade, Industry and Private Sector Initiatives, Alan Kyeremanteng, is an Ashanti.
"Y" is for "Yo-Yo", as in a yo-yo President Kufuor who only moves in the direction of the Western imperialist powers and on their say-so, such that he can compromise Ghana's sovereignty by entering into a "non-surrender" treaty with the USA.
"Z" is for "Zero Tolerance for Criticism", as in the NPP Government's intolerance for criticism, which dictates its policy of fabricating stories against any critic of the regime, using such stooges as the Auditor-General Edward Dua-Agyemang and the Director of CID, David Appeatu.