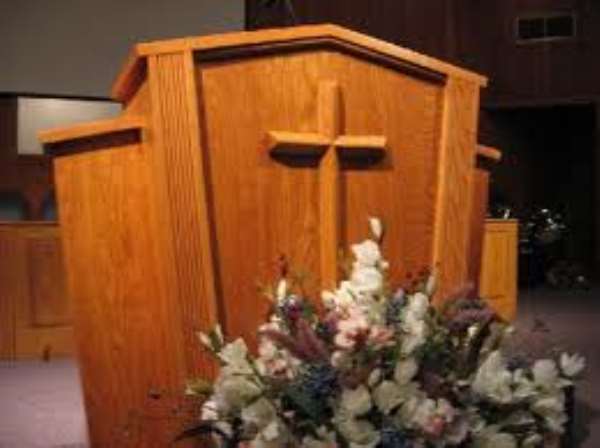 Recent studies and occurrences suggest that the SEVENFOLD SPIRIT OF GOD is working to unmask the skeletons and dirt in the Body of Christ.
The Americas and Africa are suffering most from higher lifestyles of religion borrowing or covering itself with the Church Jesus Christ Yeshua built upon Him being sacrificed for the salvation of many. Unscrupulous people have taken advantage of such lifestyles and weaknesses in these continents.
Such foolishness have not survived in the English Channel and part of Europe. They are always caught pants down embroidered in charity funds.
Many of such fame and wealth seeking and magicians are being exposed for who they are. Once they were called "giants of christendom " but departing miserably. The churches they found and the corporate operations they established are dwindling and have Visas withdrawn sometimes.
Where any of these things exist in the Body even before the Anti Christ is revealed, AND its emissaries will be exposed. THE White elephants with mischievous ambitions will be exposed.
Ordinary people God chose to use have succumbed to fame and wealth. The following have devastated the Church, yet the unity spoken about in Ephesians 4: 13- 15 will come to pass. The gate of hell will not prevail against the church (Matthew 16: 18) Jesus Christ is building.
THE CHURCH WAS DIVIDED INTO DENOMINATIONAL BITS DUE TO SOME OF THESE.
James 3:16
16. For where jealousy and selfish ambition exist, there will be disorder and every vile practice.
#.NICODEMUS SEEKING FAME.
#.EMPEROR CONSTANTINE SEEKING TO CAPTURE THE CHURCH FOR THE ROMAN EMPIRE.
#. THE JEWS WANTING TO CONTINUE WITH THEIR FORM OF TRADITION & RELIGION.
#. EVERY NATION TRYING TO OWN THE CHURCH AND MAKE IT SUIT ITS OWN CULTURE
#.INDIVIDUALS SNEAKING IN WITH FOREIGN SPIRITS AND AMBITIONS FOR WEALTH AND SNOOPING ON THE FLOCKS JESUS CHRIST HAS GATHERED TOGETHER.
#.PEOPLE INSERTING CHANGES IN THEIR BIBLES TO SUPPORT THEIR EVIL INTENT. DISREGARDING THE CONTEXT FROM THE ORIGINAL HEBREW AND GREEK LANGUAGE
#. PEOPLE LEAVING THE ORIGINAL CHURCH FROM CORRECTION FOR INSUBORDINATION AND FALSEHOOD TEACHINGS.
#. PERSONS SEEKING FAME AND CHALLENGING THE AUTHORITY OF GOD. AS IT HAPPENED DURING THE EXITS OF THE ISRAELITES FROM EGYPT.
So, therefore, many of you who are concerned and confused with what is going on should REPENT and seek God for the right Church where His SPIRIT (SPIRIT OF GOD) resides or to quote; God dwells.
There's power only in ONE ONLY GOD, ONE SAVIOUR, AND LEADER OF THE BODY OF CHRIST. ONE HOLY SPIRIT AND ONE WAY, ONE FAITH, ONE GOSPEL AND TRUTH AND ONE END FOR THE OVERCOMERS
SHARE WHAT YOU KNOW.