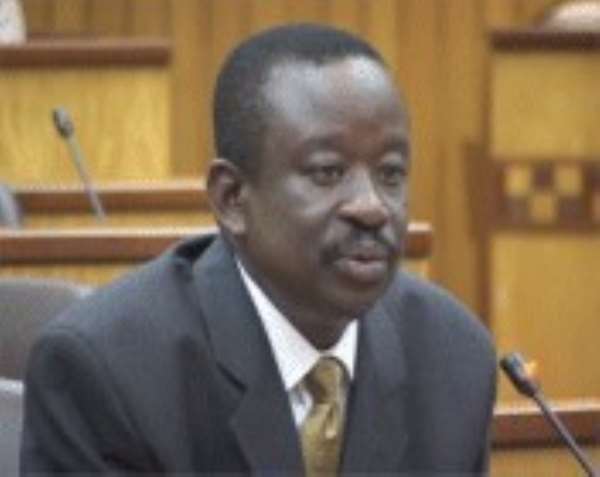 Ghanaians have been cautioned to refrain from prejudging some top police personnel and the police service in relation to the Justice Georgina Woode Committee investigating into narcotic related cases in the country.
Mr Albert Kan-Dapaah, Minister for the Interior made the call at the inauguration of a 20-member Volta Regional Police Committee in Ho in the Volta Region last Wednesday. He said any hasty guilty judgment would be unfair to such top police personnel, in case no adverse findings were made against them.
Mr Kan-Dapaah indicated that the Ghana Police Service, as an institution was not on trial and affirmed that the service had a hard won reputation, which must be protected. He assured that no person or officer regardless of his position would be spared the rigours of the law, if found guilty.
Mr Kan-Dapaah said the government was committed to building a strong, reliable, efficient and modernised police service "to guard the country's economic prospects for the future and the survival of democracy."
He told members of the committee that their appointments were a great opportunity to be part of efforts to modernise the service and in the process make names for themselves. He said they would be remembered either with "commendation" or with "condemnation," depending on how successful they would discharge their assignment.
Mr Kan-Dapaah therefore, advised committee members to visit police stations in their districts regularly to get acquainted with situations there, to be well placed in helping to find solutions to problems, offer encouragement and motivation to personnel.
Mr Kan-Dapaah called on district assemblies to set aside a percentage of their resources to support the activities of the service within their jurisdiction.
Mr Justice Clenn Baddoo, Chairman of the Police Council exhorted members of the regional committee to explore innovative ways in addressing the needs and concerns of the service in the region. He said the committee should look into the issue of accommodation, transportation, discipline and police-public relations and advice the police council.
In his remarks, the Inspector General of Police, Mr Patrick Acheampong indicated that the police administration would look forward to the regional police committees to be a channel for dissemination of policies and programmes of the police council, be responsible for collecting and collating ideas, suggestions and recommendations on how the police would function more effectively in the region and also monitor the conduct and performance of the police, as a corporate body and as individuals.
The committee under the chairmanship of the Regional Minister has representatives from the 15 districts in the region, a representative each of the Regional House of Chiefs, Ghana Bar Association, the Attorney General's Department and the Regional Police Commander.
The establishment of the committee was in fulfillment of article 204 of the Fourth Republican Constitution.