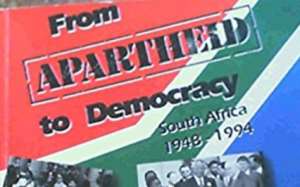 In her book The 'Shock Doctrine: The Rise of Disaster Capitalism', award winning author and journalist Naomi Klein succinctly elaborates how a "privatised world cannot be imposed in the absence of an economic and political crisis", she goes further to state that "collective trauma puts us all in a state of shock and in the aftermath, like a prisoner in the interrogation chamber, we too become childlike, more inclined to follow leaders who claim to protect us.
When liberation movements were unbanned in the 90s, ordinary South Africans did not have time to recover or engage on the type of South Africa they wanted to build, instead ANC leaders negotiated on their behalf without consultation whilst the likes of Goldman Sachs, IMF and World Bank strategically chose the ANC as an ally to continue the Free Market system post apartheid, the likes of Lesetja Kganyago, Tito Mboweni, Trevor Manual, Ketso Gordhan were sent to London and America to study free market ideas which were immediately implemented in 1993 through the Transitional government and promulgated in 1994 when the ANC officially took power from the Nationalists.
As South Africans were still recovering from the shock of the end of apartheid and the idea of freedom, the World Bank and the IMF dropped another shock on South Africans; that the apartheid government of De Klerk was reeling from billions of debt and no elections could be held until the debt was paid, a crisis was created and exploited to launch a new economy, an economic shock therapy facilitated by the forces of profit which Naomi Klein summarised as follows, "We had given away the right to distribute land without compensation 'at the last minute, the negotiators agreed to add a clause to the new constitution that protects all private property, making land reform virtually impossible. Want to create jobs for millions of unemployed workers? Can't—hundreds of factories were actually about to close because the ANC had signed on to the GATT, the precursor to the World Trade Organization, which made it illegal to subsidize the auto plants and textile factories. Want to get free AIDS drugs to the townships, where the disease is spreading with terrifying speed? That violates an intellectual property rights commitment under the WTO, which the ANC joined with no public debate as a continuation of the GATT".
"Want to impose currency controls to guard against wild speculation? That would violate the $850 million IMF deal, signed, conveniently enough, right before the elections. Raise the minimum wage to close the apartheid income gap? Nope. The IMF deal promises "wage restraint. And don't even think about ignoring these commitments— any change will be regarded as evidence of dangerous national untrustworthiness, a lack of commitment to "reform," an absence of a "rules-based system." All of which will lead to currency crashes, aid cuts and capital flight. "The bottom line was that South Africa was free but simultaneously captured".
It's important to understand that our first phase of economic shock therapy post unbanning was facilitated in 1993 towards the 1994 "democratic" elections when Pravin Gordhan, seconded by the ANC NWC led by President Cyril Ramaphosa as the Head of Negotiations of the ANC and Secretary General of the ANC signed the $63 Billion apartheid loan from the IMF to pay off apartheid debt, in his capacity as chair of what was then called the Transitional Executive Council whilst the second phase of shock was during Thabo Mbekis era of Gear and Thatcherism and third phase under President Cyril Ramaphosa as a reaction or a therapy to the "Gupta" looting in which state owned entities are being given to private hands under the disguise of saving us from years of Gupta pillage.
The biggest challenge we continue to face hence we have surrendered power to dubious and deceitful politicians is that we have been neutralised and individualised by those who still use struggle credentials as a right to distribute patronage, within that context of redundancy by the public is ANC members who lack basic scientific tools of analysis and are caught up in ANC factional battles, it is equally frightening to note that even those who are well meaning within the ANC have reduced all issues of national interest and battles of the poor and working class to President Zuma as their saviour and therefore incapacitated to disrupt or lead society without the former President giving the go ahead.
Then you have organisations like the Black First Land First (BLF) which is mainly myopically focused on race politics and cult of personalities that they seem not to comprehend the destructiveness of class contradictions which has seen oligarchies from all races combining their energies and resources to privatise the state to a few families, whilst the Economic Freedom Fighters (EFF) is confronted with the sins of party funding where they are neither going backwards or forward, today Marxist and tomorrow fraternizing with right wingers like the DA as a direct result of a Faustian pact they agreed to be funded by capitalist rogues. Worst off, the left is dead, activists such as Professor Dale Mckingly and Patrick Bond who led the earlier surge of the anti-privatisation movement during Thabo Mbekis era have been swallowed by the mainstream whilst the SACP and COSATU are coteries. Progressives like Henni Van Vuuren continue to operate in small numbers, Zwelinzima Vavi is a populist who wants to please liberals and still maintain his workerist posture, Irvin Jim and NUMSA are viewed as arrogant with SAFTU.
It thus becomes important to understand that the status of being a billionaire and President of the Republic by Mr Ramaphosa's which has now culminated in the privatisation of our state assets could not have happened in the absence of an imposed political and economic crisis.
PS: I deliberately excluded President Zuma in the phases of shock precisely because he refused to comply with the Free Market conditions during his tenure, however he made it easy for capital to contest and remove him because his own goverment used one family (the Guptas) to contest White privilege and he is no different from other leaders because he allowed his own family to piggyback from the state coffers.
But this is not the whole story. In the United States, we have also seen organizing at the city and state levels win important victories to suspend evictions during the pandemic. Ireland has announced six weeks of emergency unemployment payments for all workers who suddenly find themselves out of work, including self-employed workers. And despite U.S. presidential candidate Joe Biden's claims during the recent debate that the pandemic has nothing to do with Medicare for All, many Americans are suddenly realizing that the absence of a functioning safety net exacerbates vulnerabilities to the virus on many fronts.
This crisis — like earlier ones — could well be the catalyst to shower aid on the wealthiest interests in society, including those most responsible for our current vulnerabilities, while offering next to nothing to the most workers, wiping out small family savings and shuttering small businesses. But as this video shows, many are already pushing back — and that story hasn't been written yet.