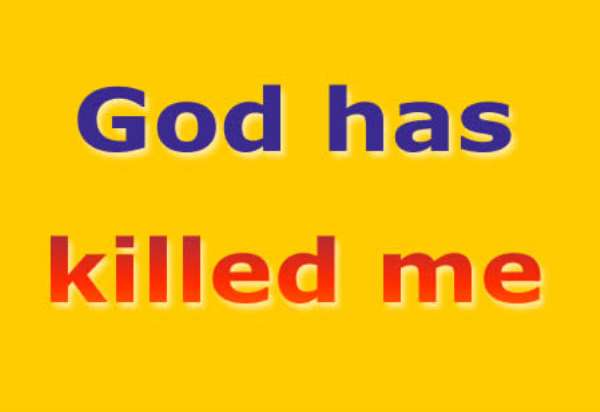 "God has killed me!"
"But Mr. Karl, how can you say that?"
"Because I know!"
"How come? I mean God sent you here, you turned the country around and made us great, strong, and rich. It is not possible that he has killed you!"
"Mission completed. I am going now!"
"Oh Mr. Karl! But your assignment is not over yet. There is so much more to do!"
"Make sure the evil forces in this country will never come back and win. You must promise me that!"
"Mr. Karl...please do not leave us. Oh yes, I will promise you but...but Mr. Karl...please do not leave us."
"I have to go!"
"Oh no, Mr. Karl, please I beg of you...please do not leave us alone. What shall we do without you."?
"I have done what I was supposed to do. Now it is on you people do continue from where I have ended."
"Oh no, God I beg of you...please do not take this great man away from us...we need him so much...so much."
"Let me rest...in perfect peace. I have done what I was supposed to do...why I came here in the first place!"
"Oh no, Mr. Karl...our nation is lost without you. You saved us and now God wants to take you away from us again...oh no, that cannot be possible. Mr. Karl, I beg of you, hang on, the Ambulance is here very, very soon and the Doctors in Korle-Bu will take very good care of you."
"Ghana is never lost as long as Ghana has citizen that will not only talk about a better nation but do the right things with a changed mind."
"But Mr. Karl...please, no, no... hang on, hang in there...you will be saved. And please, look here, your Spiritual Father Prophet Doctor Emmanuel Badu Kobi is right here. Can you see him...right here, Sir? Please hold his hands and he will pray for you!"
"Mr. Karl, I am here for you and you are truly blessed. I can feel your pain in me and feel how much you have suffered in this country under evil spirits. But I know as a Man of God, as a Prophet, that you came here not because you ever wanted to come to Africa or here to Ghana...I know that perfectly well. God made you come here. He made you see how we live, to feel our country, our people, what we do, what we talk, that Ghanaians are busy bodies wasting precious time on earth by getting too much involved in matters not of their own business. And I know the Gods, our evil spirits, rule the nation. And I know, we ourselves cannot free ourselves from the bondage that we are in but depend, whether we like it or not, on people such as you that God has sent to us...but that also have to pay for their intervention the final price. I as the Prophet of this country and your Spiritual Father, let me tell you as the Ambulance is right here, that I let you go. Take the words with your into your perfect peace that you are a great man indeed and contributed so much to our nation that forever you will shine as a great light in the darkness of so many people in our motherland Ghana. And as a Prophet of this Nation I know for all times what you have done, what you have shown us will never be forgotten...in Jesus mighty name. Oh Lord, as I have closed the eyes of Mr. Karl, I pray to you, take him into your Kingdom. Let him sit by your side and make his spirit inspire us always to know and understand our ways. As I hand him over into your Kingdom, oh Lord, I say thank you on behalf of our great country Ghana that you sent him to us against his own will and made him understand what we need so much, wisdom to lead Africa into a better future, to unite this continent as it is your destiny for us but still struggle with words only to make it happen. This man down here in the pavement along Tema-Accra Beach road at Sakumono Village where it all began...oh Lord in heaven, take your brother in Christ Jesus, my Spiritual Son, into your gracious arms and give him rest. Oh Lord, as new times are ahead of us, evil forces have taken his life from him and us as a Nation...oh Lord, make us always wise as a people to learn from this man that has truly and honestly given his life for us...Amen. ... Yes, you can put him on a stretcher...but I know, he is now with the Lord as he has called him to come. So, God has killed him that our nation might live!"
He had never been to West-Africa, a black continent indeed. For years the idea to sit on an airplane and head for a continent so dark in all its colours, in the faces of the people, in the mindset of the nations, in troubles that was paid for by blood shed; a continent full of sad history, slaves and exploitation. Why should ever any White Man of sound mind which to set foot on African soil. It is not the place for any White Man but the Black Man, it is his territory and not to be messed up by any White Man. Civil war and genocide, hunger, poverty and witchcraft; for real, never a place a White Man should be. Yes, there are the Millions of Whites each year flying in and out of the black continent to see the scary teeth of lions and have encounters with cheetahs, crocodiles and elephants see them wild, so raw, too down to earth, nature at its peak of beauty and the raw fight for survival; basic instincts not as a movie but right in front of Safari Jeeps just about physically touchable. While in their own habitat the Whites have developed fine and elegant manners in treating each other and their animals around, even having animals rights included in their constitutions and hair salons for dogs and other pets, even cemeteries to make the dead loved once rest in perfect peace. In Africa life is still very basic, even watching through the glass window of a Five-Star Hotel room down to the dust of the African ground, the basic instinct of the black continent can be felt and imagined. And then the thousands of volunteers jumping all over the continent in search of a meaningful life, in opposition to their own government, in condemnation of Neo-Colonialism and exploitation while on a mission to help starving children, bring clean water to all, healthcare to the people accessible to any citizen in need, feeding the hungry, teaching the people with no wisdom and understanding of what was and is so normal to them. People of the White Man´s world that do not address the cause of the problem on the African ground, that know better, that know what is fundamentally wrong in each country but refuse to speak out and fight for the right cause trapped in fear to be kicked out of the countries in need to make people die for nothing in the end. The volunteers rather prefer to spin the wheel of misfortune, not wanting to know, not wanting to fight for a long lasting stable better future against the evil forces in the African countries.
He looked up to the ceiling, the baggage compartment of the airplane. Using Brussels airline for the very first time he was surprisingly overwhelmed of its great machines used, nice stewardesses and gorgeous meals served, excellent service and value for money indeed. The air was coming from above cooling down his nervous mind. They were crossing over the Mediterranean Sea and over Morocco, Marrakech underneath them. As the sky was covered in light blue with no clouds to be found anywhere on the horizon the ancient city was clearly visible. He looked down and imagined walking around the Bazar filled with aroma of cardamom, cinnamon, herbs, and exotic spies, with baklava and sweet delights. His mouth was watering. He was dreaming himself into a wonderland most certainly only good writers but never the reality was painting into his inner eyes. The flight with Brussels Airlines was a great treat to him while still he was asking himself and wondering that he had boarded the plane in the first place. He was feeling not to be of his own mind but on a string that moved him step by step closer to a country he never had any thoughts about, never any desire ever to set foot in and on its ground. Never ever was in his mind the wish to come to Africa; and it should just be him to sit there on the comfortable seat to fly thousands of kilometers away from a continent that was so well known to him, familiar in all its corners.
He closed his eyes ignoring the sound and noises around him, just listening to the engines taking him closer and closer to an unknown and unwanted place to be and said into the darkness before his closed eyes: "Oh God in heaven, truly, your ways are not my ways. You always know better, better of anything I do. Often, I do things in life, as you are perfectly aware of, that I even do not know why I am doing them. That sounds crazy, a bit mad, but in the end, over time, I always know such moments, such moves into the unknown, the unexpected, will turn out as the right move for me. It feels a bit odd to sit here and a heavy machine takes me out of my comfort zone into the jungle of a truly black continent, black with all its dark problems...nothing good to be seen except the nature, plants, flowers and animals, creatures that are innocent of any dark and evil mind." He paused for seconds listening to the sound of the engine besides him under the wing of the airplane continuously making the same noise always. When he focused again on himself, he continued saying: "As I trust you with all my life, oh Lord, take me into a place where my life has a meaning as that is all I want in life...being meaningful, useful to other people. And as you take me into a new life with my old life in my baggage, my experiences made, my feelings developed and well familiar with, let me see the wonders of a new assignment. Amen!"
"You want some refreshments, Sir?" asked the nice stewardess and lifted Mr. Karl out from his prayers.
He opened his eyes, looked around, saw the Brussels Airline stewardess standing before him smiling and ready to serve him answering as usual: "Tomato juice please, with a bit of lemon shot." He was served as requested. His whole life in so many countries passed by his inner eyes. Dreaming himself into England and loving Asia in his wildest dreams, that was a life to his taste and wishes. On the small screen right in front of him he saw the route the flight was taking, Accra few minutes more before touch down. While the plane was descending over the Gulf of Guinea overhead of Sakumono he saw a city in chaos, no city plan, no ideas employed and put to work how best to structure a city that would make it convenient for commuters, public transport and business traffic to go about their daily business. Houses, factories, and office buildings were constructed to taste of the landowners, anything possible was possible. The landfill site in Greda Estate close to private houses, not separated by walls to make it impossible for the stink of the city´s refuse to hit human noses and keep hungry pigs and cows away from eating and feeding themselves on left-overs and plastic bags, was to be seen.
The plane touched down on the airstrip of Kotoka International Airport in the afternoon heat of Ghana. KLM and BA flights from Amsterdam and London-Heathrow would land late in the night around nine pm. Arab airlines were visible at the gates at this time of the day. The plane was carefully and slowly taxing before the engines were finally turned off. He had reached and said a long AMEN into the air before bowing down not to hit his head while leaving the plane. Cars, airplanes, chairs and tables, nothing in this world was made for normal people, was he smiling always, a man of nearly two meters. Walking pass the gate did he look for signs where next to head to. The queues were rather long at the Immigration desks with cameras to capture the faces of the people entering a new world or coming home. He looked around for familiar white faces but found himself in an ocean of black people only. He laughed and thought or Blacks in his own country how they must feel all alone by themselves among only white people. Now it was on him to capture this special feeling and he thought to himself that we would do quite well, no fear, not being scared by black faces that smiled at him when he smiled at them. Nice, friendly, and peaceful people, that came to his mind instantly. As he had never touched the ground of Ghana before, he was unable to look behind the faces of the people around him. They smiled at him and he naturally thought he has to smile back, and happiness surrounds him, nothing to be scared of and to be concerned about. Time would teach him a serious lesson.
It was his turn. He presented his passport, grim look from the Immigration Officer was at him. He did not try to smile assuming it would be seen by the Immigration Officer as an insult or signaling him he might have something to hide from the local authorities. He was not expecting at this stage of him entering Ghana that Immigration Officers behind their desk exposed to the public from around the world would ask him for chop money, something small which would end up at the end of the day and years to build a nice, nice house. No, most certainly not in the open at KIA as the airport was known for short. At this stage Government Officials like Police Officers would most certainly never ask anyone which currency the country has from which the traveler has arrived as a clear indication the exchange of money was needed to bribe someone that has to perform his normal duties getting paid for by the national tax payers. After presenting his face to the round small camera which looked like a ball with an eye, a camera he was used to; it was on him to have entered foreign land in Africa.
His heart was beating him close to death. His blood pressure went up and up making it hard for him to see and understand, to comprehend his situation. Panic took hold of him. His mind was confused as a mind could be confused. It was spinning around and around in his mind. He had the feeling to faint at any moment. He sat down on a bench, rested for a few moments, tried to pull himself together, looked everywhere, nothing to find. He was about to fall down and into tears. It was as if at any moment in time his life would come to a complete standstill. His inner voice cried out and called on God´s mercy. The Almighty should come to his rescue. He felt as if the ground beneath his feet would open and the entire world would swallow him, eat him, and digest him. All he had on him was a small bottle of water half full. He looked at it like heaven on earth, like the only connection to home, to civilization, to a world known and familiar to him. A voice cried for his mother that was so far away from him. Somehow, he sat down in the shadow of the roof covering all of Kotoka International Airport as one roof. He sat on a grey pavement stone, behind him green grass, green as grass could be. The hands he was holding behind his back touched the grass, it was slightly wet. For a moment that grass touched his heart and he felt like a normal human again, someone born for this world, this Africa, this Ghana.
"Sorry Sir, can I help you?" was a little girl approaching him. She stood by his right side and looked at him with great concern in her eyes; her deep, deep brown eyes that looked at him with great passion and tenderness. Her nose, not like other African women, was not so big but also not pointed, was a shape in between. Her bright shining teeth, no holes in them and all placed well in best order, were an adorable and amazing contrast to her darkness in complexion. She repeated with tender quiet voice well-mannered and visibly educated by great parents with style and class: "Sorry Sir, can I help you? I think you are not feeling so well!"
He heard her voice only from far, still trapped in fears of the unknown, a situation never gone through before. As the young girl stood beside him peacefully and patiently waiting for his answer; he looked at her with fears in his voice and answered: "Everything that I had on me...is gone!"
"What do you mean, Sir...it is gone?" asked the girl being visibly concerned more and more while keeping her composure intact.
"My baggage, my passport, my money...," looked Mr. Karl all around him, checked his pockets over and over again, "simply gone. My baggage stolen...my money stolen; my phone stolen...all gone!"