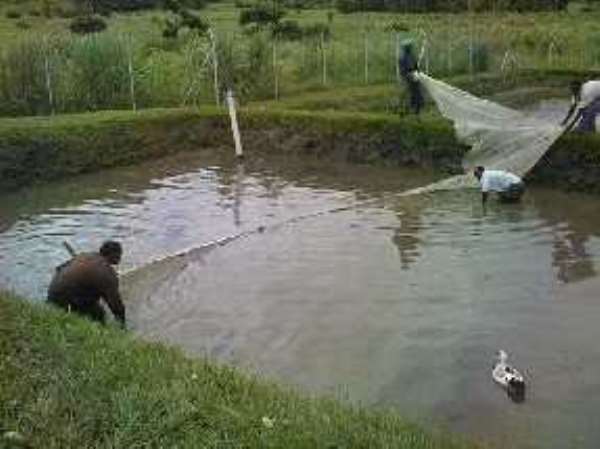 Mrs Gladys Asmah, Minister for Fisheries has proposed a programme to turn small scale mining (galamsey) operators into fish farmers.
To set the tone for the programme, the Minister has tasked officials of the Ministry to select and train 25 small-scale miners in the Wassa West District in the Western Region in fish farming at the Ministry's expense.
She said the benefits of fish farming far outweighed those of galamsey, saying, the health hazards involved made the job dangerous, let alone the regular caving in of some pits to bury some people alive. Gold, she said is a non-renewable resource but fish farming is a life-long vocation.
Hon Mrs Asmah said her Ministry would supply the needs of the beneficiaries to enable them to start fish farming, adding, this would serve as job opportunities for them because "they cannot mine the gold until they become old and weak."
She was speaking yesterday, during a visit to "Obrapa Gye Owura Kwan" village near Huni-Valley, where she inspected fishponds belonging to Nana Enimil Kumah IV, chief of Huni-Valley. The trip formed part of her five-day visit in the Western Region.
Reacting to the scarcity of fingerlings being a basic problem of fish farmers, she said if the Water Resources Institute was unable to provide it, her Ministry would import so that the ponds already constructed would not be empty.
Mr Emmanuel Kwesi Ayensu, Wassa West District Chief Executive, said in their quest to make quick money the youth would not listen to advice and observed that they could take inspiration from the success of those who would be trained in fish farming.
Nana Enimil Kumah IV Chief of Huni-Valley debunked the idea that farming was a non-profitable venture, saying it only needed time and commitment. He said it was unfortunate that the youth of the area were not showing interest in farming even though land had been made available to them.
Nana Enimil Kumah said he engaged people from Huni Valley to construct the ponds three years ago and also engaged them in harvesting the fish. The Minister accompanied by Mr Alfred Tetebo, Director of Fisheries, also inspected fishponds at Abekoase, Tarkwa and Tamso.