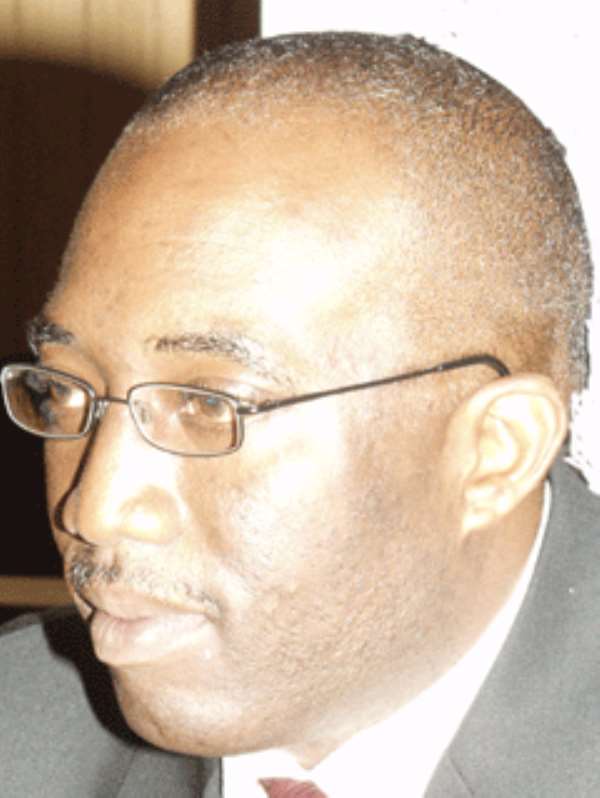 The Attorney-General and Minister of Justice, Mr Joe Ghartey, has explained that his decision to order the arrest of the suspected drug barons who appeared before the Georgina Wood Committee last Wednesday was based on the law.
Quoting section four of the Law Officers' Decree, 1974 (NRCD 279), he said the law empowered him to either physically arrest any suspect or to delegate the power to the police.
He has, therefore, cautioned legal practitioners and social commentators against comments on the issue which have the tendency to misinform the public.
Mr Ghartey was speaking in an interview with the Daily Graphic in reaction to a statement made by the Minority Spokesman on Legal and Constitutional Affairs, Mr Mahama Ayariga, that the Attorney-General had no authority to order the arrest of the suspect, and that his order was tantamount to usurping the powers of the police.
Section four of the NRCD 279 states: "Any officer of the Attorney General's Department of or above the rank of State Attorney shall be deemed to have the powers of arrest conferred on a police officer by section 10 of the Criminal Procedure Code, 1960 (Act 30)."
Mr Ghartey said information available to him pointed to the fact that the suspects had planned to flee, therefore immediate action needed to be taken to ensure that that did not happen.
"It is better to err on the side of caution," he said, adding that if the suspects had gone into hiding, it would have resulted in dire consequences.
He said he had taken note of the various comments made by commentators since the committee began sitting, and added that the government would not be "hurried" but would do things at its own pace.
"We are determined to get to the bottom of this issue to unravel the mystery surrounding it and we will not be hurried.
We will not be influenced by the chorus of the comments. We will do things at our own pace," he added.
Mr Ghartey said the government had the will and the courage to deal with any individual who would be found culpable and would not protect anyone, adding that, "If we wanted to protect anyone we would not have started the process of investigations."
He urged Ghanaians to be patient with the process and provide the committee with information if and when they had it.
Asked where the various parcels of cocaine seized in the past few months were being kept, Mr Ghartey said they were being kept in a safe place, and added that he would apply to the court for the destruction of the drugs, as the law stipulated, "at the appropriate time."
Section 9(a) of the Criminal Procedure Code (Amendment) Act, 2006, states: "Where the offence involves a narcotic drug the court shall, on application by or on behalf of the Attorney-General, order the destruction of quantity, leaving a reasonable quantity of the seized narcotic drug which is the subject matter of the offence."
Section 9(b) stipulates: "Where the offence involves a narcotic drug the court shall make an order that the remaining quantity be taken as conclusive evidence of the seized narcotic drug for the purposes of the trial of the offence and any appeal after conviction."