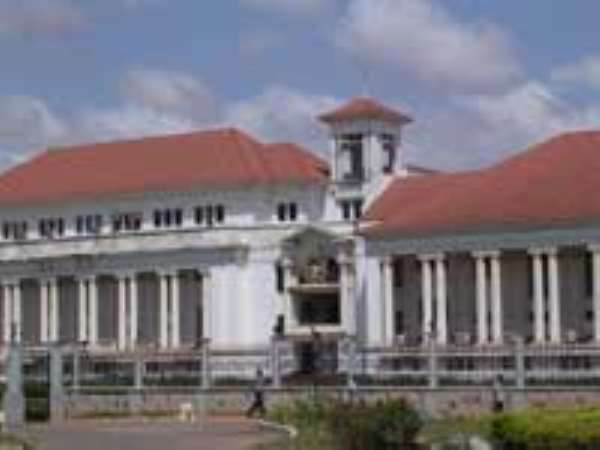 Six persons, including a court official, were on Monday put before an Accra Circuit Court charged with stealing, threat of life, unlawful entry and causing unlawful damage. They are Joseph Adjiri Ashley, a court official, King Nyarku aka Narku-Tailor, Amankaa Ashley, Storekeeper and Comfort Odeba a housewife.
The rest are Frimpong Oppong and Nyarku, both unemployed. They pleaded not guilty and the court admitted them to 80 million cedis bail each with surety to reappear on September 11.
The court issued a bench warrant for the arrest of Nana Ama Oppong and Akwasi Banahene, both unemployed, who failed to appear before the Court.
Chief Inspector Peter Bennie told the Court that the complainant Odupong Abeka Sikafo II is a traditional priest and a member of the family of Robert William Ashley, alias Kofi Bricklayer of Palladium.
The Prosecution said that accused persons were members of the same family of the Traditional Priest, who was one of the three Administrators of House number D562/1, Hassan Road Palladium.
Based on the Letters of Administration, the complainant obtained a Court judgment to eject the tenants in the house. When the rooms became vacant, the accused persons also occupied the house claiming that they were also members of the family and threatened to eject the Traditional Priest.
The Prosecution said to avoid trouble the complainant moved to his sister's residence to enable the Court to determine the merit of the case.
On November 13, 2005 the Complainant received a call that the accused persons had invaded his place and packed all his traditional priesthood regalia, furniture, wardrobes and stools into a kitchen.
The Prosecution said cash of 1,500 dollars; 350 pounds and 1.2 million cedis was stolen from his room. The accused persons later laid a body in state in the Complainant's hall without his consent.
The Complainant made a report to the Police and Adjiri Ashley and Amankaa Ashley were arrested. They admitted breaking into the Complainant's room in their caution statement.