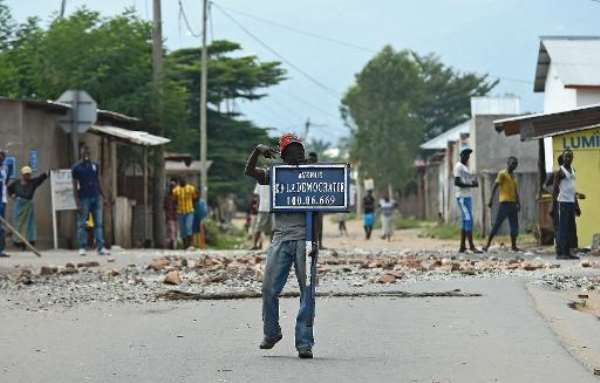 A protestor opposed to Burundian President Pierre Nkurunziza's third term holds a road sign reading "Avenue of Democracy" during a demonstration in the Buyenzi neighborhood of Bujumbura on May 26, 2015. By Carl de Souza (AFP/File)
Bujumbura (Burundi) (AFP) - The European Union said Thursday it was suspending its electoral observer mission to Burundi and warned that current conditions in the east African nation would not allow for credible polls in June.
EU foreign policy chief Federica Mogherini "has decided, with my agreement, to suspend the deployment of the European Union Election Observation Mission," David Martin, the mission's chief observer, said in a statement.
The statement said that "at the current time, conditions in Burundi do not allow for the holding of credible elections. This was the case at the time of the mission's arrival, and conditions have in fact significantly deteriorated since then."
The EU statement spoke of a "widespread atmosphere of fear and intimidation, now exacerbated by extremely volatile security conditions", and said that genuine campaigning has not been possible for all candidates. Independent news media reports also were not being allowed.
It singled out the ruling party's youth league, labelled a militia by the UN, and noted Saturday's assassination of an opposition leader, calling it "a particularly serious instance of political violence."
"Longstanding and ongoing reports of Imbonerakure (youth league) activity throughout the country have now been supplemented by a rising number of credible reports of human rights violations," the statement said.
Parliamentary elections are due to be held on June 5, with a presidential poll scheduled for June 26. The UN Security Council met on the crisis late Wednesday, with most of its 15 members supporting a postponement.
The crisis surrounds President Pierre Nkurunziza's uncompromising desire to stand for a third consecutive term in office, with opposition and rights groups saying the move violates the constitution as well as the terms of a peace deal that ended a 13-year civil war in 2006.
Street protests have taken place for the past month, leaving at least 30 people dead after a violent crackdown by security forces. There were more protests on Thursday in several parts of the lakeside capital of Bujumbura, with a massive police presence along main roads.