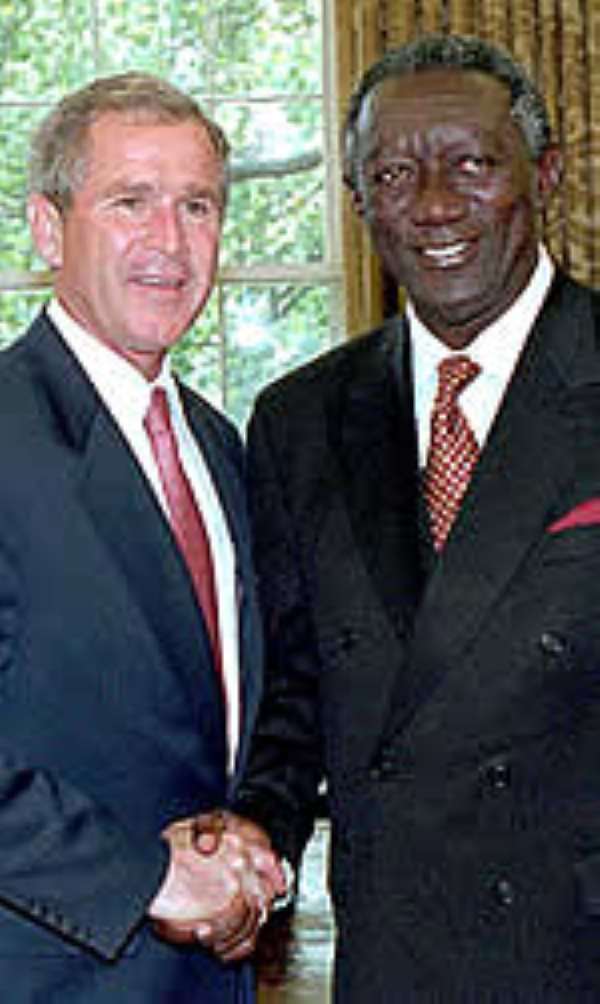 Despite the numerous criticisms about the number of foreign trips President John Agyekum Kufuor has undertaken, fruits from these trips indicate they were worthwhile.
Critics of the President say instead of staying at home to govern the country by implementing policies that would alleviate poverty, he has turned himself into a tourist going round the globe and spending tax payers' money on his trips.
The President, since 2001 has made 127 trips, visiting almost all corners of the earth save a few areas.
He had traveled to Nigeria 13 times, Togo 11 times, USA10 times, and the United Kingdom 9 times, among other countries including China, Japan, Germany, France, Jamaica, Italy, Brazil, Burkina Faso, South Africa, La Cote D'Ivoire and The Gambia.
However returns from these trips are very significant in the stability and growth of the economy. It was trips to countries that Ghana shares bilateral relations with that resulted in the cancellation of Ghana's majority debt.
Ghana's external debt before the NPP took over in 2001 was about US$6.2 billion, but this has significantly reduced to US$2.2 billion recently after the World Bank, International Monetary Fund and African Development Bank relieved Ghana of some debts.
There was debt forgiveness by Germany, UK, USA and France, among others. The most recent success chalked by the President is the signing of the Millennium Challenge Accounts, which bagged Ghana US$547 million to alleviate poverty.
Among the successes of his travels including the grant from Japan to rehabilitate the Mallam-Nyamonansa road, Germany's support for the Nsawam Apedwa section of the Kumasi Highway and the conversion of US$6,745,000 debt owed by Ghana to the former GDR was turned into relief under the HIPC initiative.
The President's visits to India resulted in the $2-million ICT Centre of Excellence in Accra and the release of US$30 million for the construction of a presidential palace and for rural electrification projects.
In a reciprocal visit to Ghana, the Chinese Prime Minister assured Ghana of US$66-million fund for our developmental projects, after opening a 17.4 kilometre Ofankor-Nsawam dual carriageway estimated at US$28 million.
In April 2004, a total of 156.86- million supports for Ghana came out of one visit to the UK. This comprised 138million in development aid, £362,000 for Ghana's men and women trying to restore peace to war-torn areas and £2.5 million towards the Kofi Annan Peace Keeping and Training Centre.
The President's visits to West African countries have also increase trade among countries in the sub-region.
President Kufuor's visits have also attracted numerous foreign direct investments and investors to Ghana, estimated to be worth millions of dollars and there are several other success stories chalked through President Kufuor's numerous trips abroad.