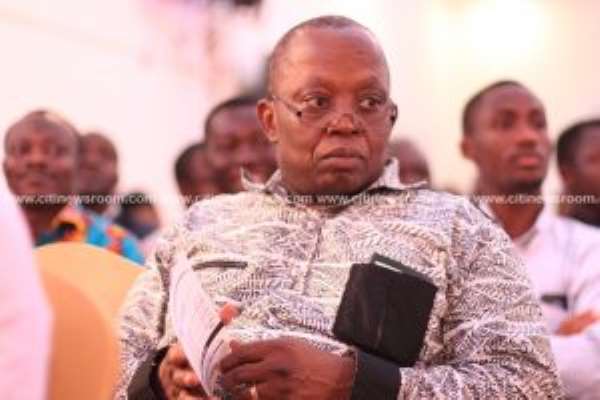 The ongoing exhibition of intransigent resistance by Auditor-General Daniel Yaw Domelevo to proceed on leave to exhaust his accrued but accumulated annual paid holiday leave raises an eyebrow. However, difficult situations give cause to wise and intelligent people to seek solutions to problems. Subsequently, I shall in the coming days or weeks be writing to His Excellency the President, Nana Addo Dankwa Akufo-Addo, Ghana Parliament via my local Member of Parliament Philip Basoah (Honourable), and the Minister for Labour to add a sub-section to the Ghana Labour Act 2003 (Act 651), Section 31. This Section is about " Agreement to forgo leave to be void". It states, "Any agreement to relinquish the entitlement to annual leave or to forgo such leave is void"
I have been taking keen interest in the never ending but unfolding accusations and counter-accusations surrounding the president's directive to Auditor-General Daniel Yaw Domelevo to start his accumulated annual paid holiday leave. His insistence not to go on leave aroused my suspicion. Luckily, I have had two former Ghanaian accountants, one is my senior brother residing in Canada and the other a friend in London, revealing to me what could possibly be the motive behind Mr Domelevo's obstinacy to go on leave. Both of them are saying one and the same thing. He could have committed some illegal acts which he does not want them to come to light. Any malfeasances he may have committed can only come to light if another person takes over his job even temporarily as a replacement for him while he is on his annual leave, they say.
According to them, many people in such higher positions may commit malpractices and the only way to cover their tracks is never to go on leave. They have come across such occasions in their professional working life in Ghana.
According to my friend in London, when he was working as an accountant in Ghana, his Manager never went on leave for fifteen years until he, my friend, left for London about twenty years ago. He said, the Manager could be doing some dodgy things and the only way to save himself from being exposed for committing say, fraud or malfeasance, is to be on post always. Could this be the case with Mr Daniel Yaw Domelevo? No one knows but he.
Anyway, I shall be petitioning the President, the Minister for Labour and the Ghana Parliament to add through amendment of the Labour law on annual leave, a clause saying that no public officer is allowed to accumulate their paid annual leave. They should take them as they come within the calendar or fiscal year depending on how Ghana operates her annual paid holiday leave. Going on leave should still remain mandatory as stipulated in Section 31 of the Labour Act, 2003 (Act 651).
Some Ghanaians are so corrupt that any little chance they get, they want to steal from the government or their company and one of the chances to do that is to refuse to proceed on annual leave but to keep on accumulating them. So far, I have not come across any law authorising Ghana public officers to needlessly continue to accumulate their leave yet, it is happening.
In the United Kingdom and some other western countries, one loses their paid annual holiday if they don't take them within the earned year. However, in Ghana, it is obligatory to go on leave and the law states it clearly that you can't forgo your annual leave. That is excellent! Subsequently, for the avoidance of some managers trying to cover their evil tracks in workplaces by never going on leave through accumulation of earned annual holidays leave, there must be a law to compel them not to accumulate their leave.
Here in Western world, one is eager to go on leave to have a break from work to enjoy some decent rest. Nonetheless, in Ghana, one wants to stay in their job for several years without wanting to take their accrued paid annual holidays. Why is that? Is it because they never get tired working? No! Could it be because they never get tired because they don't do much at work but laze around all day and enjoy several free from work paid days throughout the year attending family events? In Ghana, a public officer is allowed time to attend the funeral of friends, family members, a member of the townsfolk, go to hospital, attend local festivals, etc.
Nevertheless, in the Whiteman's land, a worker is limited to about three paid days when you lose your parents, children or partner. It does not even cover your siblings. After three days, you have to be back at work. In the unlikely event of requiring a few more days, and if you are lucky to be granted the requested days, they will be unpaid. Again, you have to earn your wages or salary by actively working your contracted number of hours per day. You cannot laze away at work.
To calm the negative public perception about the President allegedly hypocritically picking and choosing who should go on their accumulated paid holiday and who should not, whereas it is an ongoing practice in Ghana for people to accumulate their leave for their own undisclosed reasons, the authority must come out with a law to clarify the situation as I have suggested and will officially be writing to the three authorities mentioned above. That is the only way to stop the dirty politicking about, and politicisation of, Auditor-General Domelove's leave directive.
What documents was he going to his office to collect only to find the locks on his office replaced? Are they his personal, or official, documents? What does he need official documents for when he is on leave? If they are his personal documents, he can be escorted to retrieve them.
He must bear in mind that he is on leave but not sacked so why the problems he is causing to woo the public to his side by being seen as the most incorruptible person in Ghana with wherewithal to fight the alleged NPP government corruption?
Ghanaians, please let us be critical thinkers, giving issues thoughtful analyses before reacting without being emotional. Many people see Mr Domelevo as the saint but could there not be other saints in Ghana? What happens if tomorrow he is no more, taken away by God as it is appointed unto man to die one day, will the office of the Auditor-General cease to function?
Anyway, necessity is the mother of invention. Planning to write to the mentioned authorities to address the leave issue is the culmination of the necessity I have come to be faced with.
Kwame and Paa, thank you for alerting me to the possible corruptions that go on within the Ghana public service as perpetrated by the managers or big bosses. All their malpractices come about as a result of their failure to go on leave. However, their unwillingness to go on leave will end by the action to be taken by Rockson Adofo, the son of Kumawu/Asiampa soil.
The writer loves giving suggestions and sharing views with his public readers. Until I officially convey my views on the accumulated paid holiday leave to the authorities as aforementioned, I entreat the authorities to have a look at this publication as giving them a heads-up.
Rockson Adofo
Friday, 31 July 2020