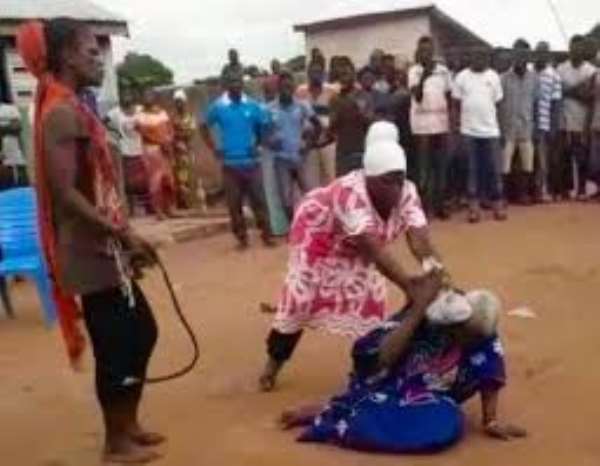 I can't recollect the number of times I have watched the viral video of the grizzled nonagenarian woman been lynched to death, but I know it is quite a plethora times. Truth is that my head excruciates painfully due to myriad of words boxing one after the other to put rightfully the words or word to describe the act of a so-called immodestly civilized preeminent animals.
The active perpetrators of the acts ain't much outlandish as compared to those passive perpetrators (accessory as law puts it). Is it really possible for McCoy and sound beings watch without guilt how their own being's life is been snuffed out of her?
Silence but loudly, the silence of those around endorse the act as good. If you try to analyze some of the acts by humans very often, you will find yourself being a misanthropist. Anytime, I see such acts only one useful thought darts my mind back and forth-Never underestimate human's stupidity! It is real glowing like a firefly. It is not for nothing that Albert Einstein once said-"The difference between stupidity and genius is that genius has its limits. "
My question has been this;if witchcraft is bale spirit that is purported to do evil at night or day,then will mere destroying of her flesh kill the spirit? Thanks to the conventional knowledge that spirits are immortal. This I think they know but since humans' ain't reasonable and more reality driven beings they will believe in some stories they were told and downplay common sense.
We will rather accept "inherited thinking". We just have to accept that those witches if were capable of obliteration then their predecessors would had killed them already. Because frightened number of equally humans have been killed by their primitive,uncouth,barbaric,unwarranted,despicable...phew! Way of uprooting and destroying the spirit of witches.phony!
It is surprisingly enough to know that we live an era of knowing and doing things differently. Why then must we allow these stories of witchcraft that was told to inculcate some fears in our erstwhile beings. It was necessary to check some humanly devilish traits; anger,greed,etc.Yes! A witch doesn't necessarily mean a bad spirit man or woman that hunts at night. It has everything to do with but not limited to a person who is covetous,greed,backbiting,..etc. A person with any of the unchecked bad traits aforementioned can kill or destroy their fellows.
Thus, such stories of witches were germane at the epoch and must not be taken seriously and revered religiously. They have really outlived their relevance. One annoying thing if I am to forget everything must never forget is their temerity cum effrontery mixed with useless bravado in the videoing and sharing of their gruesome acts of death.!
It is high time we collectively expedited some measures as a people to curb this inhuman acts of killing innocent women or men especially the former when they reach their menopausal stages and tend to behave in variant ways that somewhat confirm our supposedly beliefs about witches which are merely stoke by our Afrikan movies or movies all in all. Very well,maybe "I don't have eyes" as they brazenly say,so I can't cocksure say witchcraft is real or not real; however, those who know and not by mere believe that someone has a witchcraft must be asked to prove beyond reasonable doubts that one is one if not they have no right of any kind to accuse or suspect one as a witch or wizard.
The calling of people as witches must be criminalized and anyone find culpable must be strictly subjected to the venomous bite of the law in its full measure. It really taints our image as a civilized society! It is hogwash to kill others with impunity for a cause that only some pastors and fetish priests profess to know. My fear is that if not for untimely death by accidents or sickness no human can escape old age. So if we play possum and behave nothing is at stake because it is not happening to you or any close familial or friends, just maybe you will grow to be eighties or nineties and can equally have a share of the old woman's brute treatment.
We say no to it and obliterate such barbaric acts now or never! More so, laws must be made to punish those who enjoy taking pictures and videos while bad things happen to their fellow beings. That attitude of taking pictures and/or videos of people been subjected to inhumane treatments is being a new culture of our society since the advent of social media. Our quest to be the first to put on the media incidents without doing nothing to help those been victimized is absurd and uncouth. We do it as if there were awards for the best capturers of those eyesore acts.
People throng unspeakable scenes of gory acts while in akimbo styles with merriment doing their useless freelance journalism work as usual. Coup de grace is their tacit purpose- that's when they share on their social media handles to attract internet traffics to make some money out of it. Is it not inane for one's predicament to be source of one's money-making? Must we always be driven by wanton desire to make money! It's sad, to say the least.
Let us say no to the killing of old women and men for an alleged case of witches and wizards respectively. It is a foregone conclusion that spirits can't be killed by killing the body.