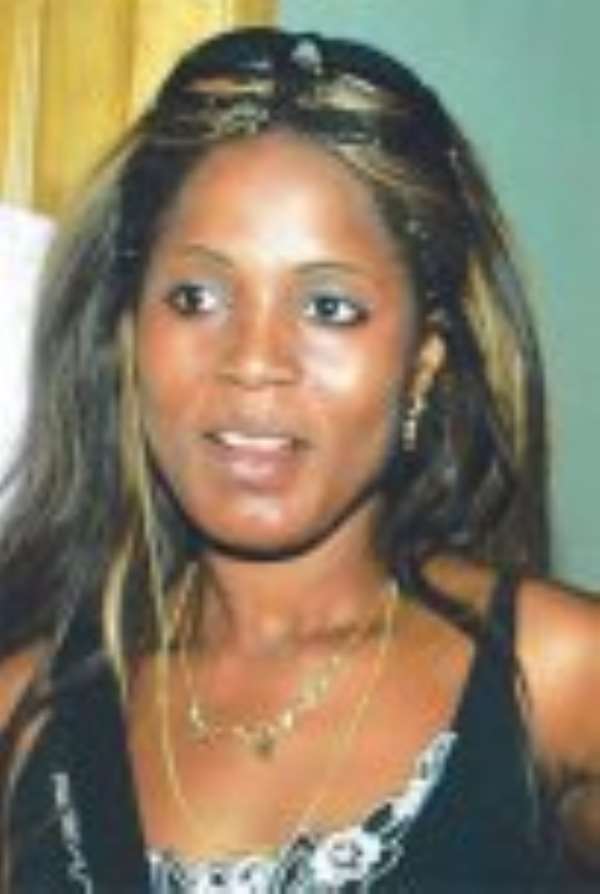 Accra, Aug. 7, GNA - Two key witnesses at the Georgina Woode Committee investigating a number of drug-related cases involving the Police on Monday told two different stories about the whereabouts of Vasquez Gerado Duarte David, the fugitive drug baron.

While Ms Grace Asibi, girlfriend to Vasquez, alleged that her boyfriend was in the country during the raid at their East Legon residence on November 25, 2005 and vamoosed five days later, Mrs Rosa Iris Dosoo, Secretary of Vasquez, insisted that he travelled out of the country on November 10, 2005 had since not returned.
Ms Asibi at the public hearing had told the Committee that her boyfriend, who was in the country on the day of the raid, had instructed her to give 200,000 dollars to "his friend Mr Edward Tabiri" at their rented house at East Legon.
She admitted that she could not remember the number of bundles of money that her boyfriend had given her to be given to Superintendent Edward Tabiri. They were, however, in 100-dollar denominations. Edward Tabiri, a Superintendent of Police, who led a team to seize cocaine worth 38 million dollars from the house at East Legon, is at the centre of bribery allegations by Ms Asibi.
Ms Asibi alleged that she had bribed Mr Tabiri to the tune of 200,000 dollars in two instalments of 170,000 dollars and 30,000 dollars to help to resolve the narcotics problem with some top Police Officers. Speaking during cross-examination by Committee members, Ms Asibi said during the time of the raid, Vasquez was in his office at Compimchez at Osu in Accra and it was there that he gave her the money to be given to Mr Tabiri.
She said she did not ask him (Vasquez) what the money was to be used for and neither did she find out why he was asking her to give that amount to someone, whom she did not even know as her boyfriend's business partner.
"I did not know it was a cocaine house. If I knew, I would not have gone," she said.
Ms Asibi said although she met a lot of people in the house when she went there on the day of the raid, she did not know what was going and she did not bother to ask.
Ms Asibi said it was Mr Tabiri, who first spotted her and came down and when she tried to inquire about Joel Meija Duarte Moises, aka Joel Mella, another Venezuelan whom she had rented the place for; "Tabiri ignored my question and directed me to go and wait at Tetteh Quarshie and that was what I did".
Ms Asibi admitted to the Committee that although her boyfriend stayed in the country for about five days after the raid and she knew that he had been visiting the two Venezuelans, who were arrested on the day of the raid, she never accompanied him to visit the suspects at the Police Headquarters.
Ms Asibi said she visited the suspects alone and even provided them with some money while her boyfriend also provided them with provision, "but we never went visiting together".
Ms Asibi insisted that she gave the money to Mr Tabiri in his office after he had led her to his office when she was picked at the Tetteh Quarshie Interchange in a Police convoy to the Police Headquarters.
"When we got to the Police Headquarters, he escorted me to his office, opened the door for me and left me there. I waited for him. He went down and came back before I gave him the 170,000 dollars," she said.
Ms Asibi said because she did not trust Mr Tabiri and also because she was not sure if he was the person to whom she had been instructed by her boyfriend to give the money, she did not give him the total amount. She also demanded a receipt but Mr Tabiri could not give her one. Ms Asibi said she also refused to give him the total amount because she knew that he (Tabiri) would call her boyfriend and give him the feedback about the transaction and he did exactly that. "That was why Vasquez asked me to go back and give the rest of the money, 30,000 dollars, to Mr Tabiri."
According to Ms Asibi she did not even know that there was cocaine in the house and that it had been seized.
She said as far as she was concerned, Vasquez went to his office for the five days that he was in town.
But Mrs Dosoo, who appeared before the Committee, denied this saying, "I will be surprised to hear somebody say Vasquez was in town during the day of the raid.
"Even the numbers he used to call me in the office were all foreign numbers and we exchanged a lot of e-mails."
According to Mrs Dosoo, the Company for which she worked had two directors while Ms Asibi held 20 per cent shares in the company. Both of them, Mr Vasquez and Mr Vincente Creose, travelled out of the country on the same day on a business trip to Holland, "and I have never seen them in Ghana till date, not even on the day of the raid".
Mrs Dosoo, who said she was both a secretary and translator to Mr Vasquez, said Ms Asibi changed the name of a subsidiary of Compimchez to Afrodita shortly after the Police arrested her.
Mrs Dosoo said she used to communicate with Vasquez until Ms Asibi approached her to request for 300,000 dollars from them for the Police. According to Mrs Dosoo, Ms Asibi had complained to her that she had not heard from her boyfriend for some time and that she (Mrs Dosoo) should tell her boyfriend that she (Asibi) was getting into trouble because of the involvement of Joel in the cocaine seizure at East Legon. Mrs Dosoo said she e-mailed Vasquez to call her for an urgent message from Ms asibi and they responded.
Mrs Dosoo said Mr Creose categorically told her that there was no need to bribe the Police, because he had a bigger company in South America and that since their company had not committed any offence there was no need to bribe the Police.
Mrs Dosoo said she became suspicious of Ms Asibi when she asked her to call and demand 300,000 dollars. Moreover she did not trust Ms Asibi due to some earlier behaviour of hers when her boyfriend Vasquez was in town. Mrs Dosoo said since her bosses left she decided to record any interaction that she had with Ms Asibi because she did not want to be implicated in the cocaine scandal.
According to Mrs Dosoo, she did not even know that Mr Asibi and her boyfriend Vasquez had a house at East Legon until Ms Asibi told her about the raid.
Mrs Dosoo said she was astonished when Ms Asibi reported her to the Police that, she was threatening her (Asibi's) life and she was arrested, detained and her home searched.
"What amazed me was that when our call list was searched, there was no call from my phone to Ms Asibi's phone while I had two calls recorded from her phone to mine. But I was still asked to report daily, but I hardly met her at the Police Headquarters," she said.
According to Ms Dosoo her bosses were planning to come back to Ghana to continue with their business, but when she told them that her home had been searched and that she was also being treated as a suspect, she had since not heard from them again.
Mrs Dosoo said her phone had since been seized by the Police and that it was on that phone that she had all the recording of conversations between her and Ms Asibi.
Supt. Tabiri immediately produced the phone, which she identified as hers.
Ms Dosoo also identified the picture of a young man she said was Ms Asibi's brother because he had been to the office several times. Ms Asibi, however, denied the claim, saying she did not know the man in question.
According to Supt. Tabiri the man in question vanished from the house five minutes before the Police arrived at the East Legon house. He linked him to be in collaboration with Ms Asibi as informants, who were demanding their 50-50 share of the seized cocaine. Ms Asibi insisted that the man in the pictures produced by Supt. Tabiri was not her brother but Ms Dosoo insisted it was her brother, who was well known to all the people in the office. She promised to bring other witnesses, who could testify whether the man in the picture was Ms Asibi's brother or not. Sitting continues on Tuesday.