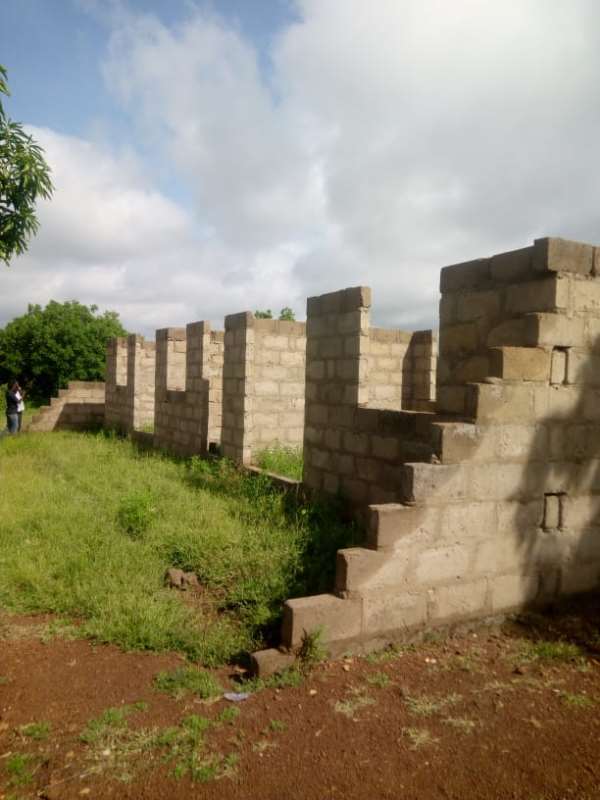 The building of the Bussie Health Center, according to reports from community members, was facilitated by the former Member of Parliament, Hon Emmanuel Zumakpeh with funding from Saudi fund, decades ago.
Since then, no major expansion of the facility has been made. As a result, the community and its catchment area has outgrown the facility, putting a lot of pressure on the facility and its staff.
The current situation of the facility has been a very big problem with regards to patient delivery and admissions, due to inadequate facilities for patients.
According to checks done by Tumpaani fm, the Paramount Chief and sectional Chiefs of Bussie upon several meetings and complains about the nature of the facility, took it upon themselves to start a project which comprises of two wards, Office, and washrooms. The project has reached lintel level.
Responding to a question asked by Douglas Gyeena, a co-host of Tumpaani FM Community development talk show on the steps taken to address the situation, Naa Elias Yieon Baligi II, secretary to Bussie traditional Area Council, revealed that the council wrote letters to some influential stakeholders including the Member of Parliament, the District Chief Executive and other politicians to Solicit funds to complete the project but have not received any positive feedback from any of them except the NPP constituency chairman who donated Two Hundred (200) Ghana Cedis.
He also revealed that the project has stalled because contributions made by some community members are locked up in GN bank following its collapse.
"We would be glad if anybody comes to our aid to enable us expand the facility by completing the stalled project."
The Chief and Secretary to the Traditional Council added.
It was actually observed that a patient was admitted and being treated on the floor.
The in-charge of the facility explained that all the beds were occupied and that he had no option than to admit and treat the patient on the floor. He added that, that was not the first time he was compelled to admit patients on the floor and bemoaned the need for additional facilities to enable the facility handle its current pressure.
Filed: Mwine Paschal//Tumpaani fm