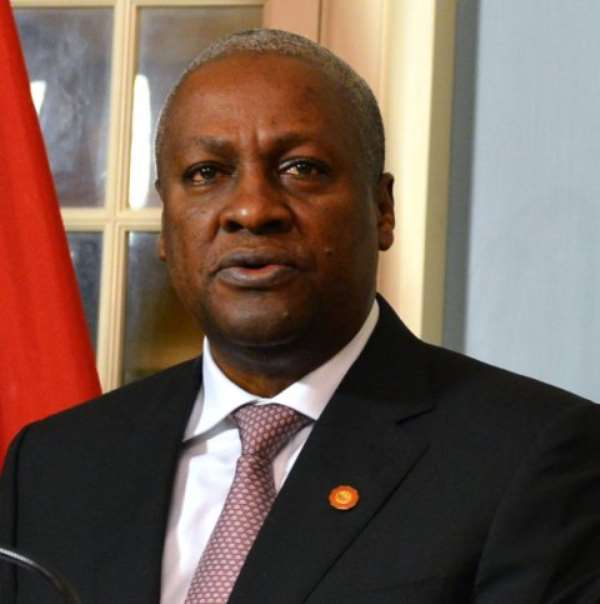 Maybe Little Dramani needs to be told in plain language that what patriotic and progressive-thinking Ghanaian citizens are looking for in their government is visionary leadership and administrative competence, and not the sheer size of government or a smaller number of cabinet appointees with double salaries, as he did with his last government which, budget-wise, rendered the previous government much bigger than the present relatively bigger but unquestionably far more cost-effective and competent and results-oriented Akufo-Addo-led government of the New Patriotic Party (NPP) – (See "I'll Adopt a Small Size Gov't – Mahama" Modernghana.com 7/28/20).
He also says that he intends to create 250,000 jobs every year for the next four years, if he is given the nod by the Ghanaian electorate. Well, this is the man who promised Ghanaian voters, in the leadup to the 2012 Presidential Election, that he intended to retrieve every pesewa stolen from our National Treasury by Mr. Alfred Agbesi Woyome. So, clearly, the most credibility-testing, as well as proving, question for any voter to ask of him is as follows: Where is the Woyome Loot, Candidate Mahama? We must also ask how many jobs Mr. Mahama created in each of the four-and-half years of his last tenure as the substantive President of the Sovereign Democratic Republic of Ghana. He also needs to tell us what the level of unemployment was under his Dumsor-inflected tenure, compared to that of the present Akufo-Addo-led government of the New Patriotic Party, that ought to make Ghanaians believe that he is a better and more sellable alternative to the Akufo-Addo/Bawumia ticket going into the 2020 Presidential Election.
You see, Election 2020 is an issues-based campaign, not a contest of empty promises and platitudes. He cannot tell us precisely what kinds of jobs and at what salary scales he intends to create, and yet the man who could scarcely pay Ghanaian teachers their contractually bargained salaries and benefits would have us believe that he is capable of creating "decent jobs" at livable wages. He also, unlike Nana Akufo-Addo, has absolutely no industrialization program, just as he did not have one during his four-and-half-year tenure; and yet, Little Dramani would have Ghanaian voters believe that he can, somehow, transform, industrialize and digitize Ghana's economy beyond the unprecedented record set by his successor.
He also had his younger brother, Ibrahim Mahama, import mining equipment into the country and knowingly and rampantly issue dud checks to customs officials with impunity. Which is why one can only laugh with good humor when Candidate Mahama says that he intends to "reinforce the independence of state institutions," such as the Economic and Organized Crime Office, the very establishment that was rendered toothless by the Mahama Brothers under the government of Big Brother Dramani. You see, the irony of it all is that even as I write, Candidate Mahama is being investigated by Mr. Martin ABK Amidu, the Independent Special Prosecutor, for the European Airbus SE Payola Racket, in which another one of his brothers, Mr. Adam Mahama (aka Adam Forster), has been fingered for acting as a conduit for Government Official Number One.
In recent weeks, Mr. Amidu has publicly noted that Government Official Number One was the then Vice-President John Dramani Mahama, the man who was charged by his then boss, the late President John Evans Atta-Mills, with negotiating for the purchase of some three military aircraft. Using Jane Naana Opoku-Agyemang, this time around, as a fig-leaf cover to smoothly rip off the Ghanaian taxpayer to the tune of millions of dollars will not wash, because Ghanaians are more than smart enough not to return Mr. Dumsor to Jubilee House. Ghanaians have a saying that goes as follows: "We fight forward, not backward." Little Dramani belongs to our past; Nana Akufo-Addo, our current President, is still the man of our future. May God Bless Our Homeland Ghana and make our visionary and innovative leader great and strong.
*Visit my blog at: KwameOkoampaAhoofeJr
By Kwame Okoampa-Ahoofe, Jr., PhD
English Department, SUNY-Nassau
Garden City, New York
July 28, 2020
E-mail: [email protected]